5 things New Small Businesses Need for Packaging and Shipping (2023)
Shipping can be very intimidating for small business owners. It does not have to be as difficult or complicated as you think. As your business grows and changes, so will your packaging and shipping process. This post walks you through the 5 things small business owners need for shipping when just starting out.
Are you trying to build a crochet business? Check out the link below to learn everything you need to know to start a crochet business in 2023.
This post contains affiliate links. I receive a small commission for every purchase made through a link at no extra cost to the buyer. You can read my whole privacy policy here.
This resource is a part of a compilation: How to Make Money on Etsy.
Why is the shipping process so important?
First impressions mean a lot! How your costumer receives your item is the end of your journey as the maker however the beginning of theirs as a consumer.
The customer experience begins the moment they land on your listing. It continues all the way through the time when your product arrives at their doorstep and they get to experience and enjoy your product.
A positive customer experience is what is going to give you repeat costumers and reviews. Market research shows that is is more cost effective to sell to existing customers rather than selling to a cold audience.
My post on on gaining customer reviews talks bout how you can create a positive customer experience with shipping as a big factor. Check out the post here.
Here are some tips for creative business owners to shipping their babies out into the world. Note: you do not have to overthink it! I'm here for you!
1. Product Packaging for Small Businesses
The first part of the shipping process is packaging. Packaging refers to how you prepare your order for shipment.
Product packaging is how you put together your product to be placed inside of the mailer box or envelope
Without a product package you will basically be placing your goods right into the box/envelope. For multiple items in a package this is not appealing, you need to contain your product.
In recent times, packaging and unboxing videos on Tiktok have become very popular. In these videos you see small business owners really going above and beyond in packaging their items. They add al sorts of freebies and invest in beautiful branded packaging supplies.
Please, do not let these videos think you need packaging just like those. Remember that everyone is at a different stage in their business.
Those businesses who have highly branded packaging supplies and freebies are probably further along in their journey. They can afford these next level commodities. They have gained a large audience base and found ways to lessen their product costs through ordering bulk supplies.
But any of us are not there yet! You should be in business at least a minimum of a year before considering ordering products or supplies in bulk. By waiting a year, you are able to analyze trends in your own business to properly assess how much inventory to buy.
Cost effective packaging supplies for small businesses:
At the beginning stages of running a creative business, you need to consider the cost per piece, the weight because shipping costs increases by the weight, and long term availability in case you need a restock.
Some packaging examples:
Amy, from Summit Rd Fibers uses cellophane bags to package her skeins of yarn with a handwritten note! Guys, if you have not read my post about this yarn goddess you have to here!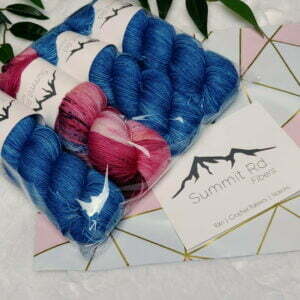 What I love about cellophane bags is that they are cost efficient and vary in sizes. As seen in Amy's photo the four skeins fit perfectly in her chosen bag. This keeps products from moving around and getting destroyed in the shipping process.
Shop owner Ashley, from Ashley Rose Clothing, uses packaging paper to wrap her SUPER CUTE children's wear. This brand focuses on boho baby wear inspired by nature (I am so obsessed!). You need to check her out!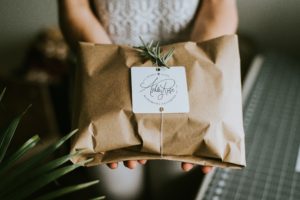 When choosing how to package your products it is key to think long term and cost effective. Thinking long term basically means making sure your packaging can be reproduced consistently over time. This is very important in branding and recreating a positive costumer experience.
Consider these when choosing the right packaging for your small business:
Where you buy your packaging needs (is it accessible to you even if you move your business?)
How much storage or space it takes up
How difficult it is to use (as your business grows you want to spend less time preparing your packages).
Another key component in choosing your packaging supplies is making sure it is cost effective. You are going to want to choose something that costs a small fraction of your price.
3. Thank You Cards and Branding for Small Businesses
Being a small business, every sale is a win. Thanking each of my customers by adding a little thank you card and discount code to encourage repeat customers is something I do with every purchase.
Until now I hand write each of my thank you cards just how I started off.
I tried using Thank You cards that I ordered in bulk from Vistaprint at one point in my business but did not purchase anymore once I used them all.
Why do I handwrite each note:
Handwriting each of my thank you cards remind the customer that there is an actual person behind their purchase. It ties in – once again – to the customer journey. People shop on Etsy to support small businesses and artisans, during the wait time they may forget the feeling the platform gives them. Once they see the handwritten note they are reminded of the feeling and usually feel happier because they supported a small business.
This little detail alone has encouraged so many personal messages, reviews, and med relationships between me and my customers.
I also used to use business cards. Nowadays I no longer do that and use my IG account as the "business card" I encourage people to stay in touch via IG and add a QR code to join my email list.
By directing people to my social and my email list I have put myself in a better position to continue connecting with them and encourage repeat purchases.
4. Add Something Unique to your Packaging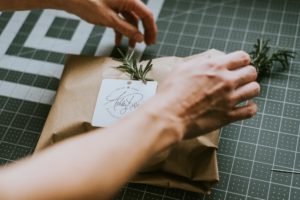 Add a little something something to give the customer experience a little umf. As a consumer I love buying into the experience. The more heartfelt something is the more I feel good about my purchase.
On the receiving end, I have have received packages that have personalized letters to me (my favorites!) I mean just seeing my name written down means a lot to me. Adding something extra is also a nice treat as well. The latest Knitcrate that I received had a cute enamel pin in it which I did not expect at all and it made all the difference!
Again, add freebies only if you can afford it. If not, a simple handwritten note is more than enough to make a unique experience.
5. Shipping Supplies for Small Businesses
Now for the last part of your shipping process: your mailers and labels.
Shipping Mailers
You are going to want to have a ready stash of your mailer boxes/envelopes. Look at your product line and try to categorize them into sizes. For me I have three sizes that I usually use (6×4, 12×7, and a few extra large ones that I don't know off the top of my head)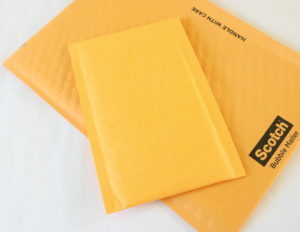 After categorizing your products into sizes you are going to want to invest in buying packs/bulk (I usually get this) rather than singles. I suggest buying on Amazon if you have the time to wait, if you need something immediately the best bet is to buy a pack at Dollar Tree or any other discount store.
After being in business for awhile I am able to get a good idea of how much mailers would go through so I can purchase up to 100 pcs without feeling like I will be holding on to inventory. A good reminder when buying in bulk is that the more pieces you buy, the lower the price per piece will be.
Uline, Papermart, Amazon, and PackagingSupplies are great places to buy shipping mailers in bulk.


Shipping labels
To save time and to finish with a professional touch you are going to want to buy shipping labels.
When I used to live in Hawaii, I purchased my shipping labels from Etsy and printed them at home. However, now that I am in Calgary, the most cost effective way is importing to Chitchats (courier service) where I purchase my labels and – still – print from home.
Up until now I have these shipping labels and designed them on Word to print 4 labels in one sheet once sent to the printer. Since these come in a pack of 200 labels but I am editing them to print 4 per page, I get 400 shipping labels for just $13! This is a very cost effective way to print shipping labels for new small businesses if you already have a regular printer.
This is how my word document looks then I send it to the printer to print on the label sticker paper.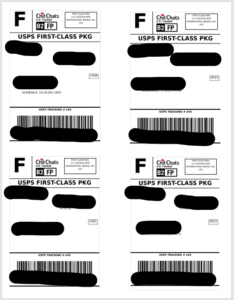 However, now that I am almost done with my last purchase of labels, I feel like it is about time for me to invest in a proper label machine. Label machines are specifically made for printing shipping labels and can be integrated to courier sites like the courier I use.
By investing in this machine I will be saving the time it takes me to edit the word document and cut the shipping paper. But remember, this is now where I am in MY own business. Your business will look different and if you still have the time to print labels as I did for the first couple years of my business, you should do it that way because a label machine does cost money!
I have my eyes on the Rollo Thermal Label Printer and will definitely let you guys know what I think about it once I do get one.
Want More Tips to Improve your Etsy Business?
Have any suggestions with shipping? Let's talk! Send me an email or comment below. 🙂 till next time!
Mahalo!