Best Crochet Items to Sell at Craft Fairs and Online (2023)
Want to know what are crochet items that sell best? This post goes through best selling crochet items that your should be selling on Etsy, at Craft Shows, an Online Stores through Social media.
This post may contain affiliate links. I get a small commission from any purchase made through these links at no expense to the buyer. This allows me to keep free awesome content coming your way. Check out my privacy policy for a full rundown of disclosures.
Starting a crochet business can be tough! It is a more that just whipping thing sup with yarn and a crochet hook then hoping they would sell. A lot of research goes into deciding what exactly you should sell, how to price them, and strategies to become better vendor. Don't fret! This post is going to take the guess work out of what crochet items that sell the best this 2023 so you can focus on the other aspects of your crochet business journey.
Are you trying to build your Etsy business? Check out the link below to learn how to start, optimize, and grow your Etsy shop: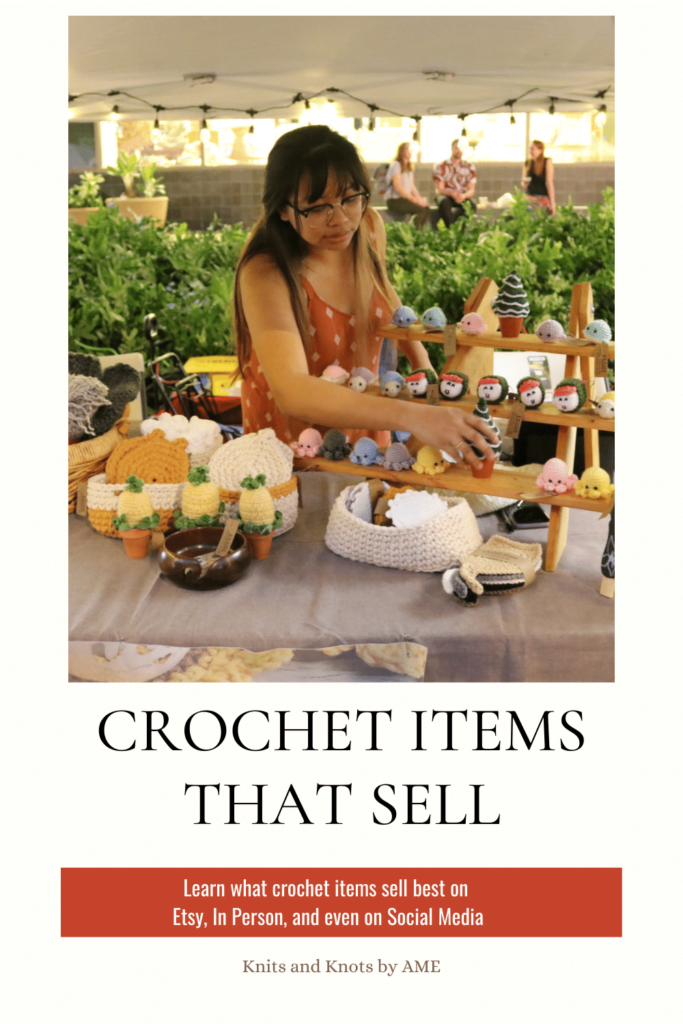 Crochet items that sell best during Craft Shows
What are craft shows? These are local craft fairs are in person events that happen seasonally. Some markets have year round schedules as well and some even have a permanent/designated building where vendors pay rent for a space.
Crafts fairs are great places to showcase your art and a good way to build your loyal community. These shows are honestly one of the best ways to create genuine relationships and find other businesses within your vicinity to collaborate with. I found that people who found me through in person events tend to become repeat customers and supporters on social media.
They also provide your potential customer the opportunity to have a closer look at your craftmanship and story before making a purchase. So many buyers still prefer in person shopping rather than online.
One important thing to note when choosing what crochet crafts to sell at craft fairs is the time it takes to produce inventory. You really need to consider your hourly wage and learn how to price your items properly. Also consider making a wholesale price list since a lot of boutique store owners find artisans for their store at craft fairs.
Here are some Easy crochet ideas and quick crochet projects. 
For larger items, I would have single samples of different styles of an item and allow people to order items. This helped me save time in preparing for a craft show and spend most of my time making more of the popular crochet items.
Best selling crochet items for in person events:
1. Smaller items to sell at in person events
You need to build up inventory and crochet can be so time consuming. This is why smaller items are ideal for in person events. I would make the bulk of my sales through smaller items like amigurumi. Amigurumi usually attracts children which draw parents to your booth as well.
2. Crocheted items for different seasons
Craft shows are often done seasonally and shoppers already have an idea of the things they will see and are looking to buy. 
Seasonal items often include:
Ear warmers
Easter basket fillers
Fall cozies
Winter hats
Ornaments
Average headbands
Summer Totes
3. Value based products
Since you are selling in person, this is a great way to touch on your buyers values. It is also an opportunity to talk to them, let them know who you are and how your values align.
Eco-friendly shoppers would like to purchase things like:
Soap savers
Market Bags
Reusable cotton pads
Dish cloths
Crochet items that sell best on Etsy
Etsy is a handmade marketplace where handmade businesses often start to make extra money. It is a great idea to begin your crochet business journey on Etsy because of their built in audience. The platform has the potential to help craft businesses reach more customers and grow their businesses to full time jobs.
I personally started my journey on Etsy in 2016, left it alone for a year, and started again in 2017. Since then I experimented with what worked best for me on the platform and what my best selling items were. Nowadays, as life evolved, I am focusing more on my website and other platforms, but I continue to stand by the fact that Etsy is a great place to start making money crocheting.
In all honesty, selling on Etsy does have a lot of competition. BUT it is a global marketplace with millions of shoppers on the platform. If you set up your shop properly and treat it like a job (as you should), success is 100% possible.
I use Craft Inspector to quickly help me find what is selling at the moment in my niche and get detailed information ALL IN ONE screen about the listings. Craft Inspector is a one time cost software that easily helps you do keyword research and analyze competition in your niche to help you grow your Etsy shop.
If you own an Etsy shop, these items are best sellers on the platform for crochet:
1. Handmade crochet items
Etsy is a great place to fins high quality handmade goods. You can sell finished object that are large or small on the platform. The beauty of this is, you are in control with what you decide to sell! This means you set your retail price just the way you life it. If you want to sell large finished objects like a crocheted cardigan, you have the option to list it at the price you set. 
Some great handmade items that sell best on Etsy include:
Adult crochet hats
Crochet baby hats
Mittens
Booties
Amigurumi (trending characters)
2. Your own patterns of handmade items
Etsy is a great place for any crochet designer to share their original digital patterns. Digital patterns are very popular items on Etsy and have a healthy profit margin as well! If you are a crochet designer, here is a template you can use to start sharing and selling your own patterns. Designing already takes so much time, get some time back with made-for-you templates that are easy to customize to get your patterns on the platform ASAP.
Some hot crochet patterns now are:
Halter top patterns
Amigurumi patterns
Blanket patterns
Sweater patterns
Cardigan patterns
Crochet items that sell best through social media and online shops
Social media has a whole different structure compared to in person events and online marketplaces. Your social media should link to your online store! Do not send traffic from social to Etsy or other platforms like Amazon Handmade. That traffic is your hard earned customer base and should be directed to your own website.
An online store is a great way for established small businesses to take control of their business and allow them to maximize profit margins for high demand items. What I like most about selling through social media is that it is so much fun. It does require you to dedicate a lot of time on content creation, however think of it as free ways to advertise and market your crochet creations.
Digital marketing is a must if you decide to sell on your own website as you won't have a built in audience like you have on Etsy. This is where social media plays a great roll and learning about advertising. Having a little business does require full time work.
Social media is a great way to showcase your crochet products, connect with your target audience, and even generate custom orders. It is a great place to show off wearable items and unique products.
This is where crochet designers shine and build their loyal customer base. Video and pictures on social media is an extra place where you can build brand awareness and showcase your crochet patterns. What I like about this as well is that you can repurpose content made for a popular crochet item, attract customers who are a good fit for your business, and collect orders.
In addition to brand awareness, social media is such a great place to make money through affiliate links. Link to everything you use in your patterns – skein of yarn, hooks, notions, even those cute scissors! It is also a great way for potential brands to find you! Collaborations are such an important part of being a craft business owner.
Different ways to sell crochet on social media:
Free crochet patterns – okay. a free pattern will not make you money BUT people will most likely find your link to the free pattern instead of following it through the social media app. This will give you ad revenue as they visit your site for the free pattern. You also have the potential to earn a commission through affiliate links for the items you use on that free pattern
Trendy items – social media is a place where trends start and spread. The algorithm favors trends and share it to more and more people. By crocheting trendy items you could get eyeballs on your work and generate some orders.
Unique designs – if you make one of a kind, show stopping items, then social media is the place for you! This is because people will not search for what they don't know exist using Google or Etsy. Social media will help spread awareness on your brand and style so they can discover more through your shop link.
There you have it! All the best crochet items to sell!
Now it's time to make some money! Make sure to check out all of my free pattern to find inspiration to grow your inventory here crochet patterns.
Until next time my maker friend!
xoxo
Abigail
That's all for now my maker friend! Remember, never miss a stitch by subscribing to my newsletter. See you nex