My First Year Running A Creative Business
Starting a creative business has it's highs and lows. You all know I love to spill the beans as I go. Awhile back, I posted about the first six months of running the business and shared some tips along the way.
Let me throw it out there and say I am no expert in running a business. I am one of the thousand creatives just simply trying to figure things out as I go. And, lucky you, hauling you in for the ride.
As 2018 approached I made a pact to myself that I will begin to focus on my handmade business. Knits and Knots by AME has been around for years before then but only as a hobby. However, sadly never given the attention or effort it deserved. I know many many makers with full time jobs, children, or any other priorities can resonate with that experience.
Turning your passion into a reality is not as hard as it may seem. I too have a full time job which takes up a lot of my time. The secret here is, and I bet you have already this before, CONSISTENCY. Consistency creates habit and once you are into the habit of putting yourself out there, everything gets a little easier and feels more natural. I started this by simply posting every day.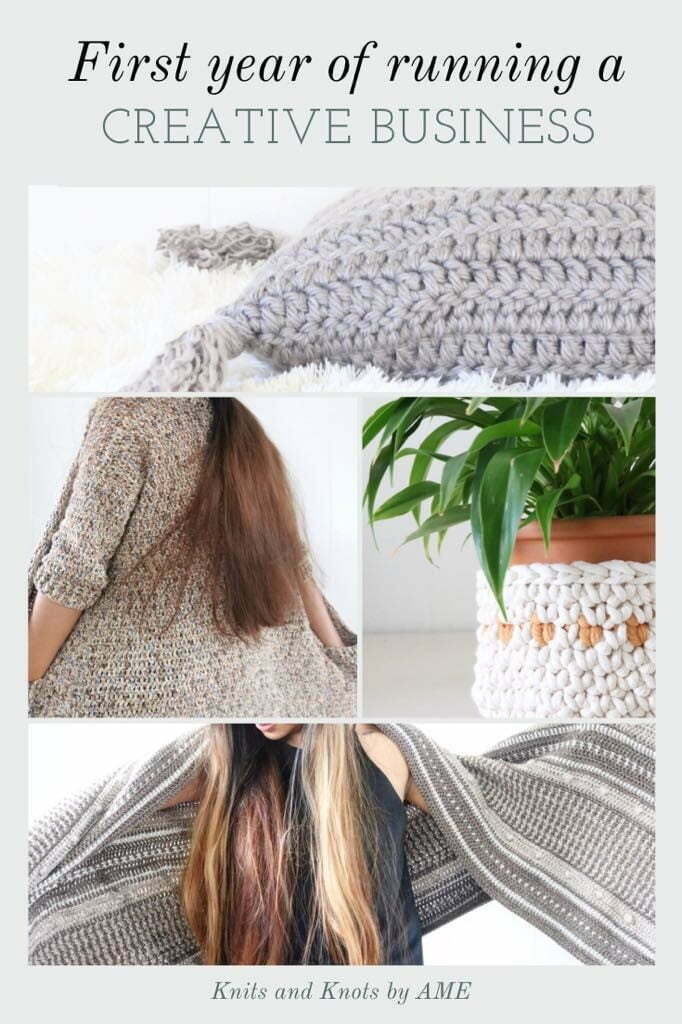 With the habit of consistency built I gradually found myself ready to face venturing into the world of small business and turning my passion into reality. Here are five essential tips I put together during to starting a creative business and focus on organic growth:
Legitimacy
First and foremost, and quite frankly the most intimidating part of starting a business, you need to get the legal aspect of your business handled. Now this is actually not as scary as it may seem. In fact, handling the legal side of the business at this starting point actually just means obtaining a business license in your respective state. Now, each state is different when it comes to running a business so make sure you research to find out what is needed in your state.
In Hawaii, I obtained a business license, paying a fee of around $65 (I don't remember for a fact but it was around this number) for the license because I also registered and trademarked my business name. You can follow these simple steps in registering a business in Hawaii here. And that's just it for legality at this time! See, easy peasy, not as scary as you thought.
Here are some things I did during my first year in this category:
Register my business and obtain a business license
Worked on branding (No way did I spend money just to let that license sit)
Established a website (such a great way to hold myself accountable, I paid for the domain so might as well use it right. Having a website for your business also helps potential customers get a glimpse of who you are and a feel for your service)
Started book keeping. I am almost completely clueless with how things work come tax time so I make sure to track and log all my expenses and followed these three financial moves to cover this ground
Getting the legal part done is the first and most important step in accountability. It's real! Your business is now a reality, and now it is time to bring it to the world. You now have your shiny new ball and now it's time to get it rolling.

Finding your Community
To keep the ball rolling you need to find others to help you push it. The more the merrier! And this is where finding your community steps in. Surround yourself with people who are as passionate as you are in your niche.
For me, I found my community through mainly Instagram at first and Facebook groups. Being a part of a community means more than liking and following other makers. It is communicating and being a part of the collective experience. Actually read and comment on posts. Keep in mind that it is more than just generating a following but making connections.
Being a part of a community motivates you to keep pursuing your dreams for your business as you talk and share experiences with other makers. However, there is a big big big point I want to share in this portion which is BE A PART OF A COMMUNITY THAT REFLECTS AND SUPPORTS YOUR CURRENT POSITION IN YOUR BUSINESS.
It is like kids playing on the playground. Yeah you want to be friends with the older kids but forcing yourself into their group will only make you fail, and comparing yourself to them will make you feel bad about yourself. Look to the older kids as inspiration rather than comparison. Find your people in the community who are at the same growth state as you are in to help and support one another as you journey through the experience together.
A few of the places I like to hang out on social are:
Maker strong (@makerstrong on Instagram and Facebook)
Our Maker Life (@ourmakerlife on Instagram)
Goal Digger (podcast, Jenna Kutcher)
Raw Milk (podcast, Beth Kirby)
Rise (podcast, Rachel Holis)
The Hook Nook Crochet Group (Facebook)
The Hook Nook Life (@thn.life on Instagram)
Our Yarn Collective (Facebook)
Hooks and Needles (Facebook)
Face your Fears
I am not a people person. Which is ironic because I am a full time mental health therapist. Anywho, I just do not do good in social situations. I get all jittery and stutter a lot, yeah it's horrible. Thank God social media gives us the benefit of hiding behind our screens. But let's get real, you won't get anywhere if you don't put yourself out there!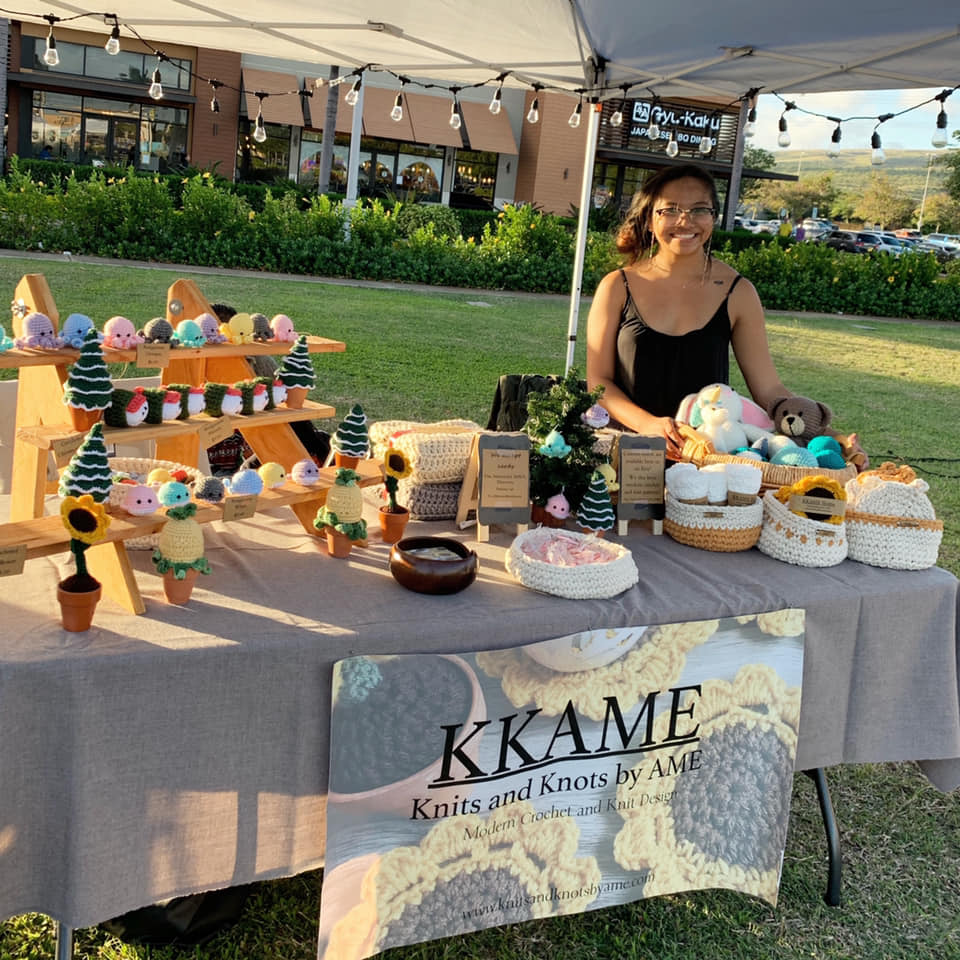 I remember posting my first call for pattern testers for the Catalan Beach Tank. I feared being judged by other makers and struggled with self defeating thoughts. In my call I literally announced I need patient people because it was my first pattern. In retrospect, I am so glad I faced that fear because a few months later the Catalan Beach Tank ranked best seller on Etsy!
I also learned through my vulnerability that a great deal of makers struggle with the same fears as I do! You are never alone in your fears!
During my first year of business I landed wholesale relationships with two local stores on the island. It was so frightening putting myself out there! I beat myself thinking my things wont even sell! Sure enough, the experience proved me wrong as my products moved surprisingly quickly in both stores.
I also met my business bucket list and kicked my fear of people in the butt by participating in a craft fair and pop up shop! Believe it or not I found out that I'm actually not too bad at in person sales and these events were really fun to be a part of as well!
Be Financially Smart
In a previous post I talked about the first three financial moved I made in starting my business. After a year into the business I continued to learn about the financial side of starting a small business.
It is extremely important to think smart when handling finances and trying to get things moving for your business. I am a strong believer in building a debt free business. Thus, I do not, under any circumstance, take out money from my business account for personal needs and I do not put in money that I make from my full time job to my business.
For me I found what works best is to only move within my business means. Before making any purchase or commitment for the business I always think it through. Any decision that brings the bank statement too close to a scary low point is a solid no for me.
Learning to say no and protecting your yes' is such an important aspect in being financially smart. For me it was about remembering who my target/ideal customer is and quit bargaining with potential buyers just for the sake of sales. If the consumer does not understand the time, effort, and value that is put in to handmade products then that is not your ideal costumer. Hand in hand with this comes learning how to price your products properly. A smart way to create passive revenue in a creative business that I found was to create patterns for your products for fellow makers to enjoy.
Here is a glimpse of the decisions I made while starting my creative business from the start to the end of the year:
Made first three patterns with existing yarn stock
With the income from pattern was enough, registered for business
Got my first check from Lion Brand Yarn, used portion and started a website
Signed up as an Art+Flea vendor (showcase and community for local makers) and began my wholesale part of the business. Only using money from the business to support and fulfill wholesale orders.
Continued to sell patterns, fulfilling wholesale orders, and designing patterns
Started selling physical items in my Etsy shop after investing in shipping materials and other essentials
Signed up for craft fair that was well inside my range of budget considering sign up fee and initial set up needs such as a tent, lights, etc. Did NOT accept offers to join any fair that fell outside of these limits
So that is a quick rundown of how things went for me. I could have joined more fairs, paid for advertising, etc. But I had to consider the time that I was able to put in, and money I needed to put out. For me, when starting a creative business it is important to work within your means and let growth happen at its own pace.
Grow as you Go
My final reminder in starting a creative business is to remember just that: you are starting. No one expects you to know everything right now. It is okay to answer "I do not know". You are not supposed to have every little detail of your creative business squared away. Remember, you will learn as you go and grow as you go.
Do not rush into things you are not ready for. The beauty with organic growth is growing at your own pace. It allows you to figure things out throughout time. Trying to scale to quickly when starting your creative business will burn you out and cause you to fail. Take each day as it comes and with being financially smart and with the support of your community, you will succeed. We will succeed!
Well that's just about it for now,
Everyone has their own creative journey and I would love to hear about your experience running a handmade business! Share in the comments below 🙂