Hello there lovelies! It is due time for another yarn review and today I wanted to dive into the low tide. Lion Brand Yarn's Low Tide, to be exact! Reviews featured on Yarn Days are not sponsored and reflect my personal opinion in working with these yarns. Affiliate links are present throughout the post. If a purchase is made through these links it grants a small commission to the blog. This helps me continue providing awesome content your way.
Spring is in the air!
The weather is starting to warm up which is just the delight we need! However, as we continue to fight this battle against CoVid-19 we are still expected to stay in the safety of our homes. Fiber arts and crafts are just the perfect time consuming activity anyone can do indoors. Now is the perfect time to whip out lighter weight yarns and get to making spring and summer garments. I don't know about you guys but I think I am going to come out of this pandemic with over a dozen new garments!
Coming from a tropical vicinity, I have had my share of experience with lighter weight yarns. And boy have I missed working with these yarns since I moved to Calgary last year! Once January hit I was so excited to start preparing simple garments focusing on light and airy designs. Luckily, I got my hands on Lion Brand Yarn's Low Tide to use for my first spring design.
Calgary – as I have come to discover – is just full of surprises with weather! I have never experienced any place like this with such bipolar forecasts! During my first month, I went for a nice walk with the sun beaming down. Then, out of nowhere, within half an hour a heavy hail storm hit! Good thing we were close enough to shelter or else mother nature might have beaten the crap out of us!
When making my first spring cardigan I decided that it would be airy enough to wear in the sun, but also had enough coverage and weight to keep me warm in case Mr. Sun decided to suddenly disappear. Low Tide was perfect for this reasoning!
If you are interested in grabbing the PDF pattern for this cardigan click here.
Low Tide Details
Low Tide comes in 12 colors, all named with themes resembling a relaxing getaway near the sea. The color pallet available for this yarn follows the same theme as well. A unique feature to the yarn in regards to the colors is it's faded washed kind of look. This is definitely is my own opinion and observation with the pallet. The colors really gives me a drift wood and sun soaked feels.
The yarn comes in a very generous amount of 306 yards. This is a ton of yarn for lightweight garments! My Low Tide Cardigan used 6 balls and it is a full length (below the knee) cardigan with sleeves…using a textured stitch! I would presume a simple top would need at least two balls of low tide which is not too shabby!
It is an acrylic-polyester blended fiber which is classified as a level 4 – medium weight yarn. But wait! "Abie, didn't you just rave about it being a lighter weight yarn?". YES! Despite Low Tide being classified as a level 4 yarn, it's chainette construction allows the yarn to breath freely without added weight. Hence, my definition of a light weight yarn.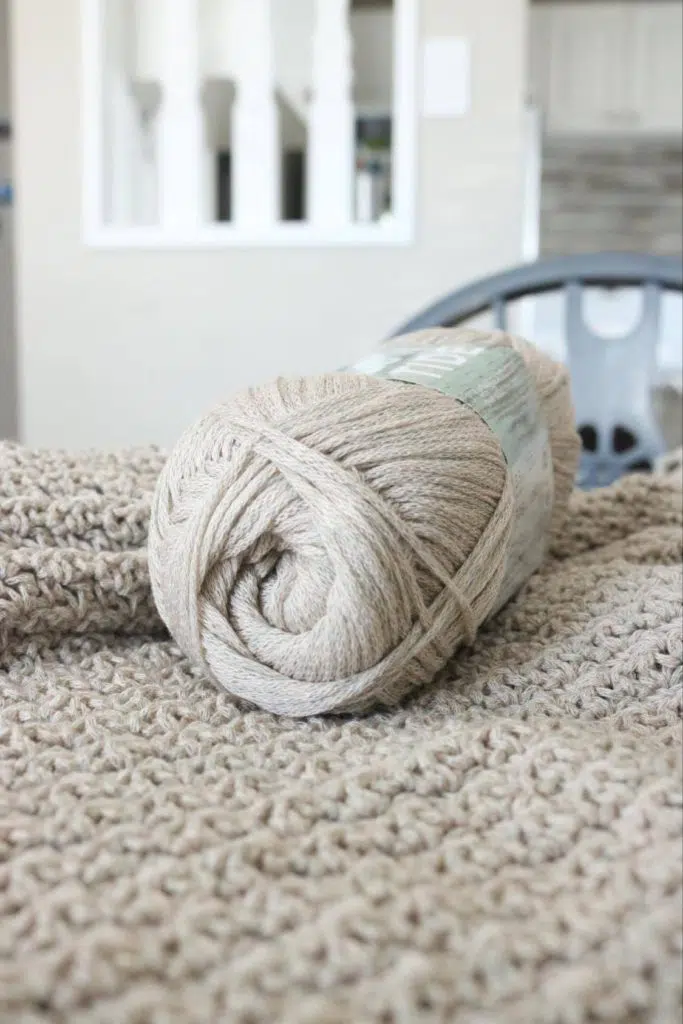 Working with Low Tide
Working with Low Tide was a real treat! I am such a tactile person and different textures amazes me. When I first saw Low Tide, I expected it to be soft and fluffy – comparable to Boogie Nights . However, I was completely stunned when I held the yarn as I felt it was not all that soft after all. Initially working with Low Tide I felt like it was a bit rough and had a plastic like kind of touch.
This initial thought had me on the fence about the yarn but I continued working with it and to my surprise (once again!) once worked up it does not feel plasticky at all! It also has amazing drape! I have sensitive skin which dries and scars really quickly. So far, Low Tide, has not bothered my skin and feels very nice worn.
The yarn is extremely durable and required a scissors to cut it, breakage was never a problem when working with it. This is a total plus because I know that it will be just fine when I throw it in the wash. Low Tide is completely machine washable and dryable.
Final Thoughts
Low Tide is a gorgeous yarn just threw surprises at me left and right. With it costing $6.99 per ball, it is a cost effective yarn with the generous amount of yardage. The make of the yarn is ideal for spring and summer usage including garments and accessories such as bags.
Although I feel great using the yarn as a garment, I would suggest those who are sensitive to get a feel of the yarn before buying. Like I mentioned, the yarn is not too soft, not is it rough. It has a unique texture that feels different as it is worked up. This yarn is definitely a new staple for me in spring wear design.
Until next time,
Abigail
PS. is there any yarn you would like to see featured on Yarn Day? Let's explore it together! Comment or leave a message.