8 Things You Need to Nail To Make Money on Etsy (2023)
This is a destination for all things Etsy. Learn everything you need to know about how to make money on Etsy and turn your passion into paycheck. This post teaches how to Etsy works, help you find what sells on Etsy, and how to get found in search.
This post contains affiliate links. This means I get a commission for any purchase made through these links at no expense to the buyer. You can read about my privacy policy here.
Short on time and want to know all the things NOW? Skip learning everything on your own and follow a proven roadmap that works! Scale your Sales is the Etsy Course I took that literally changed my Etsy game. This course goes through everything you need to know with bonus content to help you reach your Etsy goals. Click here to breeze through learning on your own and join the program now.
Don't mind taking the time to learn? Now, on to the good stuff!
What is Etsy?
It is good to refresh a little bit and go back to the roots. So let's start with what exactly Etsy is.
Etsy is an online marketplace for handmade and vintage sellers. It is a place for artisans, small businesses, and local entrepreneurs to find potential customers outside of their vicinity.
Etsy shop owners are allowed to sell authentic handmade products, vintage items, craft supplies, and digital products. Since Etsy is made up of thousands of small shops, it is truly a special platform to find unique things. People come to Etsy for that unique experience and personal touch that Etsy provides.
This makes Etsy the perfect place for handmade sellers to get in front of their dream customers!
Now, let's dive into the strategies to help sellers understand how to make more money on Etsy through different avenues.
Are you trying to build a crochet business? Check out the link below to learn everything you need to know to start a crochet business in 2023.
---
Short answer, YES. Etsy is a wonderful place for handmade makers to earn a profit from their craft and rake in some extra money. Market research shows that in 2020 along there was an 85% increase of new shop owners. Many in which have found success in Etsy and literally made lemonade from lemons while stuck at home.
With that said, Etsy does require a lot of hard work and learning about the platform to be successful. Fear not, I am going to tell you everything you need to know about selling on Etsy right here.
Etsy SEO involves a handful of areas that work together like a clock. Setting up your shop for success is key to start seeing growth in your business.
Read more about Etsy SEO in my post How to Get Found on Etsy in 2022.
---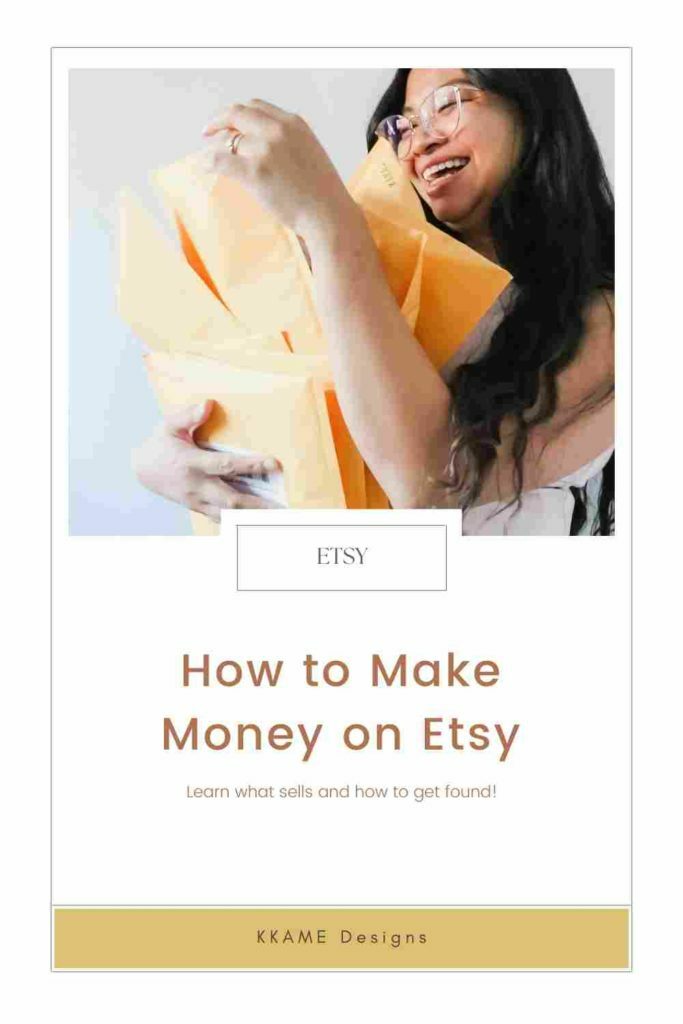 Let's dive right into the good stuff. Right from the get go, you are going to want to do market research first to ensure you choose a niche that does well on Etsy.
You want to find a niche that is is not too competitive but also has a decent amount of traffic.
Popular niches on Etsy include graphic design and digital downloads, home and living, handmade jewelry. These niches do have a lot of competition. To become a successful Etsy shop try to further niching down. Well niched down shops may not have as much visitors but do have higher conversion rates.
A quick way to do this is to enter your niche into the search bar and see how many results pop up. Etsy tells you how many listings are generate. You want to be on the lookout for listings that have best seller badges. If there are plenty of best sellers there are a good amount of potential buyers in that niche.
You can also use tools like Erank, Sale Samurai, Marmalead, etc to help you do your research. I use Keysearch which is not specifically for Etsy but has an Etsy option where I can get a rough idea about keywords on Etsy.
Key points to consider when Opening an Etsy Shop:
Choose a shop name that allows some flexibility. This helps as shop changes down the road as you better understand your target audience. Avoid generic names like "Abby's Craft Corner" and take advantage of keywords in your shop name if possible.
Niche down as much as possible. When you are starting, you want to focus on getting sales to improve your shop authority. The best way to do this is by niching down!
Fill up ALL information in your About section and Shop settings. These are all places that help you get found in the Etsy search.
See the whole set up process in my post How to Start an Etsy Shop for Beginners Part 1: Opening an Etsy Shop.
---
After your shop is set up for success, it is time to add your unique products. This is where things get a little technical and the backbone or successful shops.
Etsy makes it very easy to set up a new listing with a clear flow. For more information about setting up optimized listings read the post How to Set up a Etsy Shop for Beginners Part 2: Etsy Listings where I go through each step.
It is so important to fill in everything needed in this process to make sure your listings are optimized for the Etsy search.
Have a crochet shop like me? You might want to check out the Crochet Items that Sell Best in 2022.
Parts of a listing that will help you get found in the Etsy search are your Title and Tags. Keep note, shop categories, sections, and attributes also serve as tags.
Product descriptions do not have a direct impact in getting found on Etsy. However, they do play a big role in the customer experience and Google search. Read some key points about listing descriptions here.
Good practices for your product descriptions for Etsy look like:
Adding frequently asked questions buyers may come to you with
Adding product specifications
Help paint a picture and target your ideal customer's pain point
Link to similar products or back to your Etsy store. Keep in mind, buyers most probably found your listing in search and haven't seen your whole shop yet. This gives them a reason to explore.
Etsy now has a place to add one listing video. Take advantage of this valuable space and take a quick video. Videos bring listings to life. According to Etsy findings, buyer are more inclined to buy products that have a listing video!
Another feature recently added to Etsy is Etsy Explore. This is a feed where sellers can share different kind of videos to showcase their products and creative processes. It is similar to IG Reels and Tiktok. At this point, I don't have much thoughts about the Explore feed but I'll be sure to share my thoughts when I do. What I can say now is, when an app throws out a new feature, get on it because they are going to prioritize it.
Read more about Etsy listings here where I walk you through the whole listing process.
---
Product images are a part of setting up a new listing but deserve their own discussion because it is the most important part of a listing. Why? Because buyers shop with their eyes.
Etsy is a digital platform. Buyers cannot touch or smell what you are selling. Thus, you need to have crisp photos that catch their attention in search.
You are allowed up to 10 images per listing and you are going to want to maximize each slot. Think of it as precious real estate.
Here are some ways you can fill Etsy image spots:
Product shots, show different angle
Lifestyle shot
Show scale
Include branding pictures
Add reviews
Put in additional information that is useful and relevant to your product. This could be sizing specifications, any promos going on, care instructions, etc.
I put together some tips for product photos in this post.
Nowadays, phone cameras are amazing and you can actually get quality photos just from your phone and some apps for quick touch ups.
Let's be real, not everyone has the luxury of hiring a photographer or editor. That's fine! You can take quality photos on a budget. Just keep in mind, less is more, and the important thing is you get a clean, clear, and visually appealing shot of your product.
The best ways to test out how effective a primary product photo is through A-B testing.
A-B testing is when you duplicate a pin to test different photos, titles, or tags.
The best part about social media is the reach of people you can engage with that is within your target audience or niche. Another thing you can do to determine what images to use is take it to social and ask for opinions in Facebook Groups or IG polls. You may be surprised with how many people
Read more about taking product photos in these related posts:
How to Take Product Photos for Creative Businesses
All You Need To Take Quality Photos on a Budget
---
Shipping is another hot topic for Etsy sellers and a part of the listing process. But, just like photos, this part is just too important and needs it's own section.
It has been announced that Etsy favors shops that offer free shipping and will get you a little bump in the algorithm. It is best practices to offer either free shipping or free shipping on qualifying orders with a minimum of $35.
Going back to the customer experience, an Etsy buyer likes to feel like they are getting great deals. The average person would be more likely to buy a $50 item with free shipping over a $43 item with a $7 shipping cost. Crazy, I know. But true!
Making Etsy Shipping work for you
Good news is, there is a way around this like adding some of the shipping costs into your product price. If you opt for free shipping on items $35 and more, you will most likely be seeing an increase in cart value as well. People want that free shipping!
Shipping might be the biggest hurdle if you are selling a physical item. Luckily, if you sell a digital product, you don't have to worry about that.
Because shipping can get pricey, you want to think about practical ways to package your items. I know unboxing and packaging videos are really hot now on Tiktok BUT you do not want to loose out on more money by spending tons on your shipping.
New sellers often have a hard time finding the right balance and cost for packaging, thus, changing their packaging ever so often. Here are some shipping and packaging tips to help new Etsy sellers.
In my post all about the 5 Things New Small Business Need for Packaging and Shipping I go through this topic more in depth.
Just remember, Etsy shoppers are there for the intimate, small business experience. Adding a personalized note is a great idea to take make a memorable impression without the hassle of thinking too much about packaging.
---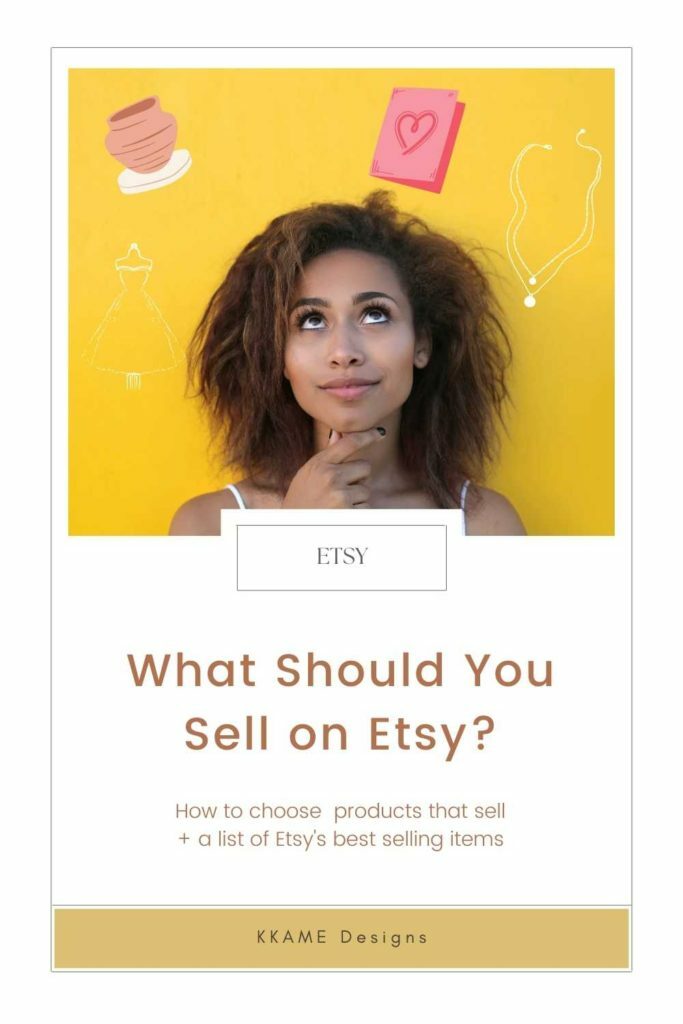 As a business, the hard truth is, you cannot always make what you want. In order to grow and sell more, you need to know what exactly is selling. You need to sell what people what to buy
Much like when opening a new Etsy shop, you need to do market research. Find what things are trending and what is selling.
The best place to search for items that are selling is Etsy itself. To look for things that are selling open Etsy in incognito. Type in your keyword in the search bar and keep narrowing your search until you find a good keyword that has best selling items.
Let's talk a little about Etsy best sellers.
What is an Etsy Best Seller
Best seller badges are given to listings that are selling lots in the moment. That means a seller can lose a badge and gain a badge at any given time. This is good because it gives a really clear indicator what are popular items and a lot of people are actually purchasing in the moment.
There are popular products that do well all the time. Products like party decorations for occasions like baby showers and other special events, coffee mugs, jewelry, greeting cards, etc. get a lot of traction and will show a lot of best sellers. However, you are not able to see how competitive it is so you need to do further research.
Open up Erank (free version) and type the keyword in. Erank will then give you an idea of how competitive a keyword is and – my favorite feature – variations of the keyword that you can possibly rank for.
Other resources where you can get information as to what will sell well on Etsy is the Etsy Trends report. You can find Etsy trends on the Etsy Seller Handbook in the form as an article.
Lastly, head over to social media platforms and observe reoccurring trends or styles. Find ways to turn these into a product or incorporate them into new listings for your shop.
You can read more about The Best Things to Sell on Etsy and the methods to niche down to find the perfect product here.
---
Etsy reviews are a great way to increase your shop authority and bump you up higher in the search. A good seller history plays a big role on how Etsy evaluates your shop.
In 2021, Etsy introduced a new badge called the Star Seller Badge. This badge is given to sellers who meet the following criteria: message response rate, on time shipping and tracking, and – you guessed it – 5 star ratings.
This tells us that reviews are very important to the Etsy platform and I am almost certain star sellers get a bump in the search algorithm as well.
My post 5 Ways to Get Valuable Customer Reviews on Etsy talks all about ways you can provide exceptional customer service that inclines buyers to leave reviews.
Last year I received 94 ratings of which 92 were 5 star ratings. My shop has been open since 2016 (active seller since 2017). That means 57% of my reviews were given to me in the span of 1 year! And that is all because of the strategies I implemented last year to connect with my buyers and get more reviews.
Read about my strategies on How to Get More Etsy Review here.
---
7. Using Etsy Ads for Beginners
Ads are a great tool you can use to increase your impression and by default your sales. Naturally, ads help you get seen in the search. Etsy prioritizes advertised listings by showing them first and throughout the search.
One misconception that new sellers have is that if they use Etsy ads on a listing that is not doing well the listing will get more sales. THIS IS WRONG.
The Truth about Etsy Ads
Ads work well for listings that are already optimized and that are doing good on it's own. Thus, if you have a best seller and run ads on it then you will sell more of your best seller. This is because your listing is already optimized and Etsy has a good understanding as to what sort of buyers would be most likely to purchase your product. Your product will be pushed out in front of people who are actually looking for items just like yours.
Think of it this way. You grow apples that are beautiful and juicy. Your apples sell very well in your hometown so you think of taking them to the city where even more people are. You set up a small booth at a farmers market and hope your apples sell – which they do! But if your apples are dry and not appealing, most likely they wont sell in your hometown and bringing them to the big city in front of lots of people won't convince people to buy your apples.
I guess my takeaway here is: only use ads on items that are already selling well.
---
8. How to Make Money on Etsy Through Pricing
Pricing is a hot topic for small business, especially handmade businesses. I want to start this section out by saying you are here because you have an Etsy Business, not a hobby. Hobbyist charge differently from those who are actually trying to make a living off their handmade items. So do not feel bullied, pressured, or insecure about how you decide to price your items.
This article is all about how you can make money on Etsy, after all. The actual money making happens with your price point.
There are several things you need to consider before placing your price.
Some things to consider when pricing your products for Etsy include:
Raw materials of your goods – take time to compute the actual cost of your raw materials. When you buy in bulk divide the price by the quantity to get the price per unit.
How much time it takes to make your products
Market value – what are others charging and how can you be competitive. Is your product in high demand? If so, you will be able to price a little higher.
Profit margin
Etsy fees – Etsy charges for a number of things like listing fee, transaction fee, and even automatically enrolls qualifying shops in offsite ads.
If you are going to run discounts and ads – this is one a lot of shop owners don't really think of and end up selling short)
Shipping – like I mentioned in the shipping section, sometimes sellers put shipping costs in the price to be able to offer free shipping)
If you want your to run a profitable side business and even turn it into a fulltime online shop, you must factor in those costs and come to a reasonable selling price.
Sometimes, Etsy may just not be the right place to sell, and that is okay.
---
Final Thoughts
Etsy is a great place to make money from your very own creative ideas and own small business. It gives you access to their built in audience and helps sellers connect with active buyers without needing to market outside of the platform.
With all the recent success stories about active sellers there is no doubt you can make a money on Etsy.
However, keep in mind that Etsy is an a business in and of itself – a business you do not own. That is why you should continue building your audience off of Etsy. Build brand awareness on social media and get potential customers on your email list. Eventually, you want to drive people to your own website.
Remember that your earnings will equate to how much work you put in. Do your research, come up with the right product, and optimize your shop and each listing.
That's it for now my maker friend! Pin this post for future reference. This post will be updated with the latest information about selling and making money on Etsy.
Bye for now,
Abigail