How to Set Goals to Grow your Creative Business (2023)
This post walks you through the steps on how to set goals for your creative business. Goal setting can help you grow your business steadily on a clear path. In 2021 I grew my creative business and started a new private practice to the point of being able to quit my 9-5. With perseverance and the right mindset, you can make it there too!
A new year always brings along new hope and transformation. As entrepreneurs, our businesses get a little refreshed too as we sit and ponder how the year went and what we want the new year to look like. This week I want to talk a little bit about goal settings in our small businesses
Is it your first year in your creative business? We all start there! You can read all about my first year running a creative business here. Nevertheless, setting goals is a vital part of any creative business regardless of the number of years they have been around.
Related Post: My First SIX MONTHS in my Creative Business
Just Starting your Etsy Shop? Check out these Steps to Start Selling on Etsy:
How To Start an Etsy Shop: Opening up a shop
How To Start an Etsy Shop: Etsy Listings that Sell
Are you trying to build a crochet business? Check out the link below to learn everything you need to know to start a crochet business in 2023.
Why is it important to set goals?
At the end of every year to the beginning of a new year, I like to sit down and assess where my business is at. Last year was a very insightful year for my business as I entered it with creative boundaries and a great sense of creativity. This mindset shift set me up for a successful year that moved the needle a little more for my small business.
When setting goals for creative businesses, we have to try to keep them simple.
Last year my goal was centered more around education and content creation. This includes being more consistent on social, learning more, and adding content to my blog, and the same for my shop.
The result? I grew my following from over 4x more on social, increased my shop revenue over 2x, and increased my websites visitors resulting in 2x email subscribers.
The year before, my only goal last year was to prioritize family which meant scaling down on wholesale and focusing more on designing. Thus, I made more designs that year than I have in any other year.
Running a small business can be frustrating. By keeping our goals very simple and open-ended we leave little room for self-sabotage. Remember, you are your business's biggest fan and strongest advocate. Be gentle with yourself and cut yourself some slack.
Here are the Ultimate 5 Steps to Goal Setting for your Creative Business: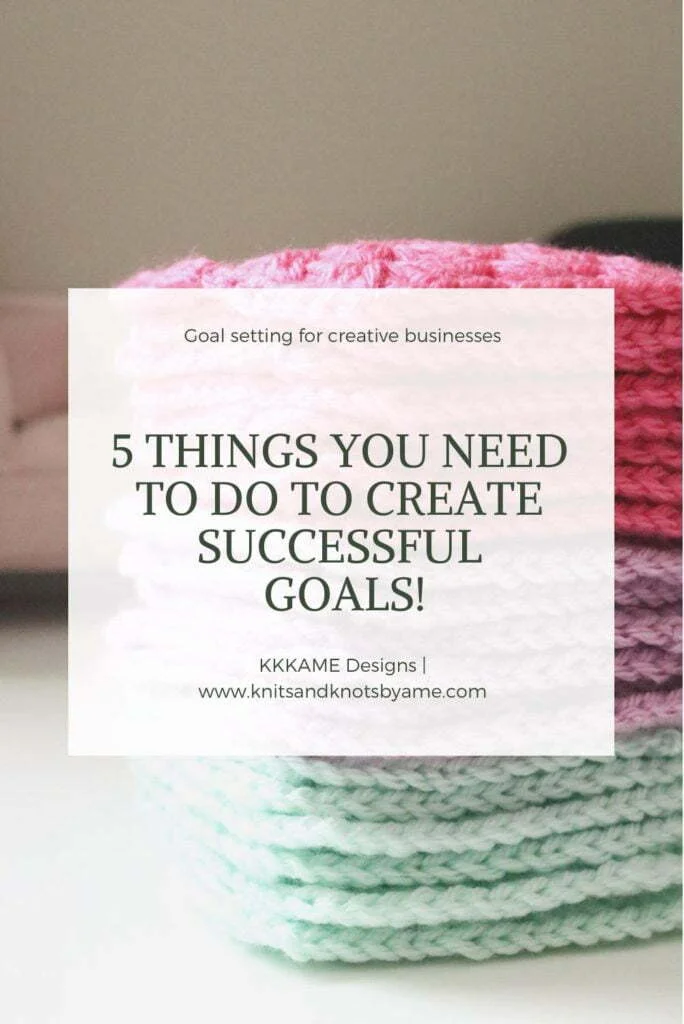 STEP 1 – Look at the facts
In this day and age, there are so many FREE ways to analyze statistics. Take advantage of insight pages to analyze where you are right now. A great example of this is stat pages like on Sell on Etsy.
Stat/insight pages usually provide you with a graph and compare your year to date against previous years. If you are just starting out, you can even use these pages to determine what has – or has not – been working so far.
These pages are extremely useful in creating your baseline for your goal. Dive into the numbers, graphs, and facts to determine what you want to focus on in your creative business for the year.
STEP 2 – Envision where you want to be in a year
Now that you have an idea of where your creative business is at right now, it is time to sit back and think about the future. In a year from now, what do you want your creative business to look like? More technically, what kind of changes do you want your stats page to yield a year from now?
Do you want to see an increase in traffic to your blog site? How about more items in your Etsy shop? Does your vision include getting a new team member?
Keep in mind, this is just a year! Most probably you won't have a huge influx of change and progress. Hey! But if you do, kudos to you!! However, realistically, a year goes by very quickly so keep your vision grounded.
Most importantly, think about what your values are in your creative business and if your vision supports these values.
STEP 3 – Look into reality and define your goal
Okay. This one is really important! It might be the most obvious step, but often the most overlooked. The key here is to try to think without any major changes to your daily routine, would you be able to achieve what you envision?
Now! I know – but Abie! You absolutely NEED to make changes in order to move forward. Yes. That is absolutely right. However, in reality, you will not be able to commit to major changes! Life happens. A lot of us are juggling a full-time job while wearing all the hats in our business. If that sounds like you, I have a whole post to help you with work-business balance right here. What I want to get at here is working smarter, not harder. So without changing too much, will you be able to achieve your vision?
Ask yourself here is, how much time can you definitely commit to your creative business? If you are already taking all the time you can possibly give, that is okay! This is where working smarter comes in. How can you maximize this time, shift things around, or change to optimize what you have?
Once you are able to confidently say you can make then make that vision a reality in a year without making too many changes to your daily routine now, then – my friend – you have now discovered your GOAL.
For example, A year from now I envision my blog driving 5x more traffic than it does currently. In order to achieve this without changing too much or devoting more time than what I already allot for my creative business, I need to focus on my Pinterest strategy. So my goal for the year would be to focus more on creating evergreen content and producing fresh rich pins.
STEP 4: Prepare for setbacks
You need a backup plan! I hope you never need to use your backup plan and you do not experience any setbacks this year. But, it never hurts to be prepared.
Staying ahead of your game is a big part of preparing for the inevitable. Here, you need to think about what could possibly go wrong and how can you fix that?
For example, if you envision your shop to have more items and your goal is to launch a new line of products this year. One thing that might set you back would be supplied. In this case, make sure you research backup suppliers even make a contract with your current supplier.
In my case, I could possibly be busy or unable to keep up with making regular content. To prepare for this potential set back my plan would be to batch work content and Pinterest activity.
For this step, you just need to think about what you could do to ensure your success if life throws you a curveball.
STEP 5 – Find accountability in goal setting
Now that you have your goal – or goals – and your backup plans, it is time to be accountable! Let the world – or even just a trusty person – know what your goal is. There is something about holding yourself accountable that just pushes you to keep treading towards your goal. The more public you make your goal, the more you will keep towards achieving it.
One of my favorite ways to publicize my goals without actually stating them is showing little sneak peeks of my work. Behind the scenes and creative process, content is a great way of telling people you are up to something without the added pressure.
Something I recently added that really seems to be working is a little reminder board in my office. Having a visual reminder is so motivating and keeps me accountable for my progress.
---
There you have it! The ultimate 5 step plan for goal setting. Keep to this plan and I promise you, you will see the needle move and your envision come to life!
Let me know how you find accountability and what your goals are this year in the comments below!
until next time!
xoxo
Abigail