How to Find the Best Things To Sell on Etsy (2023)
Starting your own Etsy business can be very exciting! Etsy gives you access to tens of thousands of potential customers to discover your small business. The secret to Etsy success is knowing what to sell. So, how do you find what the best things to sell on Etsy are? Don't worry, I am going to help you exactly how to find best sellers to help you decide what to sell.
This article is a part of the How to Make Money on Etsy series. Here I guide you through best practices in running a successful Etsy shop and increase your online sales.
This post contains affiliate links for products we use and love. This means we get a small commission for any purchase made through a link at no extra cost to the buyer. You can read our privacy policies here.
Short on time and want to know all the things NOW? Skip learning everything on your own and follow a proven roadmap that works! Scale your Sales is the Etsy Course I took that literally changed my Etsy game. This course goes through everything you need to know with bonus content to help you reach your Etsy goals.
On to the lesson!
---
Why do people sell on Etsy?
Etsy is an online marketplace for handmade products and vintage sellers. It is a great place to start an online business and earn a little extra money – or even however much money – depending on your goals.
Etsy shoppers shop on this ecommerce platform because they want to support small, looking for a unique gift, and value what goes into the handmade process. This makes Etsy a great place to connect small business owners with their target audience.
If you are a new seller or looking for new products to add to your shop, here is how you can do your own research to find best selling items.
Are you trying to build a crochet business? Check out the link below to learn everything you need to know to start a crochet business in 2023.
Related post: Crochet Items that Sell Best in 2022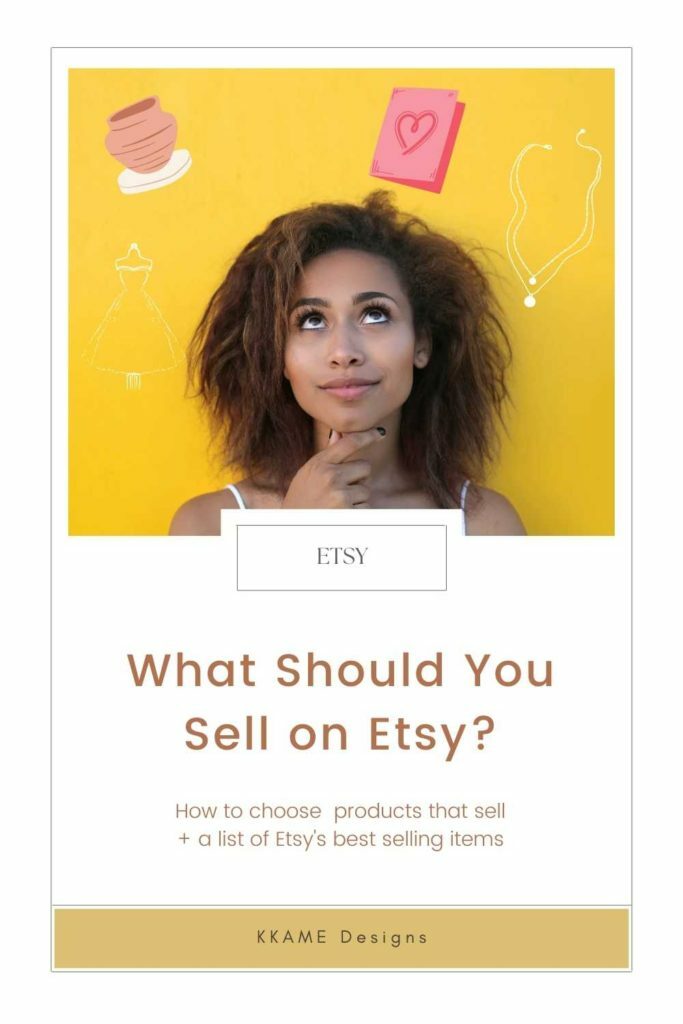 What should I sell on Etsy? The Riches are in the Niches!
Action Item! Use these different methods to make a list of best selling Etsy items
Method 1: Etsy Search
Etsy search is the best way to find best sellers on Etsy because it is easy to spot a Best Seller Badge. Best seller badges are time specific and indicates items that are selling great at that certain moment/period.
Open Etsy in an incognito tab and search for your desired niche. Look for listings that have a best seller badge next to the title. Make sure to take note of common listings that have the badge.
Method 2: Using the free version of Erank
Create an Erank account and use the keyword tool to help you search for low competition and high search volume listings. Type in your focus keyword and scroll down to the bottom to see related long tail keywords that you could potentially use.
You might want to take keywords from the best seller listings you found in Method 1. This will help you narrow your options and find the perfect product.
The great thing about this method is you are able to see the traffic and how much competition – something Etsy search does not give you. New sellers would have a harder time ranking on Etsy even though they have spectacular products just because they are newer. Finding products that have low competition, ranking for those, thus building your shop credibility is what you want to focus on in the beginning.
Method 3: Craft Inspector
Craft inspector is a tool I use to easily gather information around a keyword. With the click of button I am able to see the Top 20 ranked listings (with pictures), title, tags, price, and shipping status.
By doing this search I can see what is already showing on the first page of Etsy results for a keyword I want to target for my particular product. This allows me to analyze what price range I should set, keywords I can use in my title and tags, and common themes that are working in the listing photos.
Craft inspector also allows me to take a look at competitor shops and analyze what these shops are doing well so I can also implement similar strategies in my shop too.
The best thing about this software is you purchase it once and get access to it for life! I honestly feel like this type of tool should be on a membership plan so I would not be surprised if they end up creating a subscription.
Want to make Craft inspector a part of your Etsy toolbox? Click Here to get access to this time saving software that changes the Etsy game.
---
Still struggling with finding popular items sell?
Here is a list of items to help you answer "what should I sell on Etsy"
Action Item! Use this list of best things to sell on Etsy to think about a product you want to sell. When you decide on a few, go ahead and use the three methods above to nail down your product.
Craft Supplies
Etsy allows sellers to source craft supplies and sell them on the platform. Selling craft supplies is a great option because you can buy supplies in bulk without needing to make them yourself.
Some craft supplies that sell well on Etsy include beads, gems, jewelry parts, and sewing notions.
Handmade Jewelry
Handmade jewelry is a very popular niche on Etsy with a lot of competition. That does not mean you cannot be successful on Etsy with a handmade jewelry business.
If you are determined to start a handmade jewelry business on Etsy you will need to nail your Etsy search engine optimization and target more longtail keywords to get found. Also, supplement your traffic by heavily using social media like Tiktok and Instagram to drive traffic to your shop.
Print on Demand
Print on demand is a great option for anyone who does graphic design who want to make sell their artwork on apparel and accessories like phone cases and water bottles.
There are lot's of print on demand companies out there that integrate with Etsy. These companies let you upload your artwork and create a listing with their product templates. When a customer purchases an item, the information goes straight to the print-on-demand manufacturer and ships to the customer.
This is a great way to make money from your artwork without ever needing to hold inventory. However, the costs involved in doing print-on-demand are higher than buying supplies in bulk and doing them yourself – leaving you with smaller profit margins. Just something you might want to consider and weigh.
Digital Products
Digital downloads are popular on Etsy and come in all different categories. This is the category I play in most of the time with crochet patterns.
The beauty of digital products are, you can make them once and they can sell over and over again without you needing to fulfill orders. Digital products do come at a lower price point but if your item sells over and over again, or if you use sales and bundle strategies, you can easily make a lot from one product.
Some examples of digital downloads include SVG files for DIY art, clip art (something I spend way to much money on for another business I run), printable art that people can bring the file to a print shop, templates of all sorts, and patterns for just about anything.
Personalized Products
Etsy is kind of known to be the place to go for personalized products! It is what gives Etsy it's unique charm. Personalized products are even set at a slightly higher selling price due to the need for customization.
Some great personalized products are:
Personalized accessories like water bottles, pens, stationary, phone cases, etc
Jewelry like name necklaces and bracelets
Labels
Heirloom Decor like wooden family name board, chopping boards, large metal name art, and so much more
Portraits including family portraits, self portraits, pet portraits
Face Masks
Face masks are hot on Etsy. But I do not see them lasting much longer. The takeaway here is, look for demands and trends in the market.
For face masks, the demand was high because we all needed to wear them. Thus, naturally, the buyers were there. To be successful in such niche you need to find your unique selling point. This would include how you design your masks, the protection your masks provide, etc.
Pet Supplies
People LOVE their pets! The pet niche on Etsy is very popular and often results in repeat customers. This niche branches out to all sorts of categories as well like pet toys, pet beds, pet decor, pet clothing, the list goes on and on and on.
Greeting cards
Greeting cards are hot! Just like what I said about masks, your design plays a really big role in how your cards would sell. Make sure your unique designs are aesthetically beautiful and trendy but still shows who you are as an artist.
Home Decor
Home decor is one of the top categories on Etsy which requires sellers to really niche down in order to reach the right customers. One thing to note here is that there is a sub category for each and every ROOM in the home. Consider this when listing your items. Take note on trends and what is already selling.
Children Toys
Parents love to buy meaningful, unique, and safe things for their children. This is exactly why children toys are a good idea on Etsy. However, please note that Etsy takes their safety regulations pretty seriously and if you decide to sell baby toys – or even toys in general I think – you must adhere to their policies. Check out the Etsy Seller Handbook for more information.
I used to have baby toys like gym dangle toys, crocheted toys and accessories targeting babies but Etsy made it clear that this was not okay. They took down these listings giving me a warning. This was even with the safety disclaimer that I had in place. So, just keep those things in mind.
Coffee Mugs
Coffee mugs are always a fun and safe gift. This is why they are really big on Etsy as well.
Customized mugs with snarky phrases on them are always top sellers in every niche and occasion simply because EVERYONE drinks out of a mug and EVERYONE has a personality you can appeal to. Definitely a good niche to be in!
Stickers
Graphic designs are in luck once again with this type of product! Easily turn your clipart and phrases into stickers or sticker packs. There are so many ways to go with this one. You can target into really any niche and make stickers bundles for it.
Vintage items
Treasure hunters are loved and celebrated on Etsy! From vintage apparel to one of a kind furniture, Etsy has it! I would say Etsy has more of a handmade presence than vintage, which is good if you want to stand out.
Vintage sellers also have the opportunity to sell at a higher price point BUT repeat sales of items normally does not happen and shipping does play a big role in this niche if you are selling home decor or larger items.
Children's clothing
Etsy is a great place for parents to find ne of a kind outfits for their children because big box stores do tend to sell the same sort of clothing.
Parents who want a certain style or aesthetic for their child's wardrobe, or looking for a special outfit for an occasion would be glad to shop on Etsy.
Women's clothing
There are really great, talented, and sustainable driven designers on Etsy which women who have that particular taste would appreciate. Clothing on Etsy does sell on the higher end (not talking about regular shirts) but are not so much different from shopping at a boutique in your town. They are priced for the craftsmanship.
Party favors
Unique party favors tie in well on Etsy because people usually shop on the platform for celebrations and occasions. Offering small one-of-a-kind gifts people can use as party favors can easily be bundled into things like party decorations and supplies.
Party favors do usually come in packs of a larger quantity so be prepared for that.
Wedding supplies
Weddings are HUGE on Etsy. So many brides want things customized for their special day and Etsy helps their wedding dreams come true. Fun fact: I actually bought my cake topper on Etsy for my very own wedding!
Wedding supplies include Save The Dates, Invitations, bridesmaid gifts, placing cards, bridal shower decor, and so so so much more!
Self-Care products
Last but not least are self-care products. These are like candles, bath bombs, organic make up and face routine products, etc. When it comes to these type of products, Etsy appeals to a certain customer. This target customer is one that shops local or small to ensure that their products are sourced and handled ethically. This makes self-care products a great idea to sell on Etsy because of the built in audience it targets.
---
Wait! Before you go out and start selling your vintage or handmade goods, remember there are other things that you need to consider before selling.
Now that you have your answer to "what should I sell on Etsy", that is just one part.
Now it is time to get all your ducks in row. Click here to read How to Make Money on Etsy and learn everything that goes into starting and running your own Etsy store.
See you on there!
xoxo,
Abigail