How to find the Best Crochet Hooks for Beginners (2023)
It a new year and you picked up a new hobby. So you want to know what exactly is the best crochet hooks for beginners? The answer to that is not as simply as pointing you in one direction. But don't you worry. I am going to go through everything you need to know about the crochet hooks so you can confidently choose the right hook for your next project.
Disclosure: this post contains affiliate links. This means I receive a small commission for any purchase made through the link at no extra expense to the buyer. You can find out more about my policies here.
First thing's first, we need to understand what makes a crochet hook – well – a crochet hook!
Anatomy of a crochet hook
A crochet hook has three basic parts:
Rounded head – the tip of the hook. Unlike knitting needles which are a bit more pointed, crochet hooks have a rounded blunt tip. This is how the hook can easily weave in and out of loops effortlessly.
Throat of the hook – area between the head and the thumb rest.
Thumb rest – this is the portion where you actually hold the hook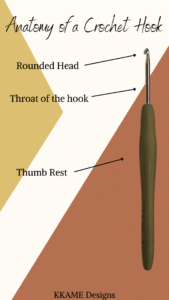 How to hold a crochet hook
Everyone holds their crochet hook differently, however the most common way of holding a standard crochet hook would be with a pincer grip.
Thumb – bottom of the thumb rest, usually where the hook is facing down
Middle finger and Index finger – shares the top of the thumb rest
Ergonomic Handle – most hooks are made with an ergonomic handle. These ergonomic hooks promote longevity in the craft, keeping your hand in a position that resists – but does not fully prevent – long term complications like cramping, hand fatigue, or carpal tunnel syndrome.
Many higher end hooks have an ergonomic design. Many crochet lovers enjoy collecting beautiful crochet hooks like the popular Furls Odyssey. Furl's Crochet is widely considered to make the best ergonomic crochet hooks out there.
I like to think that the best ergonomic hook is the hook that makes YOU have a comfortable grip. My perfect hook has an easy-grip handle, a smooth head, and a standard length throat.
Easy-grip handles are added on most hooks, either added on or carved/shaped in the material. Either way, I don't believe you need to spend lots of money for on a crochet hook, especially if it is your first time crocheting.
A good choice for beginners is to buy a cheaper crochet set that has most of the hook sizes and play around with the craft. After a while you will find yourself leaning more towards a particular fiber or yarn weight that you prefer working with. Only then should you consider investing in a higher end hook.
Types of Crochet Hooks
Crochet hooks are made in different shapes, different sizes, AND different materials. All of these factors play a part in the quality of a crochet hook and how well you "dance" with it.
What is the difference between an inline hooks and tapered hooks?
There are two basic types of standard crochet hooks: inline and tapered. These hooks may look similar to a beginners eye, however they do have quite the difference. So, what is the difference between inline hooks and tapered hooks?
An inline hook has a shorter throat with the thumb rest placed a little more towards the rounded head. The construction of this hook has a flat diagonal cut line from the bottom of the head to the throat of the hook on the bottom side of the hook.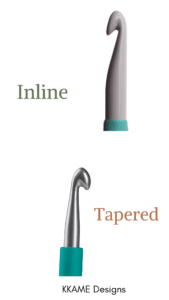 A tapered hook has a longer throat with the thumb rest more towards the middle of the hook. This hook has a tapered cylindrical type of decrease in circumference from the throat the the hook to the rounded head. The tapered decrease evenly decreases around the throat. Unlike on just one side like on an inline hook. Think of the tip of a knitting needle or a pencil.
My personal preference between the two is the tapered hook, only because I like working with a longer throat and a wider range of wrist motion. At the end of the day, it all boils down to what you are comfortable holding and working with.
Tunisian Crochet Hooks
These crochet hooks have a long body – or comes with a cable attachment – for Tunisian stitches. Tunisian stiches – much like knitting – require you to hold several loops on the hook and is work in passes.
Holding a Tunisian crochet hook is different that holding a standard crochet hook as it usually accommodates a knife grip rather than a pincer grip.
Related Post: Easy Tunisian Crochet Scarf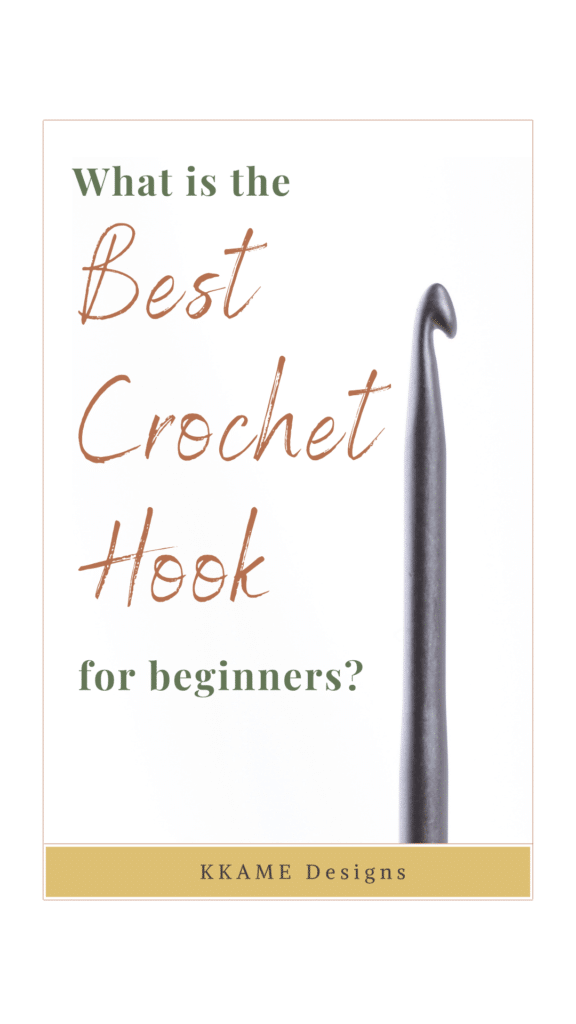 Best Crochet Hook Sets for Beginners
Different kind of hook materials:
1. Aluminum Hooks
These are the best crochet hooks for beginners who are just testing the waters but do not know if they want to crochet long term.
Aluminum hooks are cost effective and come in standard set sizes. A lot of inline hooks are aluminum as well. These hooks do last longer because of the material and and some come with soft rubber handles.
The Clover Amour Crochet hook set is a popular hook set used amongst crocheters. This set has an ergonomic grip handle, lightweight, and smooth.
I recommend this crochet hook set for beginners because of the variety of sizes, durability, and price point.
2. Metal Hooks/ Steel Hooks
Metal and Steel hooks are made for light yarns. Thinner yarn requires thinner hooks thus, to prevent these thinner hooks from snapping in half every time we accidentally sit on them – admit it, we all do!
These hooks are for lace work and amigurumi.
Note about steel hooks from the Craft Yarn Council says "Steel crochet hooks are generally used with lace weight yarns and crochet threads. They are sized differently than regular hooks: the higher the number, the smaller the hook, which is the reverse of regular hook sizing. The smallest steel hook is a #14 or .9 mm; the largest is a 00 or 2.7 mm."
Clover has a set of steel crochet hooks with the same comfy grip handle as the standard size set.
I use Boye Crochet Hooks for all my thinner yarn work, especially amigurumi. They are very reliable and sizes go as tiny as you need.
3. Plastic Hooks
Plastic hooks are cost effective and come in sets of – like – a lot. Giving you the opportunity to play around with different sizes of yarn and hooks.
Plastic hooks are commonly transparent and hallow. This gives them a nice aesthetic. Being made of plastic, they are extra smooth and allows yarn to easily slide across the hook.
Plastic hooks are super lightweight making them the common material used for larger hooks needed for jumbo yarn.
BUT, they are my least favorite because they break so easily. I have broken so many plastic hooks that I no longer buy them.
4. Bamboo Hooks/ Wooden Hooks a.k.a My favorite crochet hooks
My personal favorite crochet hooks are wooden. They are lightweight, do not agitate my fingers, and are smooth. I have tried every single type of hook out there and it all led me to realize that wooden hooks are my "perfect hooks". You take your time and explore what yours is.
These hooks can break easily, especially the smaller hook sizes, so requires extra precaution in handling. In comparison to my troubles with plastic hooks, bamboo and wood is much stronger.
Splinters can catch the yarn. Don't panic! It's and easy fix, simply file them down and it's back to smooth sailing.
I have been using Knitter's Pride Dreamz Tunisian Crochet Hook set for years. This set contains the standard set sizes and have a cable attachment for the times where I do Tunisian Crochet.
My first set of crochet hooks that I still have and recommend to beginners today. I love this set because the smaller sizes are reinforced with aluminum to prevent breakage and it's wide variety (20 sizes!). Whenever I need a hook size that is not in my Dreamz set, I am sure to find what I need here.
What hook size should I use?
To determine what size you should use for your next project you should first refer to the yarn label. The yarn label has essential parts such as the fiber, weight, gauge, and recommended hook and needle size.
Additionally, patterns should also share what size hook and gauge you need for the pattern.
Related Post: Why You Need a Gauge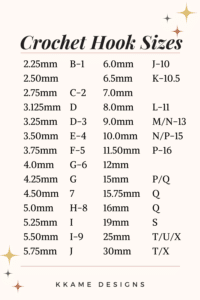 If you are a tight crocheter, try going a hook size up. If you are a loose crocheter, go down a size.
Sometimes, designers use hook sizes that are very much larger than the recommended size as a design element. This creates a loose and lacy effect.
[insert info guide of crochet hook sizes]
My top choices of best crochet hooks for beginners
Keep in mind that you need to test out and explore what works best for you. With that said, I would pick aluminum hooks and bamboo/wooden hooks as the best crochet hooks for beginners. These are my top two choices because they are cost effective and come in sets of the standard sizes. This is great for beginners to play around with crocheting with different yarn.
Other tools crocheters use:
Stitch marker help keep count of the stitches or rows when you are working. These help you save time from recounting over and over again as your project gets larger.
Related Post: Hacks to Save Time for Crocheters
also called tapestry or yarn needles. These are large needles with eyes that are large enough for worsted weight yarn (usually) with a blunt end. Crochet needles are used for seaming in crochet.
Want to start an Etsy shop with your new craft?
Conclusion: so, what is the best crochet hook for beginners?
The best crochet hooks for beginners should be dependent on the user. The hook material that feels right to the user, the correct size for the project, and at a reasonable price point. Ideally, find a hook with a comfortable grip for support and that's made in a material that lasts a long time.
Looking for beginner crochet patterns? Click here to go to my library of easy modern crochet patterns.
Until next time, Happy Making, friend!
-Abigail