All You Need to Know About The Sunset Cove Shrug
This post is about the construction of the Sunset Cove Shrug. This crocheted shrug is made using a mesh stitch and easy construction. Want the pattern? Scroll to the bottom for the link.
I finally released my Sunset Cove Shrug. The time between me first posting the photo of the shrug and actually releasing the pattern felt like forever! When I made the shrug I did not have it in my mind to make a pattern. Actually! I had just begun dabbling into pattern making (well, I am still a baby in that area)!
Disclosure: This post contains affiliate links. This means I receive a small commission for any purchase made through the link at no extra expense to the buyer. You can find out more about my policies here.
Want more crochet cover up patterns?
I am guessing we have the same taste! That is why I put together a curated list of trendy coverup patterns just for you! Click on the button below to get to the roundup post and find your next crochet coverup pattern.
A story of insecurity
The sunset cove shrug was made to cover my insecurities as my wife and in-laws were coming to town and had mainly one thing on their minds: BEACH. Days before their arrival I finished the first shrug. Here is a picture of the first run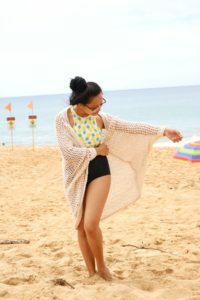 By the way, the yarn I used for this was Lion Brand Yarn's 24/7 Cotton. This yarn absorbs water really well making it great for summer sweat and beach days!
I was quite pleased with it and it served its main purpose of giving me that confidence walking around on the beach without feeling too exposed. After spending time in it I felt like there was something off. It would slide off my shoulder and pull down longer than I had wanted it to.
Related post: Free Crochet Pattern – Cameron Coverup
What was wrong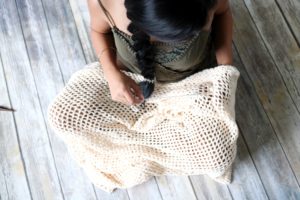 I soon felt like the only thing I liked about the prototype was how I made the cuff around my wrist and the beautiful lace detail. Nevertheless, the shrug took well to social media and I eventually had an order for a custom-made shrug. Now I do not usually make custom orders anymore but since this was my wife's friend I was more than happy to make it 🙂 this also gave me the opportunity to correct the flaws in the shrug as I remade it.
The fix
I was determined to fix the fit of the shrug as having it slide off the shoulder was the main issue I experienced with my prototype. After doing so I worked on forming a sleeve portion because adjusting the length had compromised the width. It was so frustrating! This is where I learned the valuable lesson of simply taking a break. Despite deadlines, we must always remember that if under stress and pressure we are less productive. I took a break and rest for a while, sure enough, a solution came and I was able to finish the shrug just as how I envisioned it to be!
Interested in more beginner-friendly summer crochet projects? You might like these designs:
Siffleur Top – An easy crochet box top that has an exposed inverted triangle peekaboo design in the back making it extra breezy during the summer heat.
Eva Summer Top – sleeves top made with an easy lace-like design
Catalan Beach Tank – this is an Etsy bestseller! This beginner crochet top whips up really fast and easy, the perfect beginner project. The sleeveless top features a low back V-cut.
Side note, fixing crochet mistakes might seem a bit daunting and impossible without ripping out stitches. If you are dealing with size issues, this post about fixing crochet mistakes by cutting crochet fabric – yes I said cutting! – might be helpful.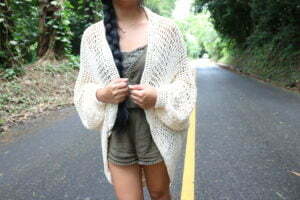 Getting the pattern out done
Moving along with the process, I attempted to do the necessary math work for the pattern and sent it to testers. Oh my goodness guys! I have so much respect for those who can do this effortlessly. I am still trying to properly figure out all this math associated with pattern writing. It is honestly the most time-consuming of my whole pattern write-up process.
The pattern did not turn out the way I wanted it to for my testers especially issues with length and sizing for larger sizes. I needed to once again make adjustments, again I took a little break to rest my mind before proceeding with the pattern process. I believe it is just all a part of the process of learning and making. Today was very special because I released the Sunset Cove Shrug out to the world. A symbol of trial and error and never giving up. 🙂
Until next time my maker friend!
Abigail