How to Crochet A Half Circle Step-by-Step for Beginners
So you want to know how to crochet a half circle. Maybe you have a design in mind that you want to bring to life. Whatever it may be, there are so many things you can do with half circles. In this post I am going to show you 3 ways to crochet a half circle and give you inspiration with what you can do with them.
Disclaimer: This post contains affiliate links. I get a small commission from any purchase made through these links at no expense to the buyer. This allows me to keep free awesome content coming your way. Check out my privacy policy for a full rundown of disclosures.
What are crochet half circles for?
Crochet circles and half circles are a very common design elements in crochet. The are used to begin garments, as appliques, shape amigurumi projects, half circle rugs, rainbows, half circle shawls, etc. If you have been crocheting for a while, you most definitely have come across a crochet project that incorporated a circle.
Related Post: How to Crochet a Ghost Applique
Full circles – specifically a flat circle – are more common than half circles. They are worked in rounds with no turning involved. However, for half circles, you work in rows and turn your project around and adding a turning chain.
What type of yarn and hook size do I need to crochet a half circle?
Any! There is no specific yarn type that you need to make a half circle. Just be sure that you are using the appropriate crochet hook size for that yarn.
For this tutorial, I am going to use worsted weight yarn and a 5mm crochet hook.
Related post: Best Yarn For Amigurumi
How do I make a crochet half circle bigger?
It is very easy to increase the radius of a crochet half circle. Just like in a regular circle where you increase rounds to make a larger circle, for half circles all you need to do is increase the number of rows.
Another way to make crochet half circles bigger is to increase the yarn weight and hook size and a double crochet stitch
What stitch do I use to crochet a half circle?
Most commonly, basic stitches like single crochet, half double crochet, and double crochet stitches are used when making a half circle. For intermediate crocheters that use patterns or designs with a higher skill level, more complicated stitches might be used.
When using a more involved stitch work, these features might be seen only on the right sides of the half circle. This means that every other row will serve as a passing row with basic stitches.
Learn more about the standard project levels on the Craft Yarn Council.
How To Crochet a Half Circle: Written Pattern
Pattern notes:
The chain stitch at the beginning of a row counts as a dc and the turning chain.
At the last stitch/es of a row, dc into the last ch (second ch) from the start of the previous row.
You are working in rows so turn your piece at the end of row
Materials used:
Worsted Weight Yarn – I am actually using yarn from my stash and was not labeled
Crochet hook – I am using a 5mm crochet hook from Knitter's Pride's Symfonie Dreamz set
Abbreviations:
Ch – chain
Dc – Double Crochet
Sts – Stitches
Pattern
First Row: Start with a magic ring and ch 2, make 5 dc into the (6 sts)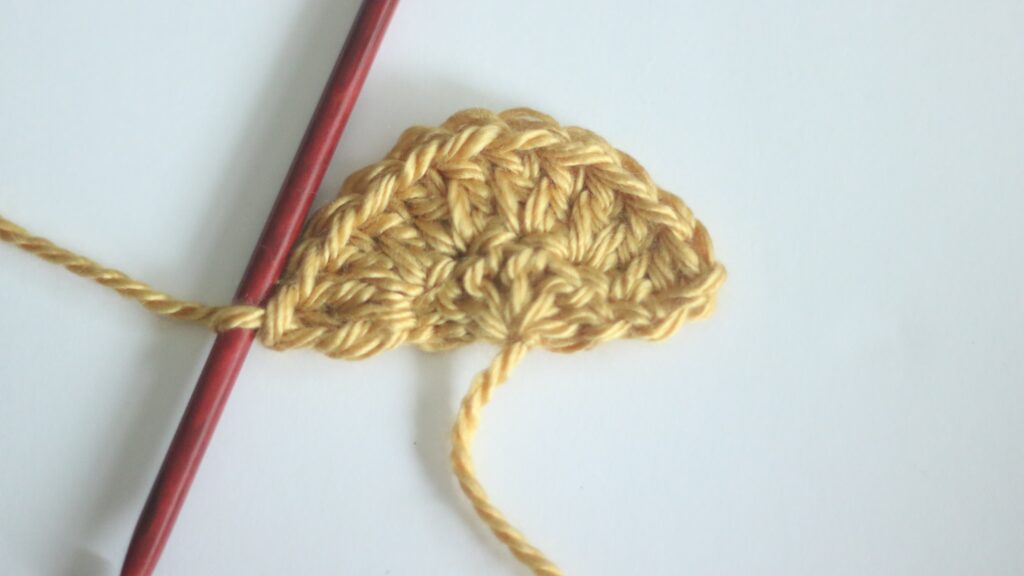 Second Row: Ch 1 (considered the first dc), dc into same stitch, 2 dc into each st until end of the row (12 sts)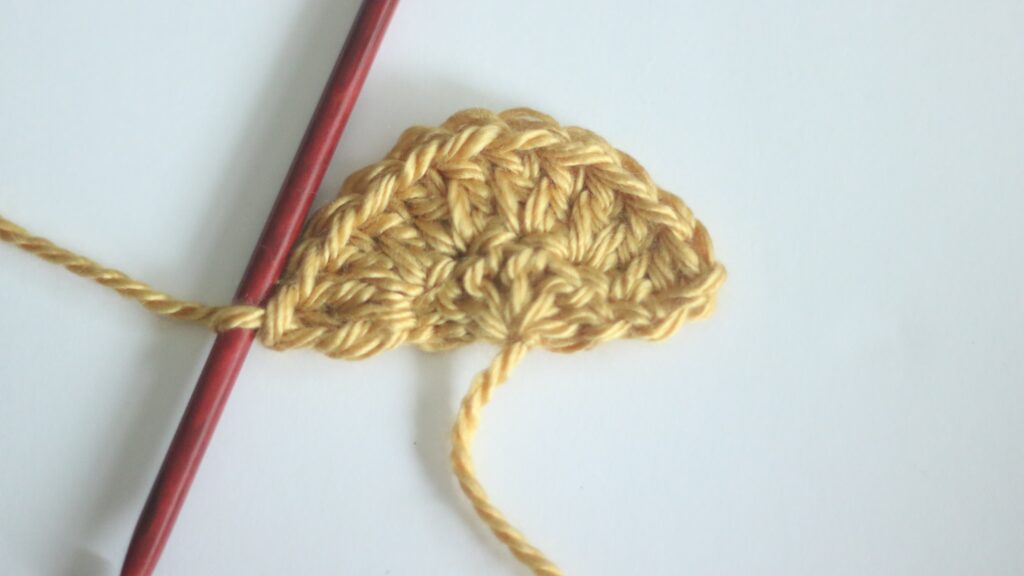 Third Row: Ch 2, dc into the same st, *dc, 2dc. Repeat from * until end of the row. (18 sts)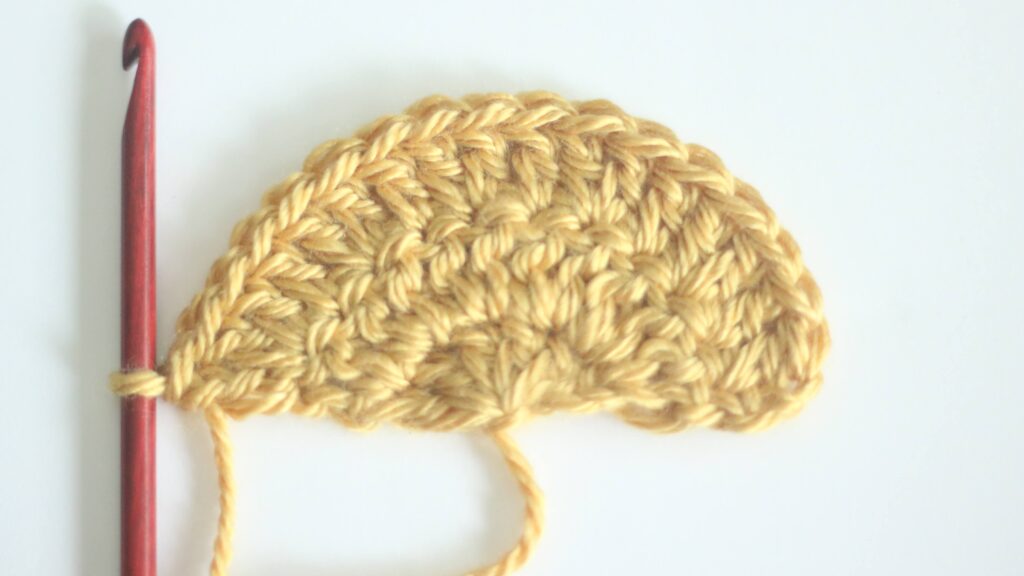 Fourth Row: Ch 2, dc, 2dc into next st. *dc, dc, 2dc. Repeat from * until end of the row. (24 sts)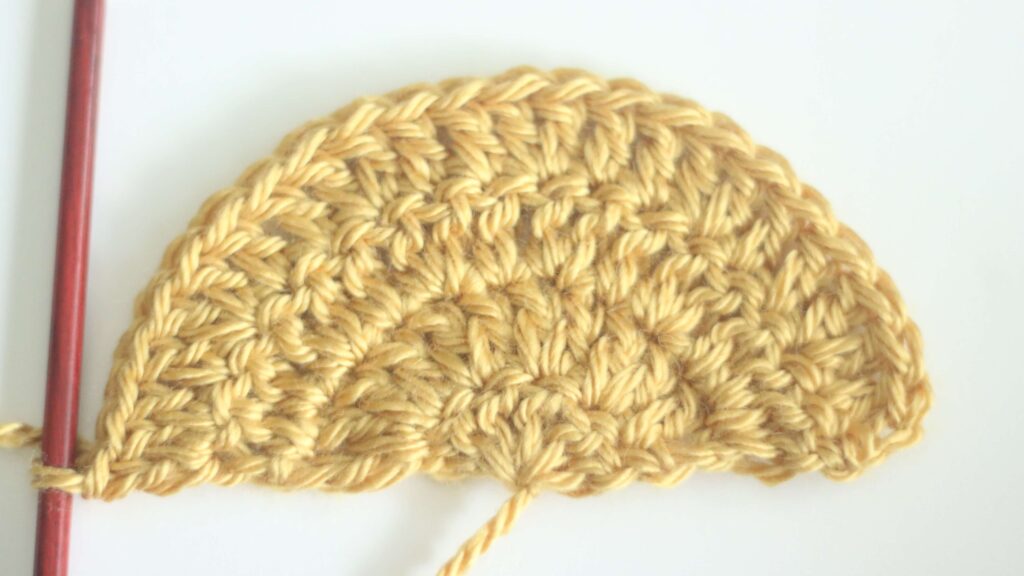 Repeat Row 3 and 4 respectively until you reach your desired size. Remember to add an additional stitch in the pattern before increases for each row
Example:
Row 5 – Ch 2, dc into the same st, *dc, dc, dc, 2dc. Repeat from * until end of the row
Row 6 – Ch 2, dc, dc, dc, 2dc into next st. *dc, dc, dc, dc, 2dc. Repeat from * until end of the row
Odd rows should begin with an increase, while even rows begin with the stitch pattern leading up to the increases. Even rows should end in increases. To end, weave in all loose ends like the long tail formed by the magic ring.
And that's how to crochet a half circle
And that is the basics of how to crochet a half circle. Play around with the beginning number of sts you start with in the magic circle to see what works best for your yarn size and hook.
Here is a picture of three half circles using the same yarn and hook size but different stitches.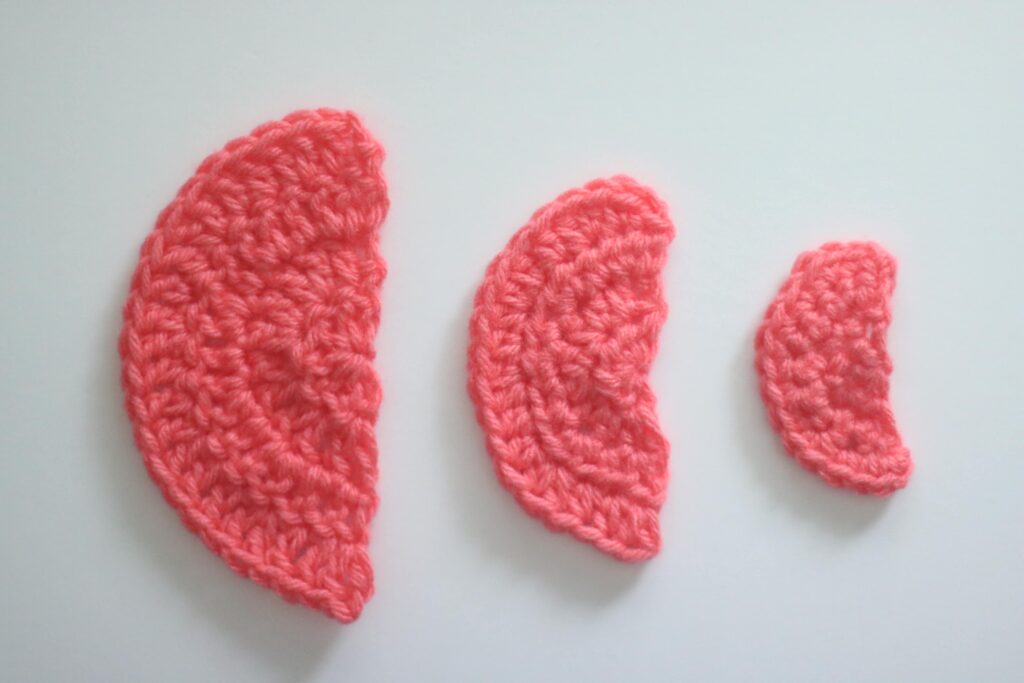 The first half circle uses double crochet starting with 6 stitches in the magic ring.
The middle half circle uses half double crochet stitches with 5 stitches in the magic ring.
Lastly, the third half circle uses single crochet stitch with 4 stitches in the magic ring.
You now use your new crochet technique in endless ways!
Looking for more techniques? Make sure to check out all of my tips, tricks, and techniques section for more ideas and how-to's.
Want more crochet patterns?
That's all for now my maker friend! Remember, never miss a stitch by subscribing to my newsletter. See you next time!
xoxo
Abigail