4 Ways How to Block your Crochet Projects and Choosing the Perfect One
This post talks about what blocking is and the different ways to block crochet and knit pieces. Blocking can be done with both crochet and knit fabrics, to make things easier to read, this post will mainly refer to crochet.
This post may contain affiliate links. I get a small commission from any purchase made through these links at no expense to the buyer. This allows me to keep free awesome content coming your way. Check out my privacy policy for a full rundown of disclosures.
What does blocking do?
Ever found the perfect yarn color but works up a little too stiff? Maybe you used a beautiful stitch pattern but the stitches end up uneven. Or you might have been a little off on your gauge and need to help the fabric keep shape. Yes, we have all been there! Great thing is, blocking helps fix all of these common crochet concerns.
Blocking helps to soften up yarn and improve drape. Pre washing your yarn before you crochet or knit is a great way to help soften stiff yarn right away, however if you are already done crocheting your piece, blocking the finished object works as well.
Blocking helps relax the yarn in both acrylic fibers and natural fibers. This comes in handy especially if you use detailed stitches like textured stitches, lacework, or involved stitch patterns. Blocking redistributes the stitches so that they sit evenly and dry in place, leaving your finished piece with even and defined stitches.
Blocking helps crochet fabric and knit fabrics maintain a desired shape. Some stitch patterns tend to naturally curve or slant (stockinette stitch in knitting our jasmine stitch in crochet), blocking is a great solution to straighten edges and help them lay flat.
What you need to block crochet:
These are the common things you will need to block crochet pieces.
These are just foam mats that can be poked through with pins to hold in place. If you do not have foam mats, an ironing board is a great substitute and can be used for small pieces.
Foam board puzzle pieces are great to adjust to the shape of your project. For larger objects like afghans, use large blankets or towels on a flat surface and pin to the towel or blanket.
Fun fact, my first time going viral on social media was when I videoed myself using a yoga mat to block a long garment. Yoga mats are great too because they are easy to store and can be pierced with blocking pins.
Blocking Pins or T-pins
rustproof pins as you are dealing with water and moisture. I like to use regular individual T-pins, however there are larger ones like knit blockers that are great for edges. Blocking wires are commonly used to block lace but I have never tried them so I can't say much about them.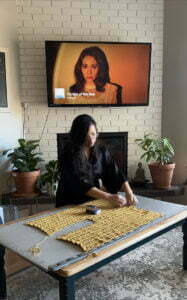 mild detergent that helps block your fabric better. Now, I cannot explain why wool wash is soooo amazing but Jillian Moreno wrote this great article about it (complete with experimented swatches) in this post on Modern Daily Knitting.
https://amzn.to/3JX9qGo
Steamer or Iron
For years, I made to with my flat iron on steam setting. If you do not have a proper garment steamer, that is okay! Just be careful when using a steam iron to not use too much heat as this will hurt or agitate the fibers. I use and love this hand garment steamer from Amazon.
Flat surface
You need to block on a flat surface. You cannot and should not block an object hanging either! This is so important to help keep the stitches and shape consistent as they dry.
Crochet item
This can be separate parts or a whole finished object
Okay, now that we have the general things you need to block out of the way, let's talk about the blocking process in each method.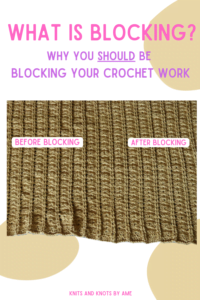 4 Easy Methods to Block Crochet Projects
Choose a method that best suits the fiber content of your yarn . If you are using synthetic fibers or delicate yarn refer to the washing instructions on your label.
Steam Blocking
Steam blocking is the quickest (because you do not have to wait hours for it to dry) and easiest way to block pieces. It is also referred to in dry blocking methods because it does not require the whole piece to be submerged in wash.
Pin your crochet piece to the blocking mat. If your mat does not have guide lines, use a tape measure to make sure you are positioning the piece in your desired shape. Though steaming saves you dry time, it is more tedious than the other methods of blocking. For best results, slowly steam each part of your crochet work and gently adjust the stitches as needed while you steam them.
After thoroughly steaming, leave the piece on the mat to relax and dry.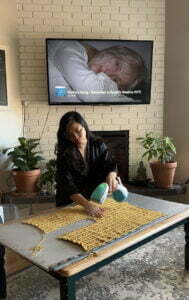 When should you consider steam blocking?
If you are tight on time and cannot submerge your object
If you just need to make minor adjustments
When you need to target a certain area
For defining lace work
You are working with natural fibers
Wet Blocking
This method of blocking requires you to submerge your finished object in cold water or lukewarm water mixed with wool wash.
Prepare your basin of wool wash solution and gently put your crochet work in the basin. Make sure the fibers are thoroughly soaked.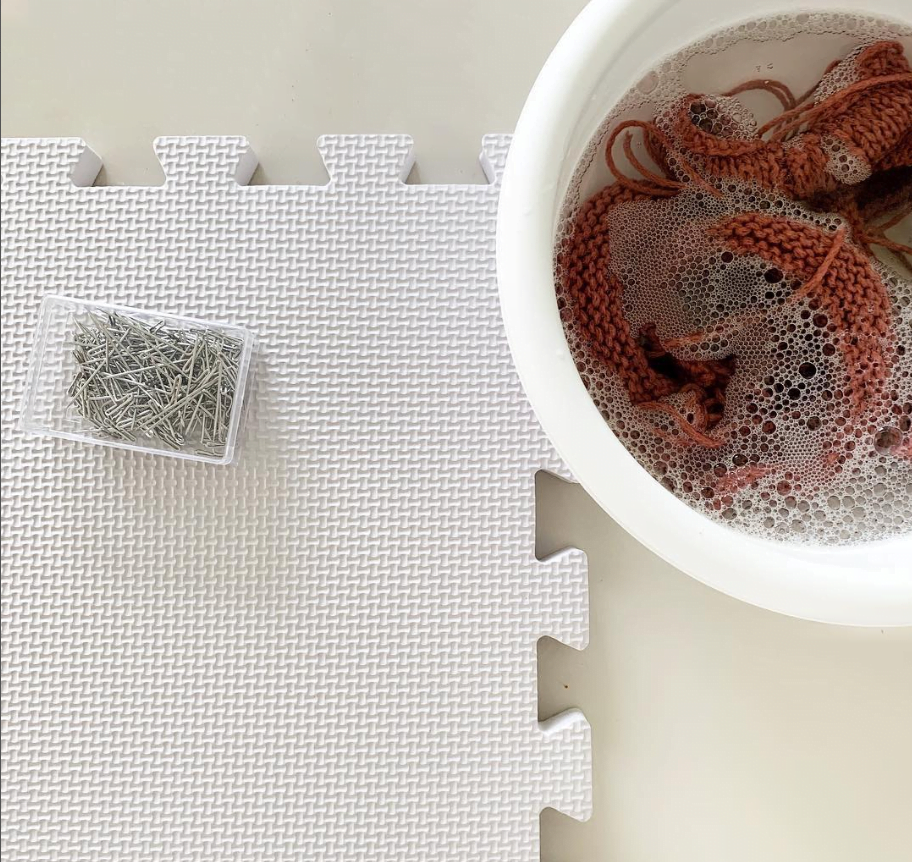 Gently squeeze out the water but do not twist or ring out excess water! Ringing out your wet crochet fabric will disrupt the stitches. A great way to squeeze the water out is to wrap the piece in a towel the gently press of step on the wrap until most of the excess water is out.
After taking out extra water, lay the finished item flat on your blocking mat to dry. Use enough pins as needed to help it dry in proper shapes. Wet blocking is the most time consuming of methods because of the long time you need to wait for it to fully dry. However, it is the most efficient way produces the best results.
When to consider wet blocking?
If you have the time to wait for your project to dry. This is ideal for warmer months.
If your aim is to soften your piece of work. Wet block acrylic fibers to help ease stiffness.
When you need to block a large piece.
You need to remove excess dye from your yarn
Spray Blocking
Spray blocking is like wet blocking but does not require you to fully submerge your piece. This allows you to work just on targeted areas like steam blocking.
The process for spray blocking is similar to steam blocking, except instead of using a steamer, you use a spray bottle. Pin your crochet piece to the blocking mat. Spray the pinned piece to block. You can control how much or little water you spray which is also a great benefit. Lay flat to dry.
Because you are not soaking the whole piece and can control how wet the piece gets, spray blocking is a good alternative to wet blocking if you are on the clock.
When to consider spray blocking?
You do not want to get rid of excess dye and need to preserve color
If you are working on a target area
You need to save time but cannot wait for a project to completely dry if fully soaked
You are using synthetic or acrylic yarn
Cold Blocking
Cold blocking is used specifically for man made yarn like synthetic yarn (would look like yarns that have metallic , glitter, sequins, etc) and acrylic yarn. You want to avoid using steam and hot water on acrylic yarn so, cold blocking may be the best bet for you.
Before anything, you need to prepare your crochet piece by pinning it on your board. Dampen a cloth with cold water and press down to moisten the fibers in the yarn. Leave the piece with the cloth over it until dry.
Can you iron crochet?
Short answer, Yes!
In the book 350+ Crochet Tips, Techniques, and Trade Secrets author Jan Eaton also talks about pressing larger piece made with acrylic yarn. Yes! That is right. Pressing or Ironing yarn! Jan explains how lightly ironing acrylic crochet on it's wrong side using a cool iron is a great way to block crocheted pieces. I have not tried this and could not find anymore information on this technique so I'd love to know if you have any experience.
However, be careful to never touch yarn with a hot iron. This will agitate or burn the fibers and ruin your piece. Irons are only means for their steam function or – as Jan mentioned – as a cool iron.
Now you know how to block crochet!
Each way has their own perks and choosing the right method can get tough. I hope this post helped guide you in choosing the right method and how to block crochet. Which way is your favorite? Because I am always rushing against the clock, I tend to steam block more. How about you? Let me know in the comments!
Want more crochet tips and techniques?
That's all for now my maker friend! Remember, never miss a stitch by subscribing to my newsletter. See you next time!
xoxo
Abigail