83+ Best Free Crochet Sweater Patterns to Make in 2023
Hi maker! This post is a curated list of free crochet sweater patterns. Handmade sweaters are also great gifts during the winter season and are a great way to show your love and appreciation to others. Crochet sweaters are a staple during colder months and are a perfect addition to your handmade wardrobe. Let's find the perfect pattern for your next crocheted sweater now.
Related post: Best Yarn for Crochet Sweaters
The best thing about this collection of sweater patterns how easy it is it's divided into different kinds of sweaters to make it extra easy for you to navigate.
The sweater categories in this blog post include:
Original KKAME Designs
Crochet Sweaters with Colorwork
Textured Sweaters
Cowl and Turtleneck Sweaters
Sweater dresse
Hooded sweaters
Casual Everyday Sweaters
Loose and Oversized Sweaters
Sweater Vests
Patchwork and Granny Square sweaters
Wrapped Sweaters
There are so many designers and crochet sweater patterns out there, choosing one can easily become overwhelming. That is why I put together this curated list of crocheted sweaters I personally love! And – because you are here and have excellent taste – I know you will love too!
Sweater weather also means the holidays are near! Make sure to check out these links below:
This post may contain affiliate links. I get a small commission from any purchase made through these links at no expense to the buyer. This allows me to keep free awesome content coming your way. Check out my privacy policy for a full rundown of disclosures.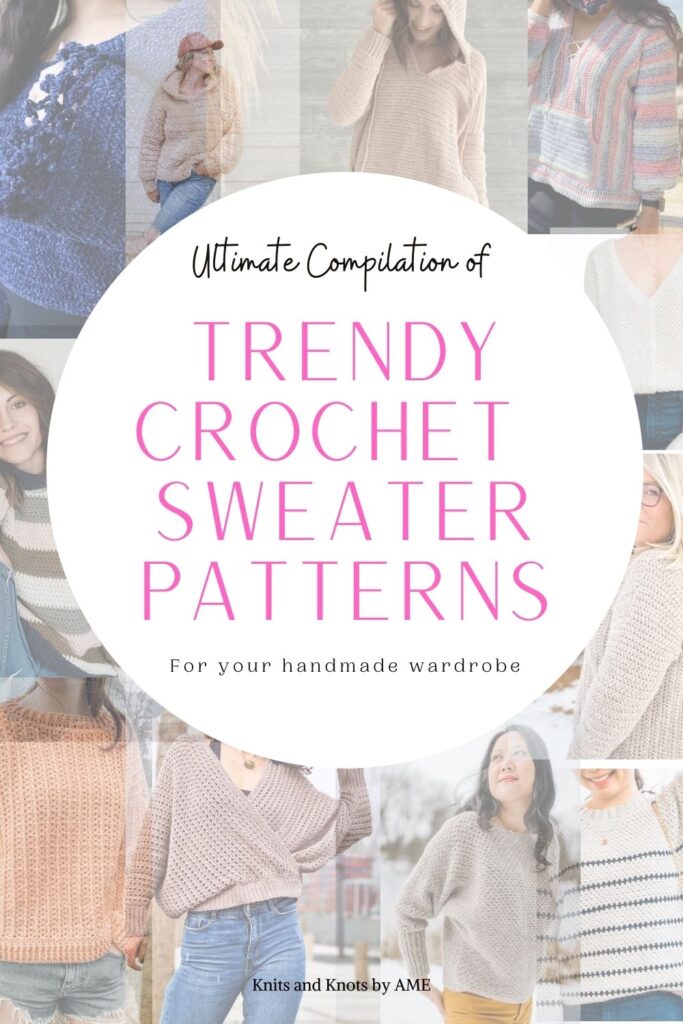 Some of these patterns require you to change colors. See my post about how to seamlessly change colors in crochet to get that flawless transition.
Original Crochet Sweater Patterns by Knits and Knots by AME
First, I would like to thank Lion Brand Yarn for providing me with the perfect yarn for these designs. You may also want to check out my list of the Best Yarn for Crochet Sweaters.
These sweater designs are made with simple construction and basic stitches. The patterns are great for beginner crocheters who want to try making a sweater for the first time.
Crochet Sweater Patterns with Colorwork
Colorwork is a more intermediate to advanced crochet skill level. Mixing different colors and playing around with hues is the perfect way to bring a basic sweater to life. Although it does take some time to get used to, if you master how to work with multiple colors, you can make some beautiful patterns!
What I enjoy most about sweaters that include colorwork is the possibility to play around with color combinations. When looking at patterns with color work, try to imagine how the sweater might look if you replaced the colours. You can easily come up with a beautiful sweater that looks entirely different!
Textured Crochet Sweater Patterns
Textured crochet is my favorite kind of designs. I absolutely love textured stitches. Although it places an added challenge to work out shaping with textured stitches, I always believe the headache is 100% worth it! Using textured stitches can bring a single coloured sweater to life and elevate how it looks.
The fun thing with textured crochet stitches is, you can use textured stitches with different yarn weights and create nice lacey designs for warmer weather. Take note, always make sure to make a gauge swatch before doing anything – especially a textured sweater. This is because the tension when working with a variety of combined stitches can vary a lot between makers.
When working with texture, blocking can make a big difference. Simply wash and lay on a flat surface to dry or steam block. Blocking helps even out raised portions like those in beautiful puff stitch braids.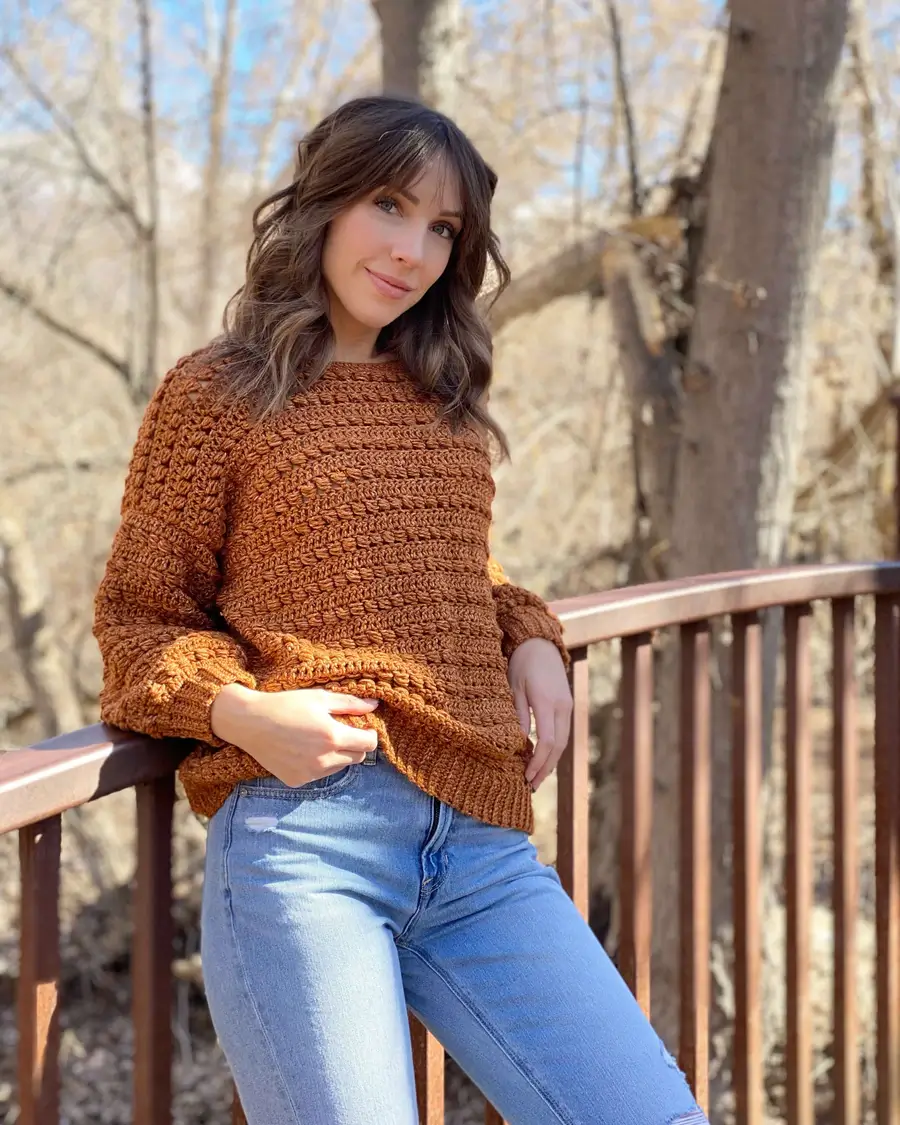 Cowl and Turtleneck Crochet Sweaters
These sweaters are beautiful and functional for those who get extra cold. I know I love a good high neck sweater! These are usually simple sweater with added rows around the neck for snugglery patterns. Cowls are even used on their own during cold weather, I personally prefer cowls over scarves sometimes, adding them on nice sweater easily creates the perfect sweater. This type of sweater usually has the simplest construction technique, commonly made with a simple rectangle and a neck opening for the cowl neck.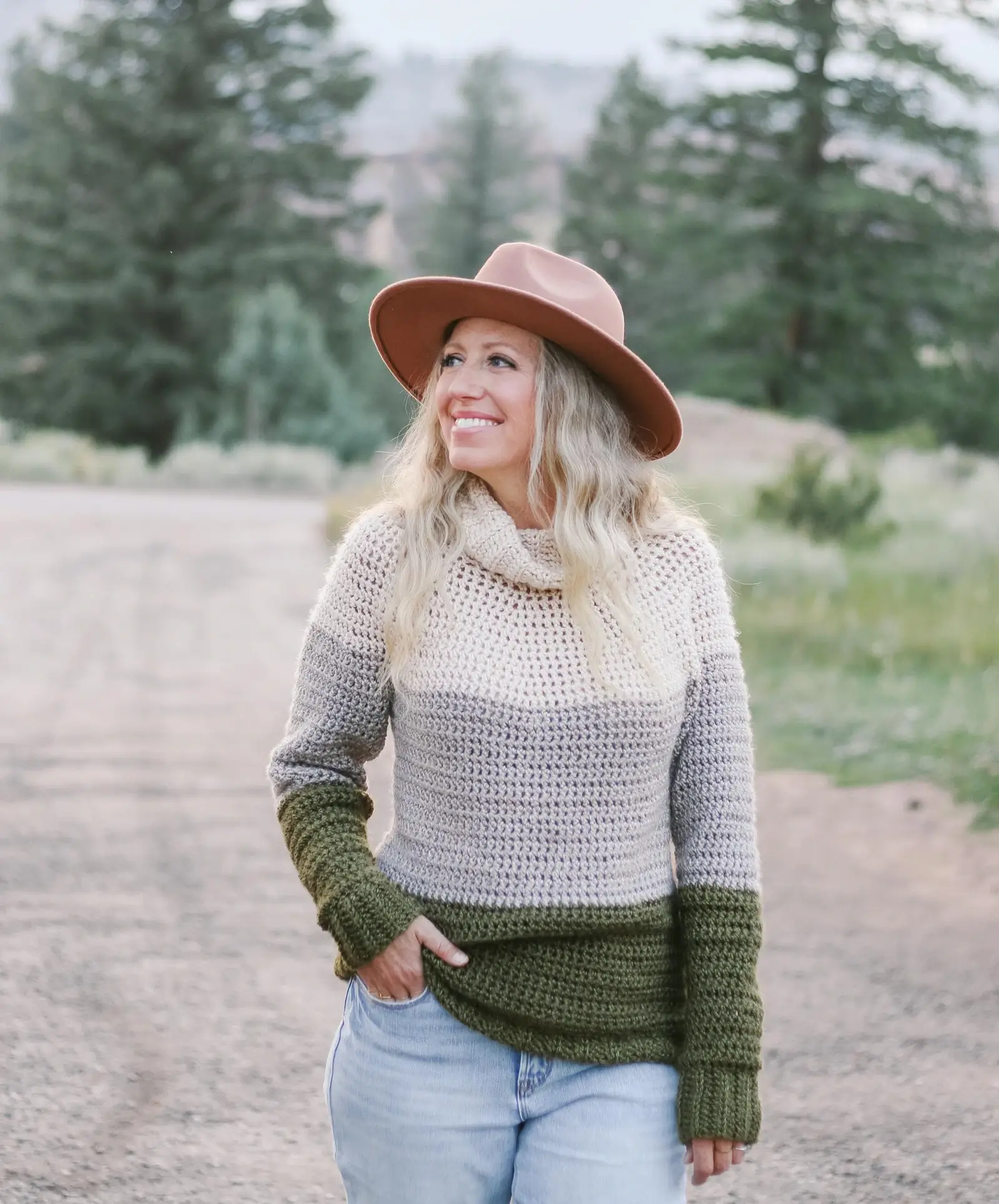 Crochet Sweater Dress Patterns
Sweater dresses are a great choice for outings like fall-winter parties. You can use your favorite crochet sweater patterns and modify them to become dresses by adding rows to the bottom.
The type of yarn you use is exceptionally important when making crochet sweater dresses and do require more skeins of yarn for the length. This also makes them a big project, so make sure you have the time to execute. Positive ease is usually added for dresses as they are made using bulky yarn and we want to avoid a tight fit or stiff look. I always like to pair these with belts and boots. Sweater dresses make absolute stunning attire!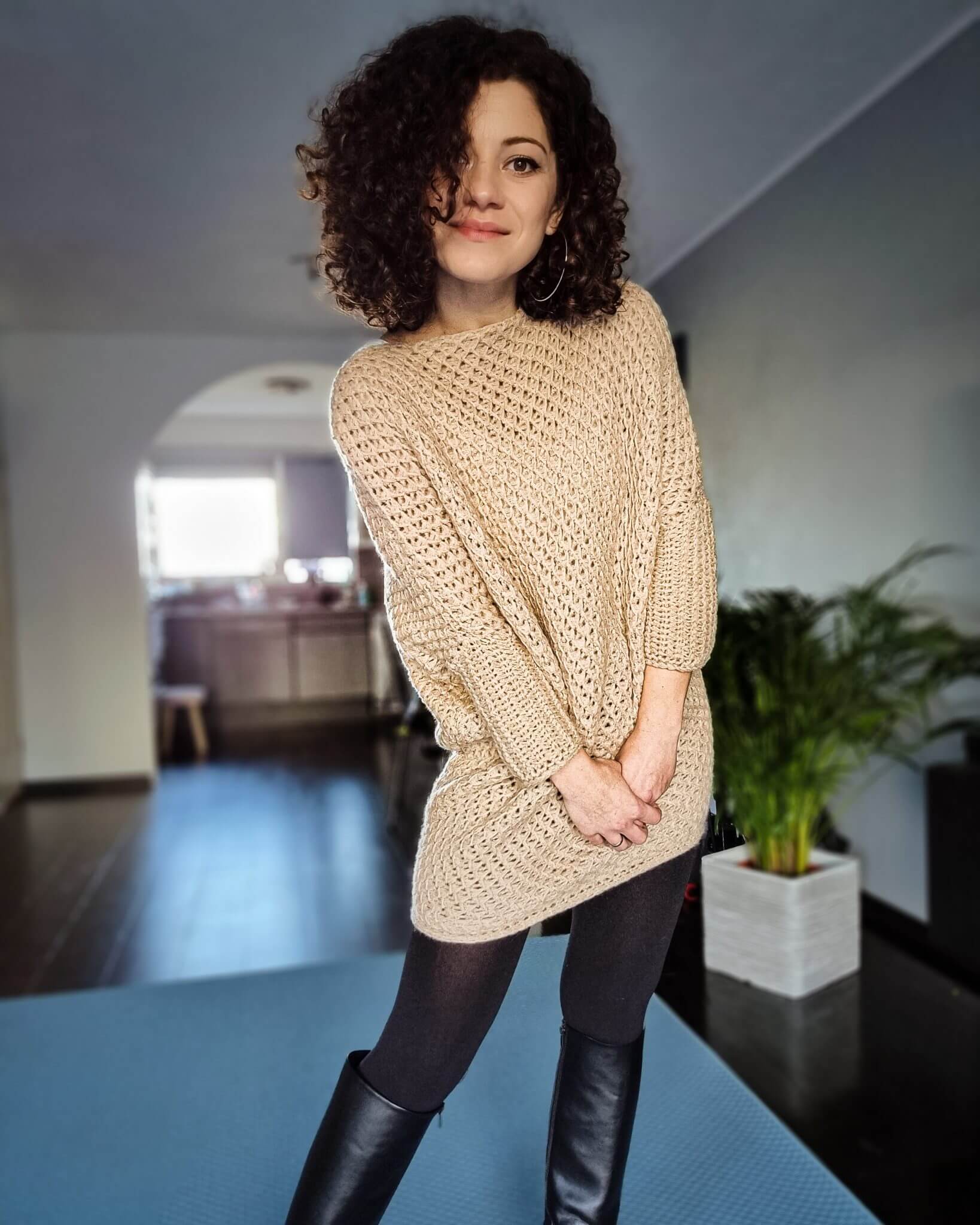 Hooded Crochet Sweaters/ Crochet Hoodies
Hoodies have a more modern look and laid back feeling. I love the simple style and coziness of hoodies which are now also very trendy crochet sweater patterns. You can find an easy crochet sweater pattern and add on a hoodie as well by creating two rectangles, seaming the top and down one side, then attaching this to the neckline of the crocheted sweater. With this technique you can even play around with different sizes for the hood.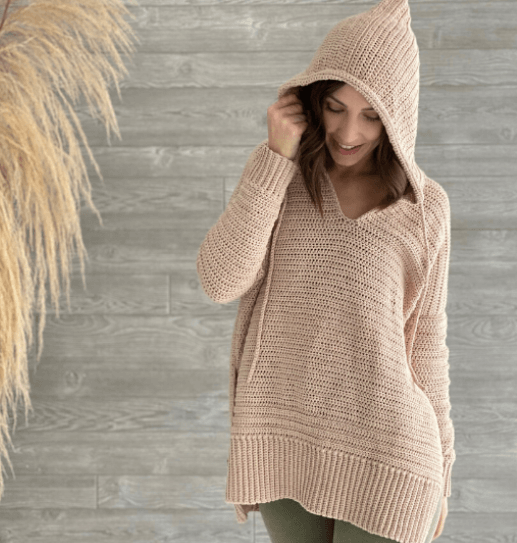 Casual Everyday Crochet Sweater Patterns
Sometimes we just need to throw something on but still want to look cute and warm. A simple crochet sweater that is also elegant and charming is the right choice for these types of occasions. I am finding myself wearing more and more of my own sweaters rather than buying new ones. I love to create everyday sweaters during chilly days and it always gives me a sense of empowerment wearing things I made so often.
This list has a variety of sweaters that are all a good choice for someone wanting to maker their first sweater. Each is a beautiful pattern with basic crochet stitches made for a perfect fit.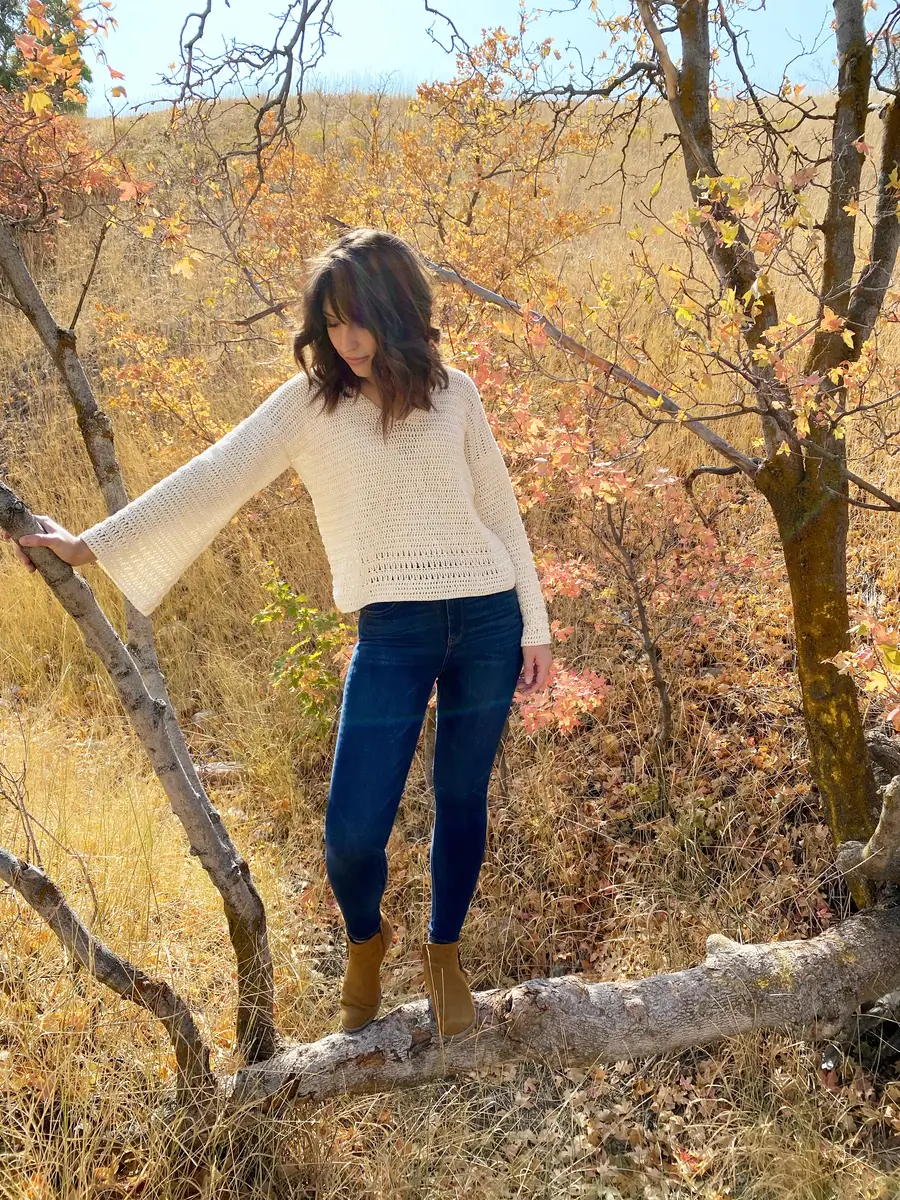 Loose and Oversized Crochet Sweaters
You can never go wrong in this kind of cozy sweater! An oversized sweater looks good on just about all body types with its relaxed look. Just like a cozy cardigan, everyone loves a good comfy sweater and I got you covered with the perfect slouchy crochet sweater pattern.
A slouchy sweater is a good choice for a crochet beginner because there is a lot of room for forgiveness when it comes to fitting. These sweaters also use basic stitches and simple shapes, making them an easy crochet sweater with minimal seaming. Note: not all patterns in this list is beginner friendly.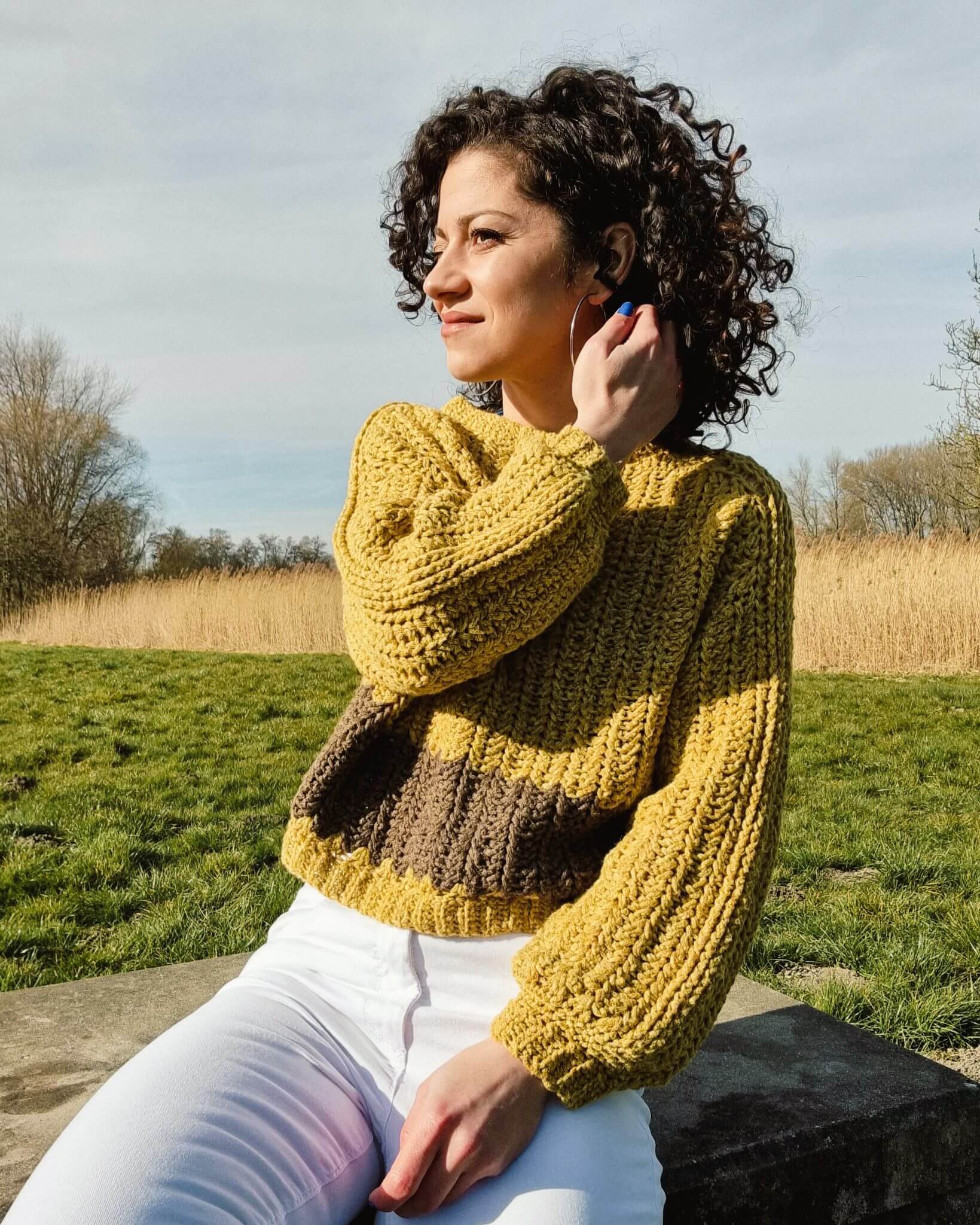 Patchwork and Granny Square sweaters
Patchwork and granny squares are for more experienced crocheters. They are really trendy now and fun to make. It is really amazing to put one of these together and how you can make an entire piece with connecting simple motifs or squares. There is usually minimal shaping involved in these types of sweaters since you are working with various squares and constructing them in a way to make your sweater. Patchwork and Granny Square sweaters are great options for yarn ends or scraps.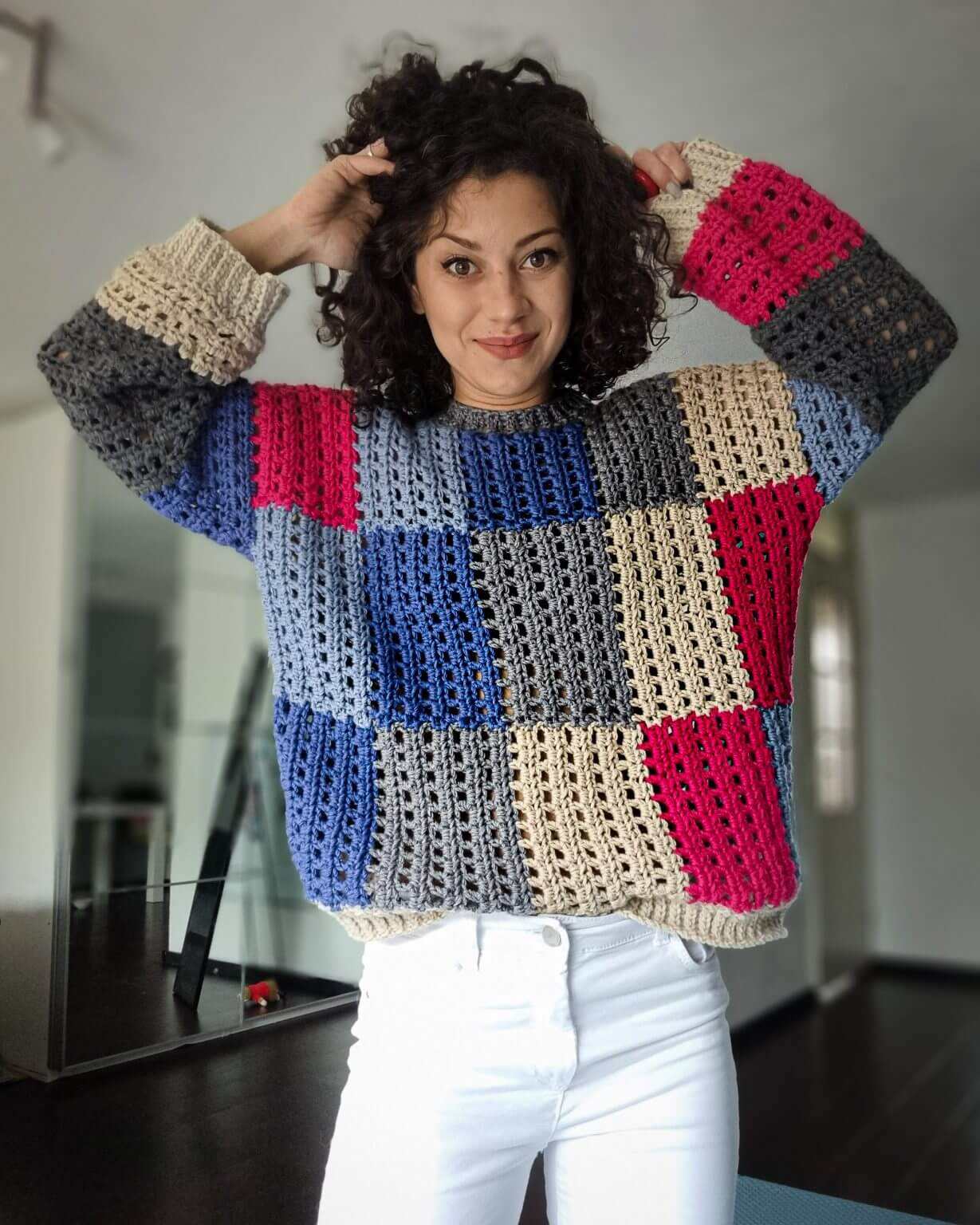 Simple Crochet Sweaters
Looking for a simple crochet sweater pattern or making your first crochet garment? You have come to the right place! Here are some simple yet beautiful sweaters. These sweaters are the perfect choice for beginner and experienced crocheters to make in little time. This list varies with the type of construction techniques with top down and seamed sweaters.
Striped Sweaters
Stripes are always in and a classic staple in every wardrobe. This collection of free sweater patterns feature a few chic designs. Here are great striped patterns for those who want to try working on color changes. Remember to check out my post to seamlessly change yarn colors here to make your sweater look flawless! Leaving a long tail while changing colors makes it easier to weave in the ends as you go.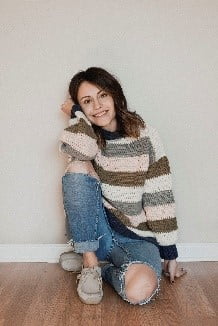 Crochet Sweater Vests
Sweater vests are another trendy item that we are seeing a lot of lately. Although they are not full sweaters, they are great layering pieces for those nights out. Vests. are great fro transition months and for sunny days. They are easy to style up or down and allows you to wear puffy jackets on cold days but stay comfortable indoors once you take off that jacket.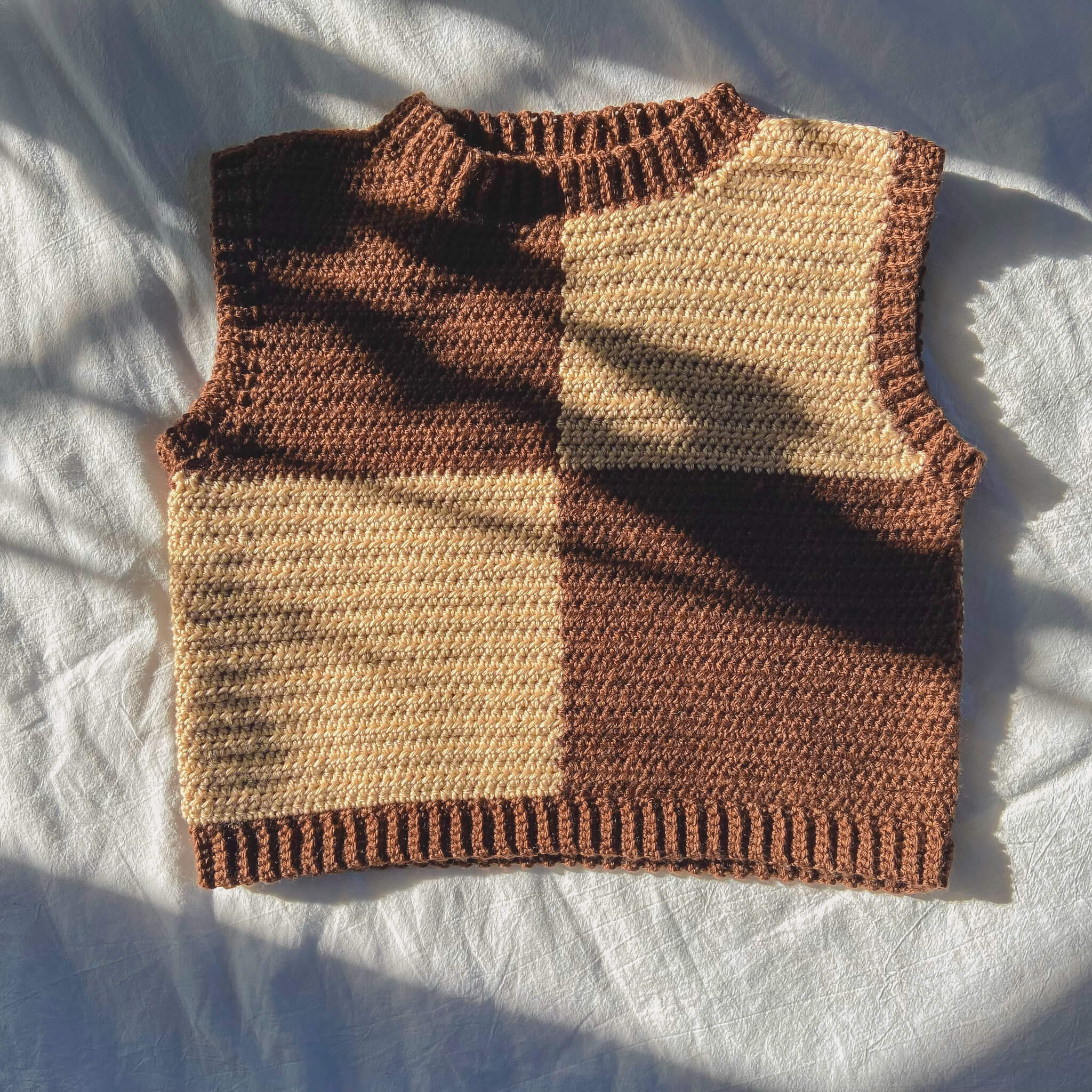 Wrap Sweaters
Lastly, wrap sweaters. These are sweaters that has a unique construction that wraps or crosses over the body. They are a great addition to have for parties and when you need to dress up a little.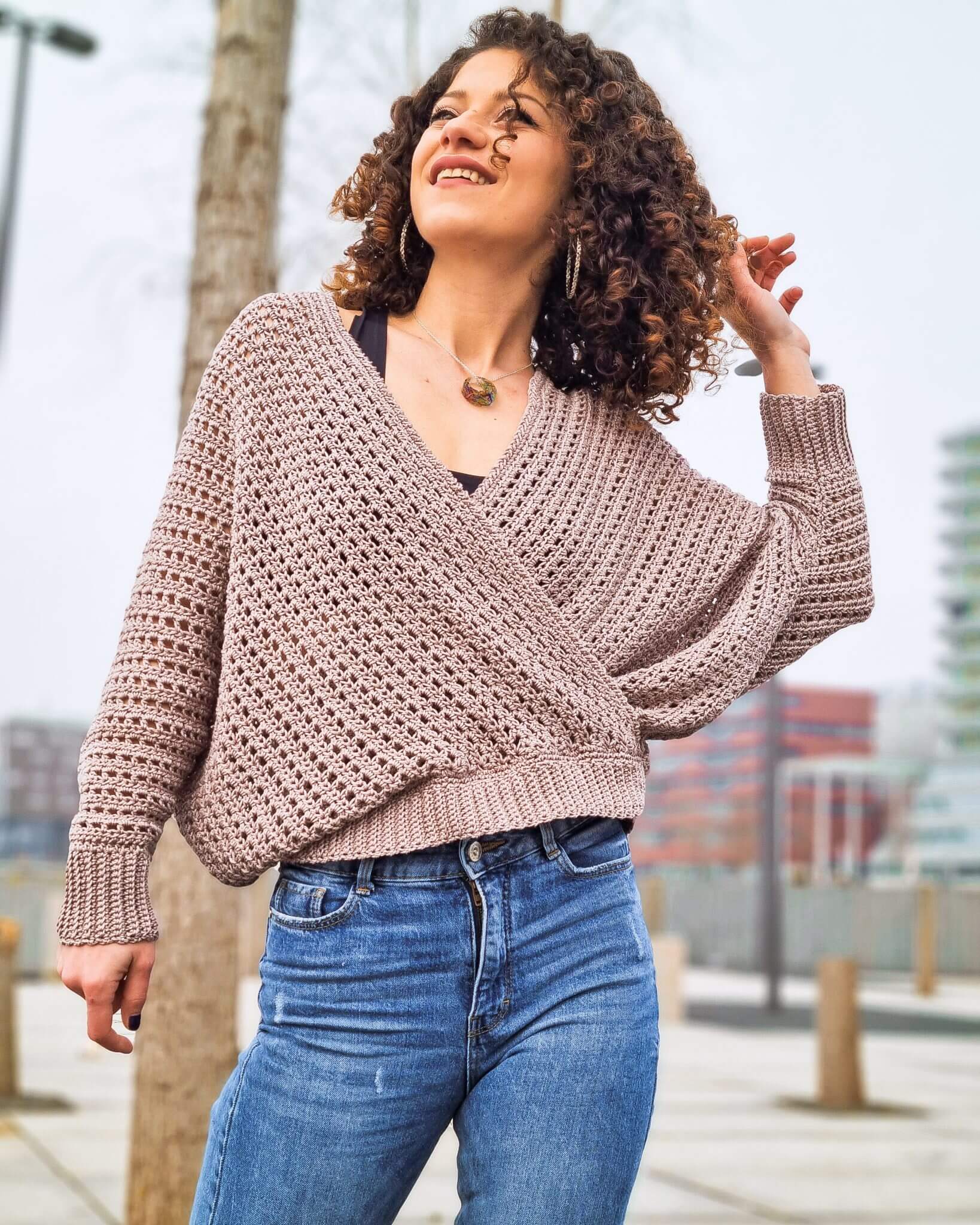 I hope you found the perfect crochet sweater pattern!
This post is always being updated when I find new patterns that I love so make sure to save this post to go over whenever you need a new crochet sweater.
Looking for more patterns? Make sure to check out all of my beginner friendly patterns here where you can find garments, amigurumi, and accessories.
You may also want to check out my post Best Yarn for Crochet Sweaters to help you choose the right yarn for your project!
Want more crochet sweater patterns?
That's all for now my maker friend! Remember, never miss a stitch by subscribing to my newsletter. See you next time!
xoxo
Abigail