Best Free Christmas Amigurumi and Crochet Patterns to Make Now in 2023
Christmas is in full swing! Time to hunt for your next christmas amigurumi crochet patterns. Whether you are looking for christmas amigurumi to spruce up your home or some christmas crochet to gift to loved ones, you can definitely find the best Christmas crochet patterns that are trendy this 2022 to get you ready for all the festivities.
This post may contain affiliate links. I get a small commission from any purchase made through these links at no expense to the buyer. This allows me to keep free awesome content coming your way. Check out my privacy policy for a full rundown of disclosures.
I love the change in the air and how the season brings out the very best in everyone. Christmas is truly the season of giving and gratitude. From the chilly air, all of the markets, handmade gifts, to holiday decorations, this season is a the best time to show off our maker talents.
What to do with these Christmas Amigurumi and Crochet Patterns:
Prepare for holiday markets. These are great beginner projects to make and sell finished items during holiday markets. Markets and craft fairs are great places to earn money from your crafts because they naturally attract your target customers who are ready to buy. Lots of people like to support local and handmade during the holiday season so make sure to stock up. You can find my advice to creating a handmade production line and download my vendor checklist here.
Family Heirlooms – handmade (especially crochet) is generally known to become family heirlooms that are cherished down generations. Making some of these free christmas patterns becomes a great addition to holiday heirlooms that will last for generations.
Fun holiday decor – Christmas preparations are so much fun. Ii absolutely love decorating for Christmas but it is sooooo hard to wait for an appropriate time and not decorate too earlier. Making a free christmas crochet pattern usually keeps me occupied and avoid fishing out the Christmas tree too early.
Great gifts – I am a firm believer that handmade is the best gift you could give like I mentioned in my post Best Gifts to Crochet. Add a little holiday spirit in your gift baskets this year with something from this free christmas amigurumi crochet patterns.
Christmas Amigurumi and Crochet Patterns
Some of these patterns requires you to change colors. See my post about how to seamlessly change colors in crochet to get that flawless transition.
Cozy Crochet Tree Skirt
The first thing people see in your home during the holidays is the Christmas tree. Christmas trees should be the center of attraction and decorations should be ON POINT. Starting with the very bottom, the tree skirt.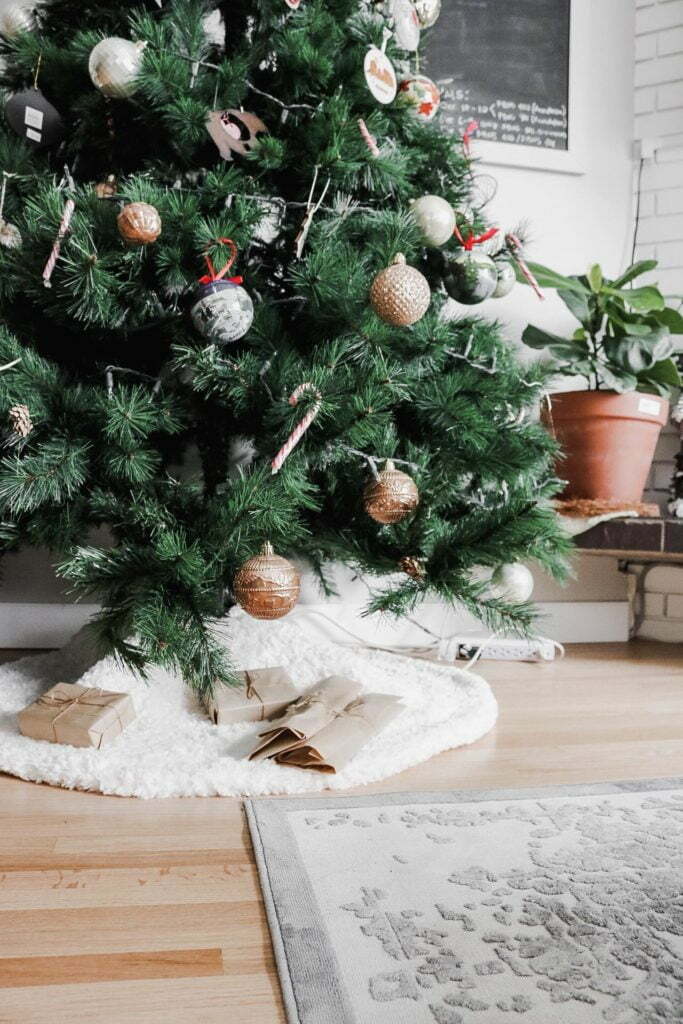 This is a faux fur Christmas tree skirt that I whipped up last year after YEARS of failing to find the perfect skirt. The skirt whips up really quickly and is such an elegant touch to your home and will surely catch everyone's attention.
Crochet Santa Hat
What's Christmas without a Santa hat? The best thing about Santa hats is that they are beginner friendly crochet projects that the whole family can enjoy for family photos and outfits for Christmas Day.
It is fairly easy to get the perfect size for crochet Santa hats and are really easy to modify to make it as long as you want. I made one that was extra long! Santa hats can be made in lots of different colors, so if you are attending or hosting a color themed Christmas party (like we do every year), these would be a great addition to the festive season.
Repeat Crafter Me has a free EASY Crochet Santa hat Pattern on her site that you can try as a base. Another cool idea that is trending this year is to make a plaid Santa hat.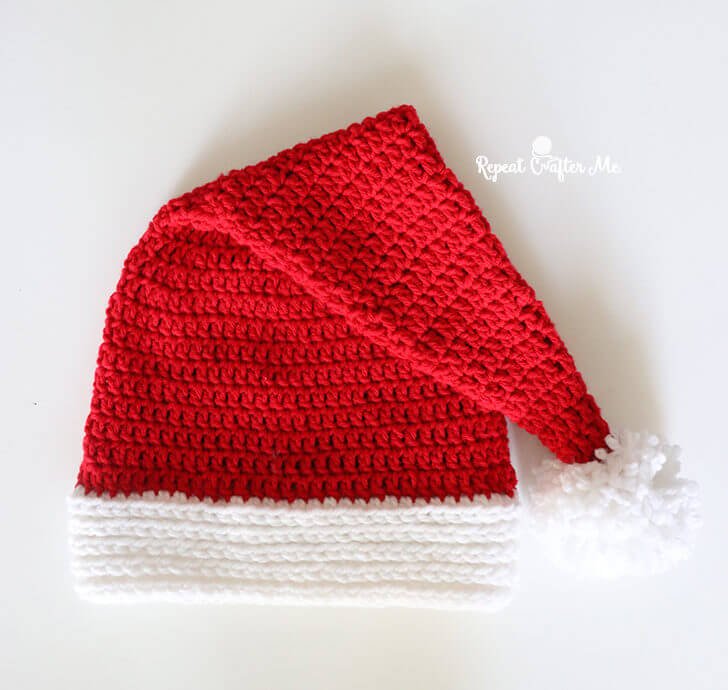 Whistle and Ivy has a great tutorial for making a Buffalo Plaid Hat and should be fairly easy to modify into a fun Christmas Santa hat.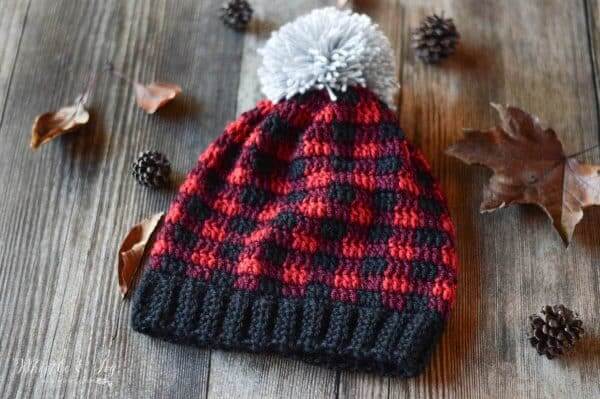 Amigurumi Red Nose Reindeer
Everyone knows the song about a red nosed reindeer that save Christmas Day. Having a crocheted reindeer is a perfect addition to your holiday decorations to ring in the holiday spirit. These cute Christmas stuffs also make great Christmas gifts for little ones.
Related post: Best Yarn for Amigurumi and this post about choosing the best crochet hook
Here are a few of my favourite amigurumi red nose reindeer patterns: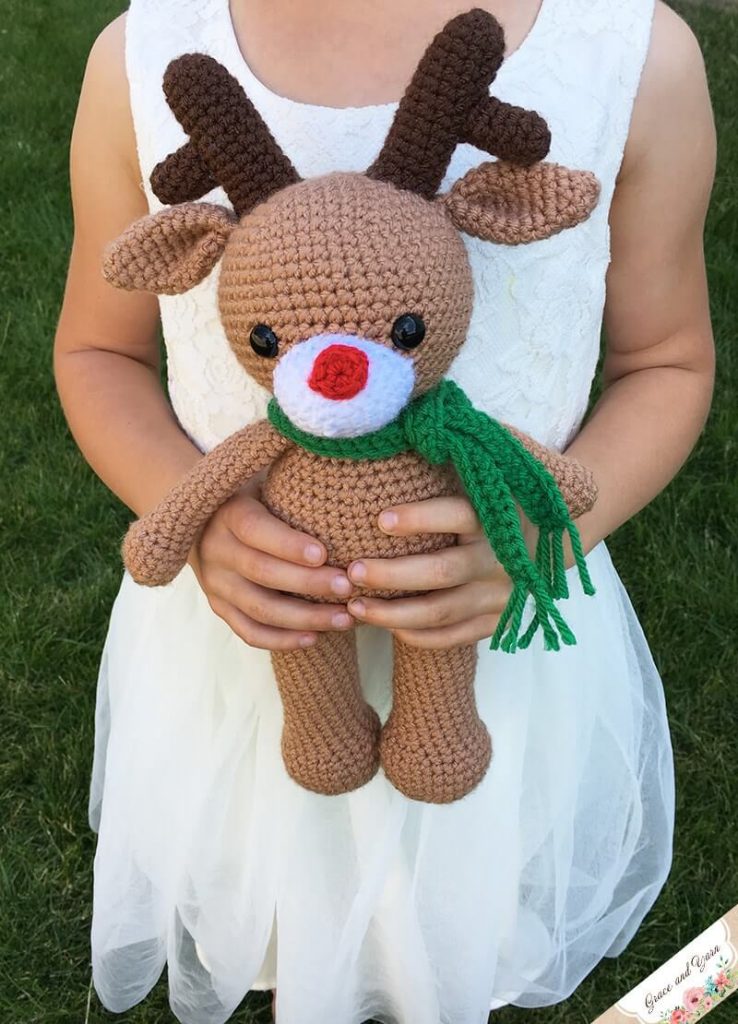 Amigurumi is so much fun, you can read more about the best yarn for amigurumi that you can use for all of the amigurumi patterns here.
Amigurumi Santa Claus
More amigurumi coming right up! If you love amigurumi as much as I do, you are going to absolutely adore this free amigurumi pattern.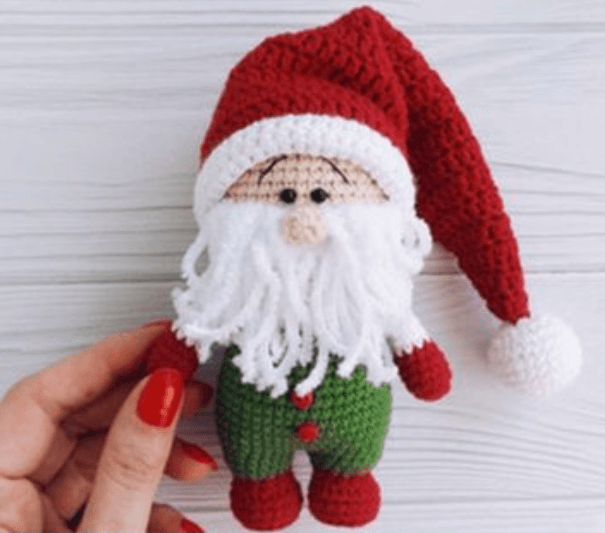 I love this santa clause amigurumi pattern I found, however the article does not indicate who the designer actually is. If you know who it is feel free to leave me a comment so I can give due credit. The pattern is just too cute to not share!
This little guy is such a great hit during Christmas holidays and celebrations. Remember to use the right kind of yarn when making amigurumi so you can get as much sharp details as possible.
Christmas Crochet Ornaments
Is it really Christmas without a tree? I always dreamed of having a charming cottage with a Christmas tree in every room. Right now, we have one big Christmas tree for our living room and filling it with Christmas tree ornaments we pick up as souvenirs from each place we travel. To fill in places, some of the ornaments on our tree are actually handmade.
Crochet Christmas ornaments are really popular and also great heirloom gifts to gift to extended family. I always imagined giving a box of crocheted ornaments away to friends and family but never actually got around to doing it.
You can purchase inexpensive ornaments at a dollar store, Walmart, or craft store and use a free crochet pattern from this list to give them a new life: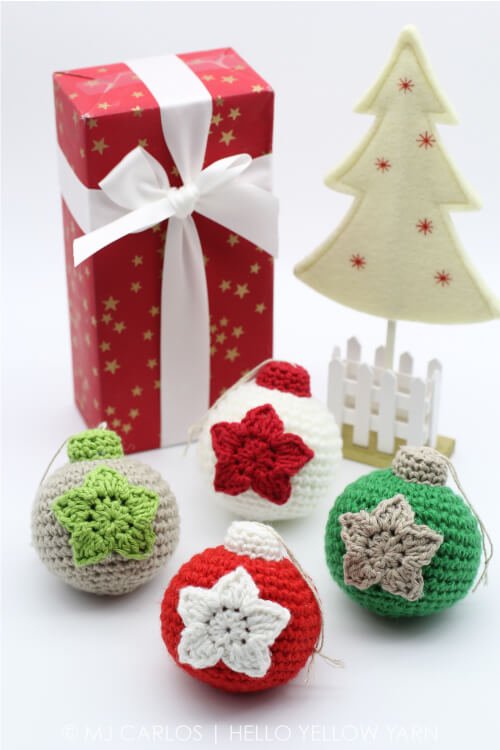 Crochet Snowman Pattern
I am a complete sucker for a cute cozy snowman! I have three cuddly snowmen around my house.
Grace and Yarn has an easy crochet pattern for this cozy snowman. I love this pattern because it is so simple yet lots of fun to decorate and make your own.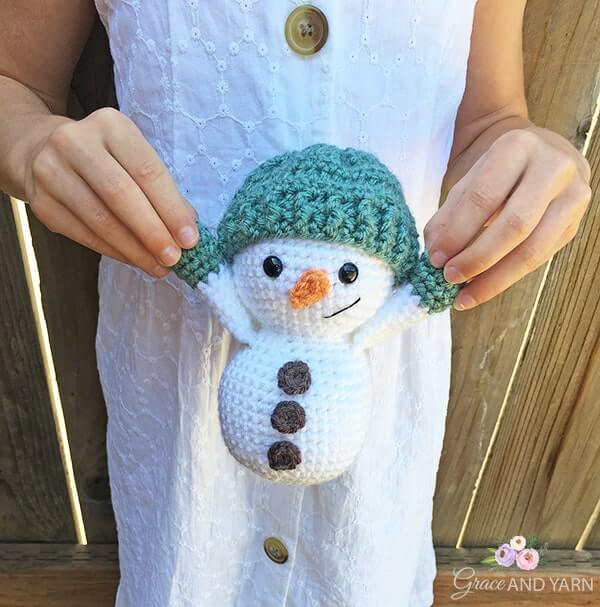 Gnomes are very trendy this year and what better way to make use of this tree than to make a Snowman Gnome? I cannot with how insanely cute this is! Jen Hayes Creations goes through step-by-step instructions on how to make these adorable snowman gnomes here.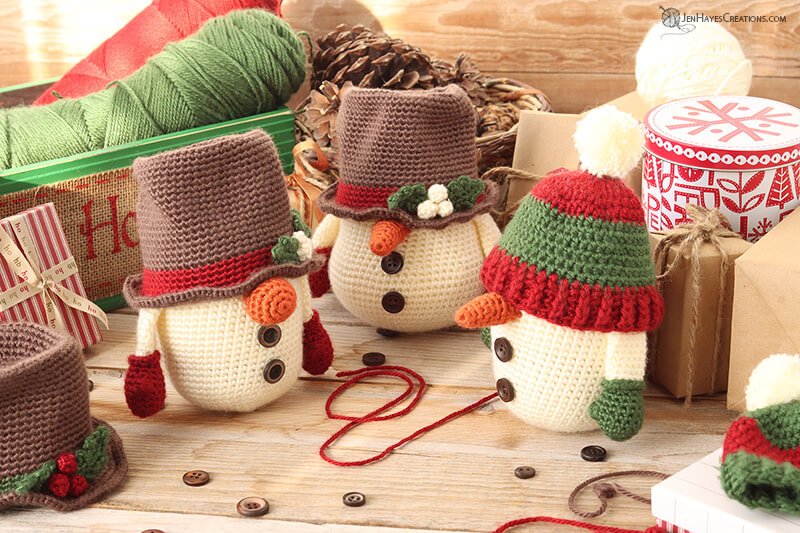 Amigurumi Candy Cane
Repeat Crafter Me has a great video tutorial on how to make an easy spiral candy canes to add to your Crochet Christmas decorations, you can also get the free pattern on her website.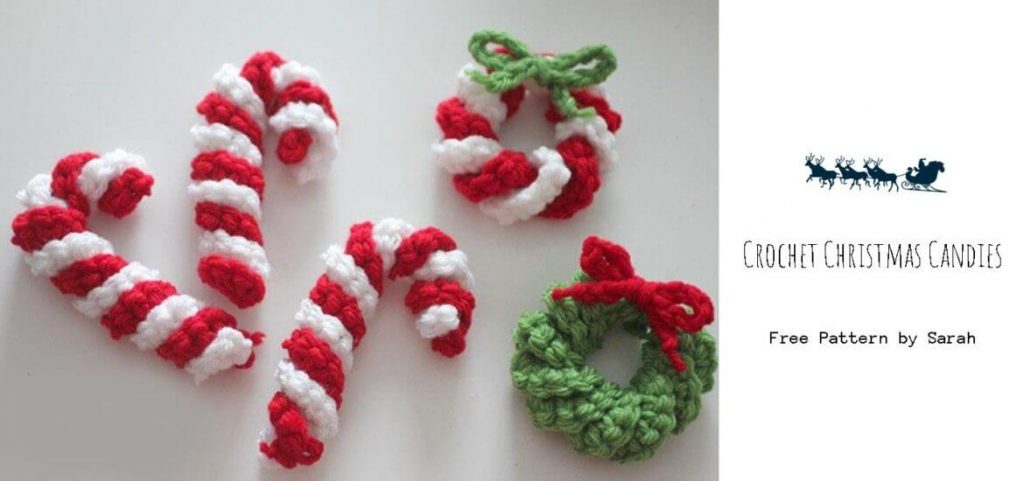 The Crafter Life has this super adorable blog post giving you detailed instructions on how to make these Candy Cane Lip Balm holders which are great holiday party giveaways.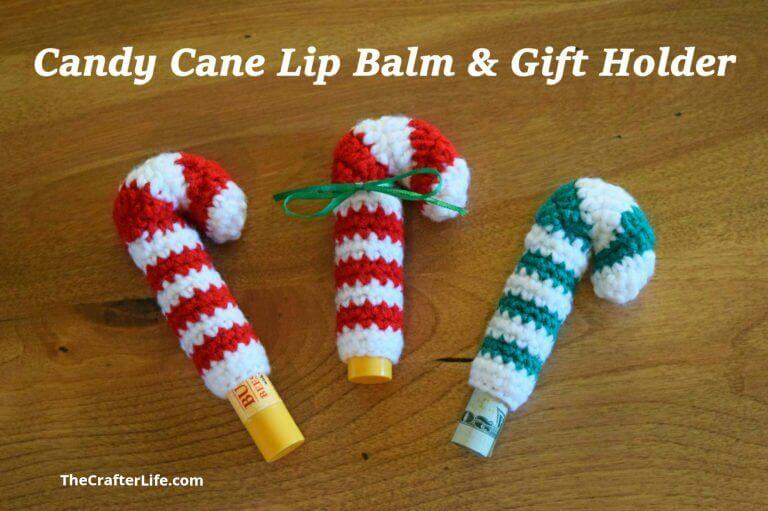 Amigurimi Nativity Scene
Nativity scenes are great for living room decor and a sure conversation starter. They are the heart and story of Christmas, after all!
Whistle and Ivy Nativity Set pattern on Etsy is absoluetly stunning and resembles a complete set up with crochet dolls that look like wooden figures.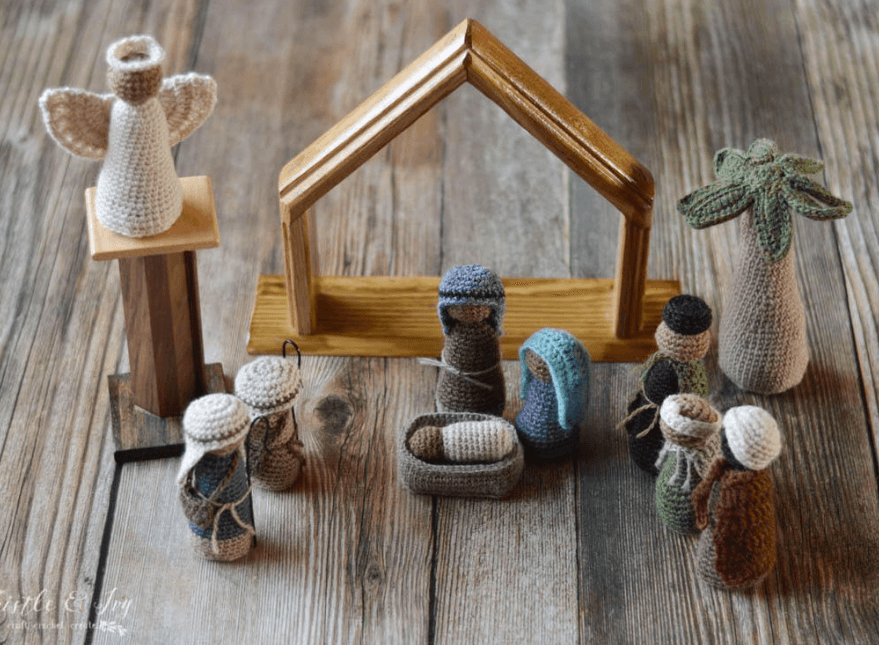 Yarnspirations also has a very beautiful nativity set pattern that is free with the choice of making it a kit if you want the yarn as well.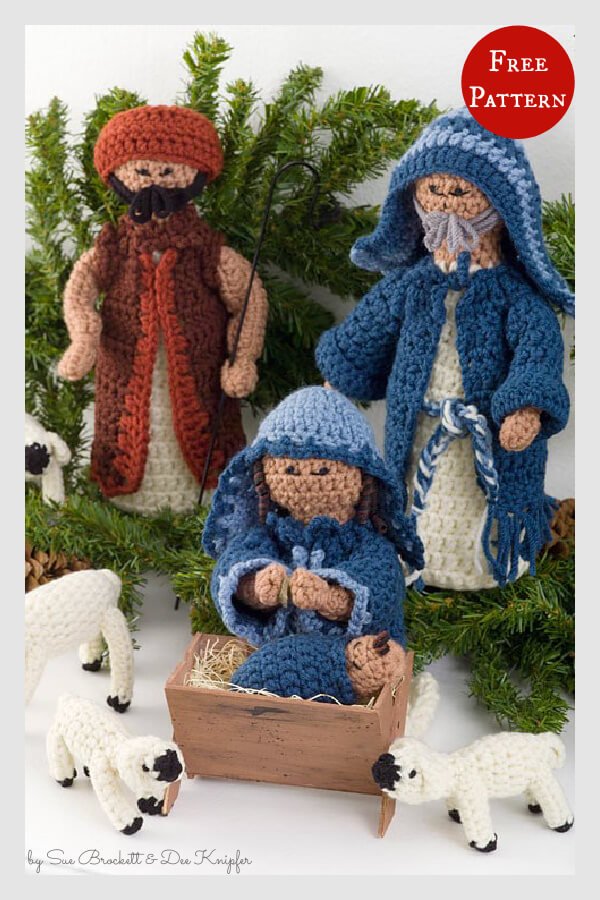 Crochet Teddy Bear
Classic Christmas present. Everytime I think of a teddy bear gift, I remember the christmas party scene a tthe beginning of the Nutcracker Ballet. We go every year!
My absolute favorite crochet teddy bear pattern is made by Stefanie Lau from All About Ami. This pattern also comes with a bunny option as well. I love how she uses Go For Fleece to make these adorable stuffed animals which make them super cuddly! Stefanie recently came out with an outrageously cute crocheted jacket for the teddy bear and I AM OBSESSED with him.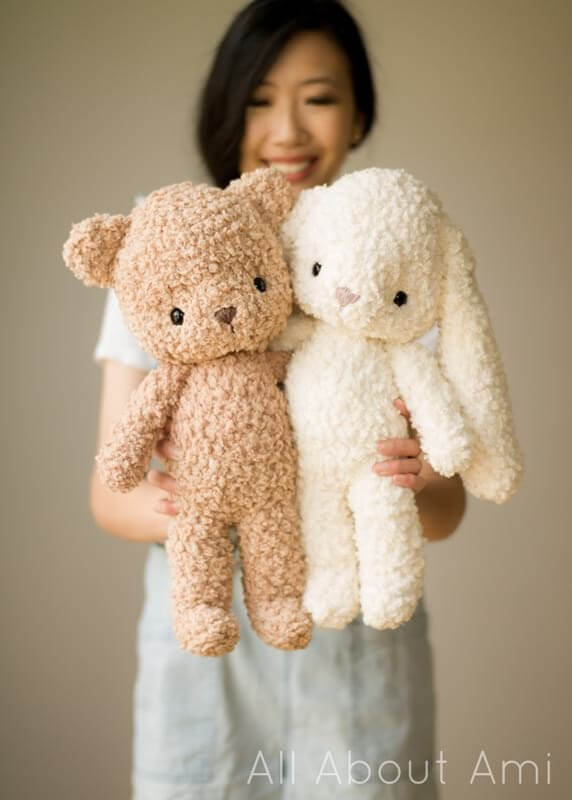 Gingerbread man Crochet Pattern
I love Gingerbread cookies, ahh! If you are a sucker for these cookies you are going to love these gingerbread crochet patterns. I have three top picks for you here!
First is a simple gingerbread man pattern that is sort of like – well – a real gingerbread man! this one, like cookie, lies flat with a little stuffing in between to giving it that depth that a cookie would have.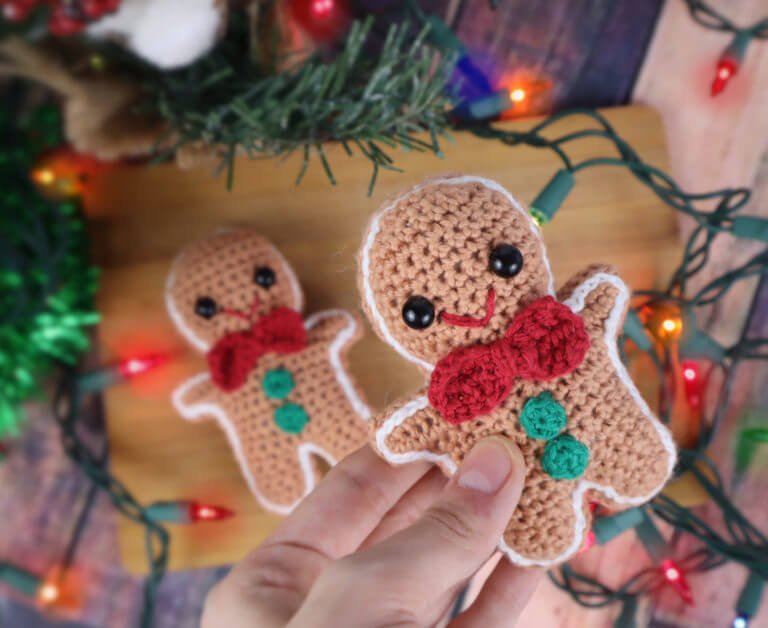 Next is an amigurumi gingerbread man from Elisa's Crochet. This gingerbread man has a little more dimension and rounded with adorable icing details! This one is so cute and a great little christmas stuffy for kids.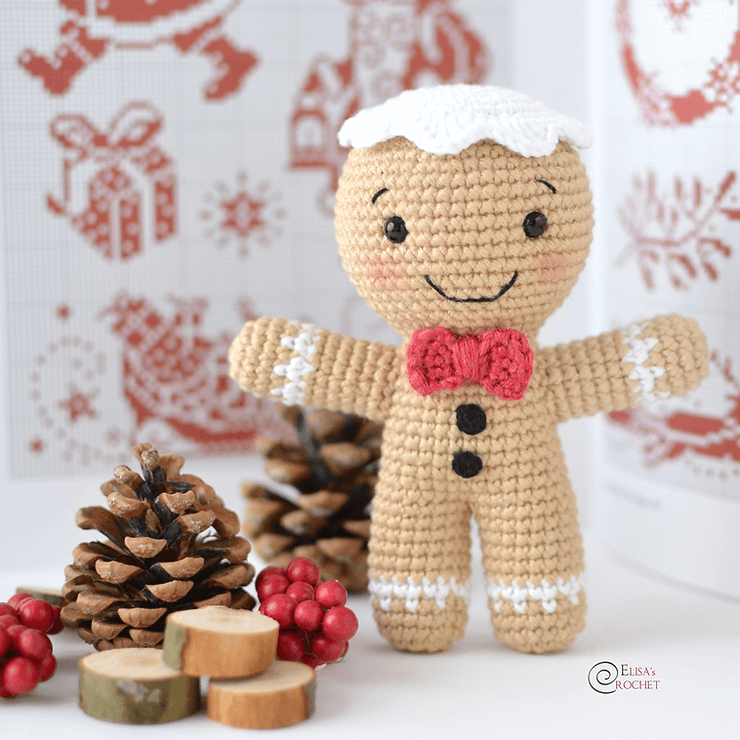 Last runner up is this super stinking cute crochet gingerbread man with a bitten leg from Spin a Yarn Crochet. Oh my goodness guys, have you ever seen a cuter gingerbread man? I love all the details Spin a Yarn added, especially the surprised face!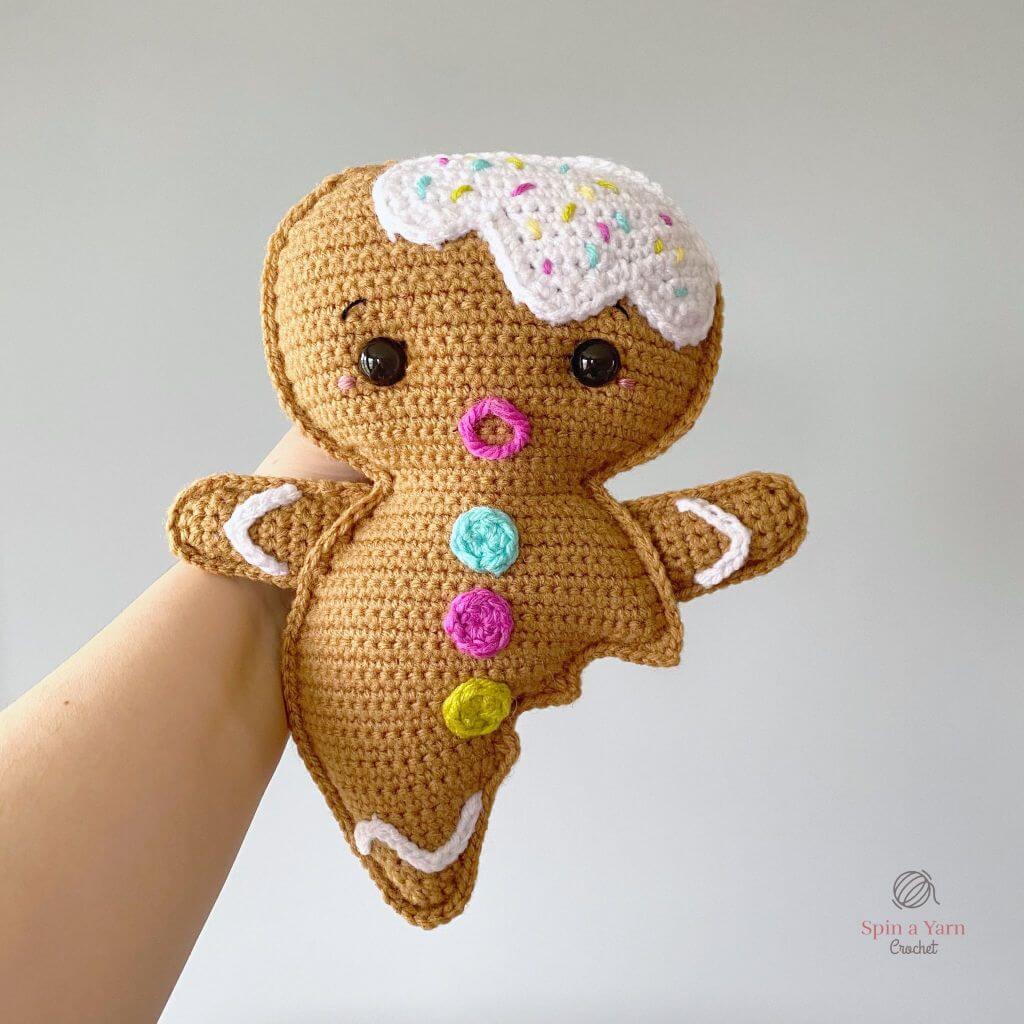 Now you have a ton of christmas amgurumi and crochet patterns to work on!
Looking for more patterns? Make sure to check out all of my beginner friendly patterns here where you can find garments, amigurumi, and accessories.
Want to see crochet sweater patterns for Winter?
That's all for now my maker friend! Remember, never miss a stitch by subscribing to my newsletter. See you next time!
xoxo
Abigail