40 Modern Crochet Baby Blankets You Need to Make (2023)
Crochet baby blankets are a common gift choice when it comes to gifting for babies and expecting mommies. A handmade baby blanket is an extra special gift and most often becomes a beautiful heirloom piece with a unique look. If you are looking for the perfect fast and easy crochet blanket pattern you have come to the right place!
This post may contain affiliate links. I get a small commission from any purchase made through these links at no expense to the buyer. This allows me to keep free awesome content coming your way. Check out my privacy policy for a full rundown of disclosures.
Adorable baby gifts
Baby blankets are often the go-to for a baby shower gift, birthday gifts, AND Christmas gifts depending on the age of the baby. They are a unique way to add character to a space and immediately reflect personality. Blankets are an easy gift choice because they are often gender-neutral and can be given to a baby girl or a baby boy. A crocheted blanket is a special way of putting in a little effort and creativity to show how much someone means to you. In my opinion, a crocheted baby blanket is the perfect gift that serves a functional use.
What is the perfect baby blanket size?
The ideal size of your baby blanket depends primarily on the blanket's purpose. A crib blanket is slightly different in size than regular baby blankets that might be used in a carrier or a stroller. Consider where you are going to use the blanket before deciding on your blanket size.
Most commonly, baby blankets are sized 24″x30″.
Make sure to check out the COMPLETE GUIDE TO CROCHET BLANKET SIZES HERE. Most blanket patterns are made using an easy stitch pattern that may have repeating rows of basic crochet stitches or some color changes.
This makes blankets, regardless of their size, easy to customize or adjust to your perfect size. You can always make adjustments to what a piece measures.
For more detailed information, my Complete guide to crochet blanket sizes also has a section about adjusting blanket sizes so be sure to hop on over there after you choose your blanket pattern here.
You can easily adjust a blankets' size without making any changes to a pattern as well by changing the hook size and yarn.
Here is everything you need to know about crochet hooks sizes
What is the best yarn for baby blankets? How much yarn do you need to crochet a baby blanket?
Acrylic yarn is commonly used when making blankets because they usually give you the most bang for your buck. After all, blankets usually consume more yarn. With baby blankets being smaller in size, using organic yarn such as cotton or wool, is always an option too without costing an arm and a leg.
Many common yarn brands such as Lion Brand Yarn, Red Heart Yarn, or Loops and Threads all have acrylic lines specially made for babies. Babies have sensitive skin and need a soft yarn that won't irritate them. A soft blanket is what you want to aim for when choosing your yarn and design. Make sure to look around for an inexpensive, strong, and soft yarn and you have yourself a winner!
Most blankets use worsted weight yarn or thicker like bulky and super bulky. If you are making a blanket with worsted weight yarn, a good amount of yarn to set aside would be anything around 750-1,125 yards. One added bonus of buying a new ball of yarn is most yarn labels have estimates showing how many balls are needed to make a baby blanket.
Baby Blanket Safety and Care
The American Academy of Pediatrics recommends cribs stay free of anything loose, including blankets until a baby is 12 months. Blankets, pillows, stuffed toys, and other objects alike can pose as a suffocation threat. The best way to avoid these circumstances from happening is to follow recommendations from reputable sources.
Here are some ways to care for your crocheted baby blanket:
Wash crocheted blankets separately or with other blankets. Avoid washing them with clothing that has hooks or buttons as they might get caught and damage the blanket.
When on the go, make sure the blanket is snuggly tucked into the carrier or stroller and not hanging out.
Tuck blankets in the crib securely if the baby is laying on a blanket.
Always check that blankets do not go over baby's head.
Always make sure your crochet blanket is in good shape by checking for loose or unraveling yarn, snags, or any sort of damage. Although highly unlikely, if a baby moves often in a damaged blanket, they might get tangled.
If you are gifting blankets, it is a good idea to try to add these safety reminders in a note.
How can I fix a crocheted baby blanket?
Fixing blankets can be done easily and are good to know just in case a blanket is damaged. I am such a big believer that it is better to fix things rather than toss them, especially for unique handmade blankets like this. In my Complete Guide To Blanket Sizes post, I shared some ways to fix blankets. Make sure to check them out after you find your baby blanket crochet pattern in this post.
If you have uneven blanket edges you can fix them with with techniques from my post How to Fix Uneven Edges.
Made a mistake? You might find this post about fixing crochet handy.
How can I crochet a baby blanket fast?
I am going to share with you a secret! The thicker the yarn, the quicker you are going to get that baby blanket done. Yup! That's all there is to it. The secret to cranking out crocheted items fast is simply the choice of yarn. It makes a lot of sense too. You cover more space in less time with a bulkier yarn. Bulky yarn starts at CYC 5 weight but regular worsted weight yarn or CYC 4 can also be pretty quick to work up too. You can check out the yarn weights standards here. Similarly, if you want a lighter blanket that may take more time, a thinner yarn and smaller hook will do the trick.
An easy blanket should not take much time. Your stitch pattern will also affect how much time it will take to finish the blanket. A more complex stitch might require more details and attention. Whereas, basic crochet stitches allow you to make projects mindlessly. Lace stitches – or stitches that involve series of chain stitches – tend to work up quickly as well. Looking for more tips? My post on the top 5 Habits Crocheters should have to Save Time also goes over a few tips to crochet faster.
To save you even MORE time, I have compiled 40 modern crochet baby blanket kits where you can easily order everything you need to make your chosen blanket all in one click. That's time saved from heading over to the store and resisting to buy extra things you do not really need. I am definitely guilty of doing that 101% of the time I shop! If you do not need the kit or need additional help, you can easily find the link to the designer where you can find just the pattern.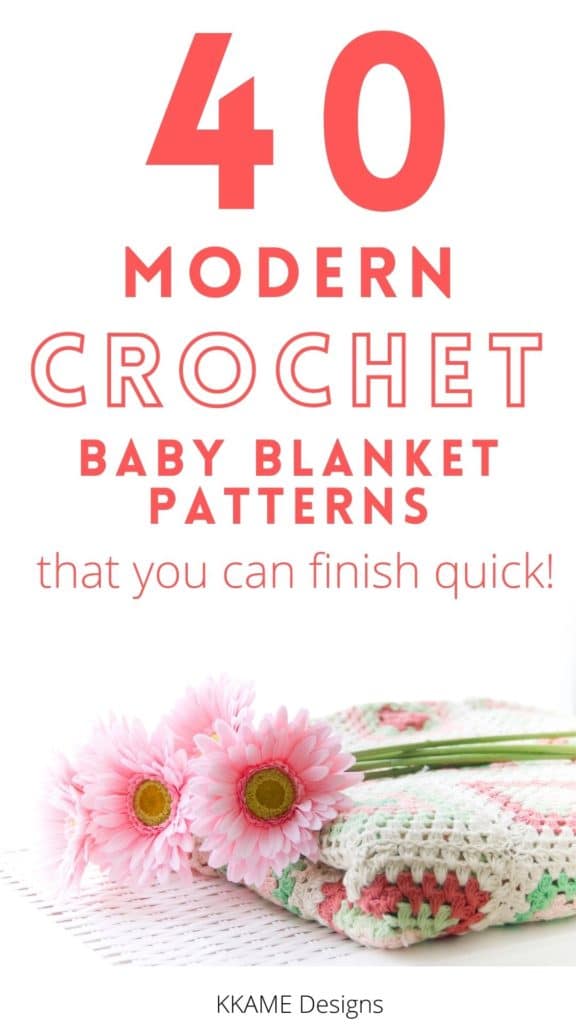 These 40 crocheted baby blanket patterns all have the elements of a quick baby blanket work-up. Each uses bulky yarn and easy stitches so you can have your baby blanket done in no time. Ready to find an easy project for your next baby blanket? Let's dive into the list.
Most of these patterns require you to change colors. See my post about how to seamlessly change colors in crochet to get that flawless transition.
Easy Crochet Baby Blankets
A beautiful modern baby blanket with simple color blocks in solid color. The highlight of this pattern is the beautiful border surrounding the color blocks.
See Lee's site at Cococrochetlee.com
This baby blanket makes a great statement piece in a nursery. I love the fringe on this blanket!
See Lee's site at Cococrochetlee.com
Texture, texture, texture! I absolutely love the texture of this baby blanket. The use of super bulky yarn makes this baby blanket very quick to make.
See Jess' site at makeanddocrew.com
This square blanket is made using HDC stitches and simple alternating colors. I really love how cool and bright these colors look. You can also grab the easy free pattern on the Mama in a Stitch Website.
Clean, crisp, and comfy. This baby blanket features dc clusters to create a nice textural pattern.
See Moogly crochet's site at mooglyblog.com
The ruffled rows on this pattern turn it from a simple baby blanket to a modern style beauty.
A lovey is a type of small baby blanket that borders between a stuffed toy and a tiny blanket.
Plaid has such a modern flare to it! The great thing with this pattern is, you can always use different colors to match the nursery colors in the home.
Look at the details in this blanket! I really love the line details that would even look great in a new color too. Simple but stylish, totally my style!
#10 Carissa Blanket – Crafty Little Cottontail
This one is a really beautiful and charming pattern. I love the solid color with a classic shell border. Such a timeless and beautiful design.
See Carrie's shop at Folksy
Here is another lovey pattern. The color choices and cluster stitches give this lovey pattern a modern touch.
See Sarah's site at stitchandhound.com
#12 Aria Baby Blanket – Premier yarns (free Crochet baby blanket pattern)
A large granny blanket. The granny stitch is a popular dc cluster type of stitch that works up very quickly!
But how cute is this chunky blanket? I love the little cherub details.
See more of Antiquesled in her shop on Etsy
As the name implies, this quick crochet pattern can have you a blanket done in a weekend. The chevron granny stitches are such a fun textured way to make a baby blanket so much fun. Check out the Make and Do Crew website for even more baby crochet patterns and free baby blanket patterns too.
Photo Credit: LoveCrafts
Chevron AND texture? This baby blanket can be a great statement piece in the home and will be a great hit for baby showers.
See more of Kim on intertwinedart.com
Chunky blankets can get done very quickly. This is a great pattern to use for a sudden baby shower.
See more of Deborah's designs on Ravelry
See more of Chantal on her site at Yarnique.com
Elephant themed baby shower gifts? This one is a must-make!
See more of crochet arcade on their website and Youtube.
The Fairy Dreams Blanket is one of my favorites on this list. I love this particular blanket because of the stitch pattern and simplicity.
See more of Esther's designs on Ravelry.
This blanket makes use of a lace stitch and granny stitch rows making it a fast baby blanket project that you can whip up in no time.
See more of Sarah's designs on Ravelry
Granny square motif blankets are such a timeless design that looks so elegant!
See more of Deborah's designs on Ravelry
The subtle striped rows in this baby blanket make this pattern so simple and beautiful.
See more of Deborah's designs on Ravelry
See more of Antiquesled in her shop on Etsy
See more of Chantal on her site at Yarnique.com
See more of Gianna's designs on her site littleredknits.com
This blanket has crochet star appliques on a classic granny square blanket. Crochet appliques are a great way to customize simple pieces.
See more of Tia on her site at simplethingscrochet.com
I love how corner to corner crochet blankets are such a fun way to make unique designs.
Check out Sarah's books on Repeat Crafter Me
Solid neutral, texture, and basic stitches. This baby blanket has everything needed in a modern blanket.
See more of Golden Strand Studio Designs on Ravelry
The bold colors with black outlines is such a fun design and pop! It reminds me of a comic book!
See more of Warmlinx on their site at warmlinx.com
See more of Petals to Picots on their site at petalstopicots.com
Bernat really has the chunkiest and softest yarn ever. LoveCrafts is a great place to find so many free patterns like this one.
Chunky baby blanket that is a definite fast project! I like the cable crochets in this design, it really gives it a nice warm and cozy modern blanket look.
See more of Knot Sew Cute's designs on their site here.
See more designs by Heather on her site heathermooremakes.com
See more from Jennifer on her site acrochetedsimplicity.com
This crocheted baby blanket by Little Red Knits is a great crochet project for beginners who want to try their hand at colorwork (see my post here to learn how to change colours in crochet seamlessly). You can easily pick and choose your gridline colours and get all the yarn you need plus the pattern with the Gridlines baby blanket kit.
I know you are very busy and might not have the time to click away to find solutions, I got you! I researched the best way to reach the designers for you. If you have a hard time completing a pattern, feel free to reach out to the designer in the link I placed for you below the pattern name.
And that is all I have for you today my friends. Let me know what modern crochet blanket you chose to make in the comments below.
Until next time my maker friend!
xoxo,
Abie