Ultimate Gift Ideas for People who Crochet in 2023
Buckle up because this article goes through the very best gifts for crocheters. This post is constantly being updated so you can be sure to get the deets on all the best gifts for crocheters.
So you have a friend that crochets? What on earth are you supposed to get them? You probably thought "hey! They crochet, I bet they wants yarn!" I'm going to stop you right there. Your friend does not want – or need – any more yarn! Unless of course they ask for it specifically.
You do not need to spend a long time thinking about it, this post lays out the perfect birthday gift, Christmas gift, graduation gift, mother's day gift, you name it, for the crocheter in your life.
What gift should I get someone who crochets?
Short answer: Not yarn!
Every year during Christmas time I always put a little note on my Secret Santa list to please do not get me yarn.
I learned year after year that people tend to gift me yarn because…well, I crochet! Makes sense. But think about it, the rule of thumb when gifting is the perfect gift is something the person does not already have. Plus, we already have the yarn we need for a long list of projects we intend to make already. Often times, we are very picky about yarn too, so choosing yarn is more of a sport we like to do on our own.
So what kind of gifts should you get your crochet friend if not for yarn? Hold on because I am going to brain dump some unique gift ideas – that are NOT yarn – in this ultimate list of gifts for crochet enthusiasts.
This post may contain affiliate links. I get a small commission from any purchase made through these links at no expense to the buyer. This allows me to keep free awesome content coming your way. Check out my privacy policy for a full rundown of disclosures.
The Best Gift Ideas to Give Crocheters
This post is constantly being updated so you can be sure to get the deets on all the best gifts for crocheters.
1. Gift Cards or Gift Certificate
Believe it or not, crocheters have lives and hobbies outside of crocheting. It is so funny because I tend to tell people they just always happen to catch me crocheting whenever they come over. But in reality, I also love reading, the outdoors, shopping, plants, and other DIY things.
A gift card could let your friend divulge in something they have been eyeing for awhile without anyone really knowing. It is a safe gift choice too that is always appreciated.
I enjoy gifting experiences! This could be a National Park Pass (annual pass) that their whole family can enjoy or monthly subscriptions to car washes or a hobby like Book of the Month and Darn Good Yarn
2. Yarn Storage
Does your crocheting friend have a special space for their yarn? If so, is it enough? Ha! Probably not. Almost every crochet enthusiast has too much yarn they can handle. You have probably been over to their place. Could they fit in an extra storage shelf from Ikea anywhere? How about a container? Organization is one of the biggest problems crocheters have that you can help solve with a yarn storage gift.
Other types of storage for yarn is the portable kind. These are more for on-the-go situations or if they take their project from room to room often.
A project bag is a designated bag where a whole project can fit. There is usually a hole in the bag where yarn is drawn through keeping the yarn contained inside the bag as you work on the project. My favorite kind of project bag is a drawstring bag. There are several options so find one that your crochet friend might like the most.
Similarly, a project drum or yarn drum is like a project bag but larger, meant for bigger projects that usually involve more yarn. If your friend is always busy making larger projects, maybe a project drum would be the bet fit.
You can also find a unique yarn box, similar to sewing boxes, on places like Etsy. This would be a lovely gift that I can see become an heirloom piece down the road. Consider getting the box personalized with initials if the shop allows customization just for a little extra sentimental value.
3. Yarn Bowls
Yarn bowls make such great gifts! These are bowls that have a little space where you can draw the yarn through to keep the ball of yarn safely inside the bowl as you work. They are very stylish and useful. I have a couple yarn bowls but honestly hardly ever use them as yarn bowls. Haha but I love using them as decor and especially as key bowls. I think it gives a little charm to a maker space.
4. Yarn Winder and/or Yarn Swift
A yarn ball winder comes extra handy in organizing yarn and when you prepare on-the-go projects and just need a little bit of yarn. In fact, it is listed as one of my must have items in my post 5 Habits Every Crocheter Should Have to Save Time. It is a wonderful gift that comes in handy in many ways.
Yarn winders usually come hand in hand with yarn swifts. These are umbrella like mechanisms that expand a hank of yarn so it can be spun into a ball or cake. Hand dyed, novelty, and luxury yarns found in local yarn shops usually come in hanks and must be prepared with a swift and winder in order to be used. See my video about how to use a ball winder below.
5. Ergonomic Crochet Hooks
Just like yarn, crocheters often have way to many crochet hooks! Trust me. I know! However, a very thoughtful gift would be not just any set of crochet hooks but ergonomic hooks. Ergonomic crochet hooks consider how crocheters hold the hook and are especially beneficial to those who crochet very often. They prevent cramping and are likely more comfortable that regular crochet hooks.
Ergonomic hooks come in many different shapes and different sizes. Clover amour crochet hooks are a good set of hooks to gift to a crocheter for their birthday or as a Christmas gift at a good price point. However, if you are feeling a little generous, you can find your crochet friend's preferred hook size in luxurious specialty hooks by specialty shops on Etsy or sites like Furls Crochet.
6. Resin Crochet Hook
Want an easy way to impress your best friend? Check off their want list by gifting them a resin hook. Resin hooks are specialty hooks that are just jaw dropping gorgeous. The resin finish of these create a smooth hook which gives such a luxurious feel to it. You can find resin hooks specially made on Etsy in all hook sizes and unique designs in different colors.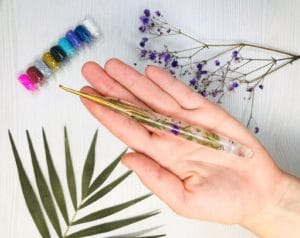 7. Notions (Yarn Needles, Tape Measure, Set of Stitch Markers, and Extra Sharp Scissors)
No project is complete without these things right here! Try putting together a little pouch with these things inside and I am certain any crafty person would appreciate this gift! Even if they have these, trust me, these things are always getting lost. Sooner or later they are going to need them again!
I like using Clover Tapestry needles, they come in a small tube set that has different sizes of needles so you can choose which size you need depending on the yarn. The little tube holder is very handy as well in keeping them all in one place.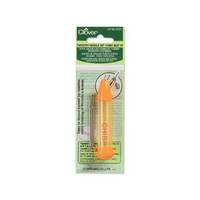 Small retractable tape measures are perfect for notions bag. These go pull out to the full standard 60″ and are not a hassle to roll up once done. Anything to make the maker life easier right?
My favorite set of stitch markers that I use ALL THE TIME are from Coco Knits. Stitch markers are also a must have and on my list of 5 Habits Every Crocheter Should Have to Save Time. I also really like collecting notions from different small shops. Stitch markers are not only useful in marking stitch counts, but give a little character to WIPS (work in progress's)
Lastly, the scissors. Any yarn lover knows that scissors are so important! A good pair of sharp scissors really makes the difference when finishing up projects. Scissors meant for thread or yarn are usually smaller, skinnier, and are extra sharp! Etsy has tons of shops selling embroidery scissors that come in very unique and beautiful designs. I got mine off of Etsy and love them so much!
If you think your friend does not need another pair of scissors, consider getting them a yarn cutter. Yarn cutters come in lots of different accesories, most commonly in a ring. This is especially useful if your friend works more with crochet thread. The Clover Yarn Cutter Pendant is a very pretty accessory that is a great way to conceal a crochet gift in a fashionable way. a
8. Pom Poms Maker
Pompoms are one of those things that will never go out of style, especially in winter for hats and accessories. Back when I started crocheting, the only way knew how to make pompoms was with a cardboard circle. A part of my Heritage Scarf video shows how I make my pompoms, check out the ending to the video here.
Luckily, things don't always have to be as difficult. Any crochet lover would appreciate a nice pompom maker to save time and effort making the seasonal pompom. These usually come in sets in varied sizes. The pom pom maker set is reusable – compared to traditional cardboard ways – making it a sustainable tool for crafting.
See the Clover Pom Pom Maker here.
9. Crochet Kits or instructions to make Crochet projects
There are tons and tons of free crochet patterns out there. Despite so, crocheters like to treat themselves and splurge on the occasional premium patterns. Try to collect a wish list of patterns that they are interested in purchasing and see if the pattern comes in a kit. Kits are great because they usually come with everything they need to make an entire project. This would be a nice treat that adds to their pattern collection as well.
See all of my crochet patterns on Etsy here and all of my Lion Brand Yarn Kits right here.
10. Crochet Books
Crochet books are a great gift idea that helps makers learn new techniques. Even with the hundreds of thousands of free tutorials and resources out there, books are still highly valued for having thorough and concise information all in one place.
Some of my favorite books that I already have and on my wish list are:
11. Tunisian Crochet Hooks
If your friend has always wanted to try knitting but is just not too good with knitting needles, try considering getting a set of Tunisian crochet hooks. Not many crocheters know how to do Tunisian crochet which would also be an excellent gift to learn new skills.
Tunisian crochet is a style of crocheting that creates a fabric similar to knitting. It uses a longer crochet hook, often with a cable attached to the end. A basic Tunisian crochet project is my Lussier Scarf which uses a very simple Tunisian Crochet Stitch that resembles stockinette stitches in knitting.
My favorite set of Tunisian Crochet Hooks are Knitters Pride's Crochet Hooks. I have been using these as regular and tunisian crochet hooks or years. They are shaped and sized as regular hooks but also have the option to screw on and attach a cable for tunisian crochet at the bottom. Much like interchangeable knitting needles.
12. Programs at your Local Yarn Store
Another awesome gift that I am sure anyone would appreciate is the gift of experience. Consider visiting your local yarn store and see if they have any events or programs coming up. A lot of local yarn stores host project lessons and social events like crochet alongs. These are all great ways to maybe learn a new skill or just add a little spice to the whole crochet experience.
If you choose to gift an experience you are likely just going to come out with a receipt. That's fine! Grab a little specialty yarn to wrap with your receipt. (Hint: you can almost never go wrong with some luscious merino wool.) That way your maker friend has something to unwrap AND you added a little souvenir to their yarn stash.
13. Hit up some Craft Shows
Most – if not all – makers love to support local! They know the time and effort that goes into creating beautiful things. Handmade crafts are often a labor of love, and makers absolutely enjoy sharing that love! Remember to get the story behind the item, makers do love and appreciate a good creative process story.
This is the perfect time to go to local craft shows and find the perfect gift. While you are at it, might as well pick up Christmas gifts for everyone on your list. The great thing about craft shows is there is always a variety of sellers and you can be certain you could find just about anything for anyone.
Last year, in person events such as craft shows were put on hold due to the pandemic. You better believe that seasoned sellers are super excited to get back out there AND not to mention all the new entrepreneurs that started their businesses during 2020 will have the chance to showcase their creations too. So you can be sure to find some great things this holiday season.
If your local vicinity still does not allow for in person events, that is okay! You can always support local and handmade through Etsy. Most local sellers have an Etsy shop, contact the seller you had in mind and ask if they do. The great thing about Etsy is, you do not need to limit yourself to your vicinity either. Every merchant on Etsy is either a handmade or vintage seller so you can be sure that you are supporting small businesses with any purchase. It is as easy as downloading the Etsy app and exploring thousands of handmade artisans.
14. Maker Accessories: Crochet Tote Bag, Crochet Hook Case, Crochet Coffee Mugs
Little things always go a long way. Consider collecting maker accessories that show off their craft and love of crochet. A great idea would be to find a cute crochet themed tote bag on Etsy (or design one if you know how) and fill it with things that they would use. Things like a crochet hook case, a coffee mug or tumbler, hand cream, a notebook, crochet notions, etc. are all things that would go great inside this tote bag.
15. Blocking mats, Clothes Steamer, and T-Pins
Blocking is another skill that really ups a the crochet and knitting game, BUT many crocheters do not do it! This technique is a way of finishing a garment that relaxes the fibers and makes the piece look way better. But I won't get into much of that here. Have your crochet friend adapt this skill to really up their game by buying them everything they need.
Blocking mats are foam mats the you can get at almost any store. They are usually interlocking puzzle like pieces which are great because crocheters can shape the mats following their piece.
Next thing you will need is a steamer or wool wash. Heck, head over to your local yarn store and get a bottle of wool wash and just gift your friend both. A small handheld steamer is good for blocking crochet pieces.
Lastly, are T-pins. T-pins could be found at a craft store but I cannot guarantee that you will definitely find them. Your best bet to find T-pins are on Amazon. I got my T-pins there and it came quickly and in a good quantity! perfect for large projects. T-pins hold the fabric in place will they dry or steam.
And there you go! Some of the most amazing gifts you can get your favorite crocheter! You can skip the line – and headache!- and order from any of the image links in the post.
Let me know what gift you chose for your crochet friend and what they thought of it in the comments. Are you a crocheter? Let me know what your thoughts on the best gifts for crocheters are below.
Want to make your own gift? Check out my ultimate list for modern crochet baby blankets here!
Until next time friends!
xoxo,
Abigail