35+ Best Free Crochet Patterns with Faux Fur Yarn
This blog post is a curated list of free crochet patterns using faux fur yarn. If you're a crochet enthusiast looking to add a touch of luxury and warmth to your creations, you're in for a treat! This post is constantly being updated with new fun and free crochet patterns so make sure to save it!
I scoured over hundreds of patterns to make a list of my favorite crochet projects using faux fur yarn to make is easy for you to find your next free crochet pattern. Whether you're a seasoned crafter or a beginner eager to explore the world of faux fur yarn crochet patterns, this compilation promises to inspire your next project.
This post may contain affiliate links. I get a small commission from any purchase made through these links at no expense to the buyer. This allows me to keep free awesome content coming your way. Check out my privacy policy for a full rundown of disclosures.
What is Faux Yarn?
Faux fur yarn is a type of novelty yarns that is designed to mimic the appearance and texture of real animal fur. It is typically used in crafting and knitting projects to create items that have the look and feel of fur without using real animal pelts.
Faux Fur is a fluffy yarn that allows you to make all kinds of things fairly quickly due to its bulky weight and great for winter months.
Knit Picks Fable Fur Yarn and Lion Brand Go for Faux Yarn are go to yarn choices for this luxurious faux fur yarn without breaking the bank.
Tips to working with Faux Fur Yarn:
Because it is a novelty yarn, there is a little bit of a learning curve to using it. After playing around with this yarn, I learned a couple tricks:
1. The furry yarn forks up in a thick fabric. Using a larger mm crochet hook helps create a good drape for scarves and blankets. If you are making an area rug or something that needs to be more stable, a smaller mm hook is better.
2. My best tip for working with faux fur yarn is to use stitch markers. Faux fur is a unique yarn where you really need to use your hands as eyes. You are going to use a lot of touching to locate, count, and keep track of your stitches. Stitch makers are your best friend when working with faux fur yarn. 
Best Free Faux Fur Yarn Crochet Patterns
Now let's get into the list to find a free pattern for you! I am going to kick off the list with a couple of my very own designs using faux fur yarn. 
A festive crochet Christmas tree skirt for a luxurious feel to your holiday home. 
This fanny pack was so much fun to make. I played around with different hardware to add on to the crocheted fanny pack, giving it a store bought look.
This hoodie uses minimal faux fur yarn as it is added to the trip of the hood and wrists of the crocheted sweater instantly giving it a warm and elevated look.
This luxurious vest is easy to style with different pieces in your wardrobe. I absolutely love this design from Mama in a Stitch!
Fun Valentine's Day crochet project using faux fur yarn
Another easy way to elevate any look is to add boot cuffs! These ankle warmers looks so cozy.
The pattern this rug is perfection! I love how And She Laughs used a mix of fibres to create this crocheted mat/rug and can definitely see it in my home!
​We cannot make a faux fur yarn roundup without The Loopy Lamb. They have the most adorable crochet plush designs like this seal
Two of Wands has a way of making simple stitches look so elegant. I am constantly inspired by Alexi!
This is a beautiful Faux Fur stole that would be great to wear for formal occasions.
Super fun project and suitable for scrap piece of yarn or bulk pieces for craft fairs.
Another festive crochet project using faux fur yarn. I am dying to make one myself!
Sure conversation starter in any home. I love how Stephanie mixed yarns here to give a store-bought feel to this crocheted cushion cover
The Polar Fur Cowl from Knit Julep looks super warm and easy wear in different ways.
Another quick crochet bag project for beginners. This bag looks so fun and uses mostly single crochet stitches
I love adding crochet to things! Lovable Loops used a headband to add on and make this furry ear muff!
17. Delano Hat – Lion Brand Yarn
The Delano hat is a free crochet pattern on the Lion Brand Yarn website and is perfect for freezing cold weather. I like the aviator look and how it can tie and hug your head.
These mittens are so furry and soft. I really like how Stephanie added regular yarn for the wrist portion to keep the mitten nice and snug on your hands,
Beautifully designed faux fur throw by Ashlea Konecny from the Heat Hook Home. This throw looks so cozy! the best thing about this crochet project is how luxurious it looks using basic stitches.
I love pockets! I mean, who doesn't? One thing I appreciate a lot is easy access to things I need like my phone and tissue during cold weather. It can get really difficult pulling things out of bags and tight jacket pockets while wearing gloves! That is why I think this crocheted pocket scarf is genius!
Instantly elevate existing garments with this fun faux fur collar. I love the faux fur against the jean jacket in that Sewrella made!
When I first saw this coat, it reminded me of the fur coat I wore during my own winter wedding. How I wish I made that coat using this pattern years ago! It would have been so lovely to wear something I made on my wedding day.
Super simple faux fur earwarmer that uses just a little amount of yarn. Greta crochet project if it is your first time working with faux fur yarn.
This must be one of my favorite faux fur designs. For the Frills makes so many beautiful pieces that are versatile and easy to style.
Pom poms are a staple in winter fashion and a lovely add on to hats! This tutorial teaches you how to make your own pompoms and save lots from buying ready made ones.
And She Laughs is the master of pattens. This faux fur pillow has a timeless geometric pattern and is a great conversation starter during holiday gatherings.
This stole is perfection! It is a good idea to keep you warm during winter weddings and other winter events
Who said bucket hats are only for summer? This tutorial shows you how to make an easy peasy trendy bucket hat that you can wear all winter long!
Cozy faux fur ear warmers that let you wear a ponytail or messy bun while keeping your ears warm
This sheepskin rug took my breath away! What you cannot see in the picture is that One Dog Woof added a layer of regular yarn on the bottom to support traction and also give it a professional finish. Such a fun faux fur crochet project!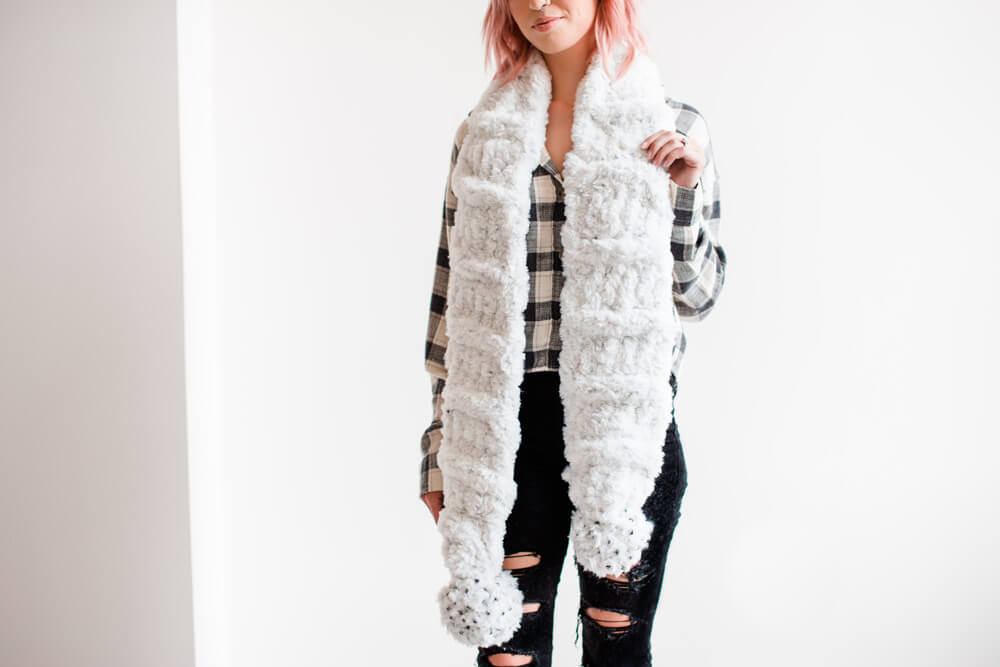 Now this hooded scarf is adorable and a cute different look to hooded cowls! I like how much room the hood has and is especially flattering for people with lots of hair like me.
Another majorly cute stuffed animal from the Loopy Lamb! By this time you should be hopping over to her site to see all the fluffy faux fur animals!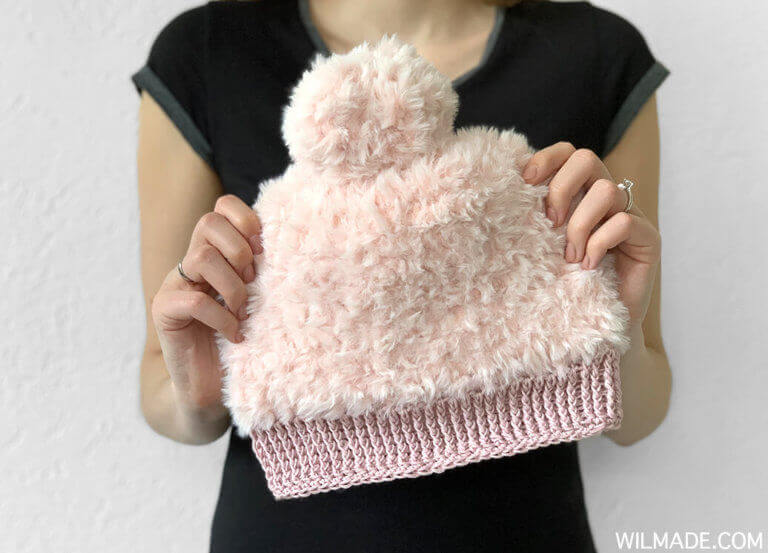 Carrie designed this beautiful vest that looks so elegant! I especially love the collar and arm opening.
Saving the best for last, I cannot believe that this entire pattern is free! Jess designed this extraordinary blanket rug that looks so snuggly.
​
That's all the free Faux Fur Yarn Crochet Patterns I have for now
I hope you found your next project and thanks for visiting! This post is constantly being updated with new fun and free crochet patterns so make sure to save it!
Want to try out some patterns? Make sure to check out all of my beginner friendly patterns here where you can find garments, amigurumi, and accessories.
Want to see crochet sweater patterns for fall/winter?
That's all for now my maker friend! Remember, never miss a stitch by subscribing to my newsletter. See you next time!
xoxo
Abigail
​