Top 10 Crochet Gifts That You Can Make Quick
Knowing how to crochet gives you big advantage when it comes to gift giving because crochet gifts are a labor of love. Makers usually end up buying gift because how time consuming crochet can be. You do not need to spend weeks making a single gift or freak out about needing to whip up a last-minute gift. Whether you are preparing for a baby shower, the holiday season, or thinking of the perfect gift for a birthday for any family member or friend, there is always beautiful gifts that won't take too much time or consume too much yarn. Here are 10 easy crochet gift ideas that take a short amount of time and need just a little yarn.
Related post: Ultimate List of Gifts for Crocheters
Disclosure: this post contains affiliate links. This means that I make small commission from any purchase made through these links at no extra cost to the buyer.
Are you looking for quick crochet ideas to SELL? Check out these Crochet Items that Sell Best in 2022.
Crochet Gifts Vs. Store Bought Gifts
Abie! But wait , can't I just buy a crocheted gift? Hold up, think about this. Store bought gifts cannot match the love and thought handmade gifts give. You create an amazing bond with the receiver with sentimental gifts. It is always the little things that are the best things, right? This is why handmade is more special than store bought presents.
Related post: Looking to elevate your holiday game? Make this fresh and cozy Faux Fur Christmas Tree Skirt!
Choosing the perfect gift for crochet lovers can be difficult. These crochet gift ideas will make your holiday shopping a breeze!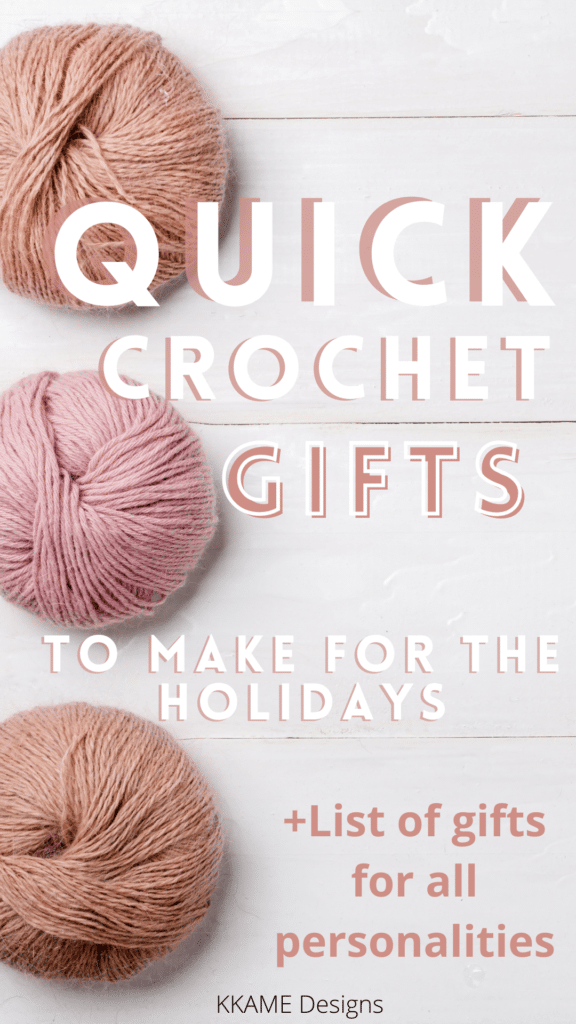 Zippered Crochet Pouch
A pouch is a great choice for the organized person in your life. It is great for people who love make-up, go to school, or have hobbies that involve lots of pieces. This is the perfect crochet gift project for beginners because it requires no shaping. Plus you'll have this crochet pattern ready in just 1-2 hrs of work!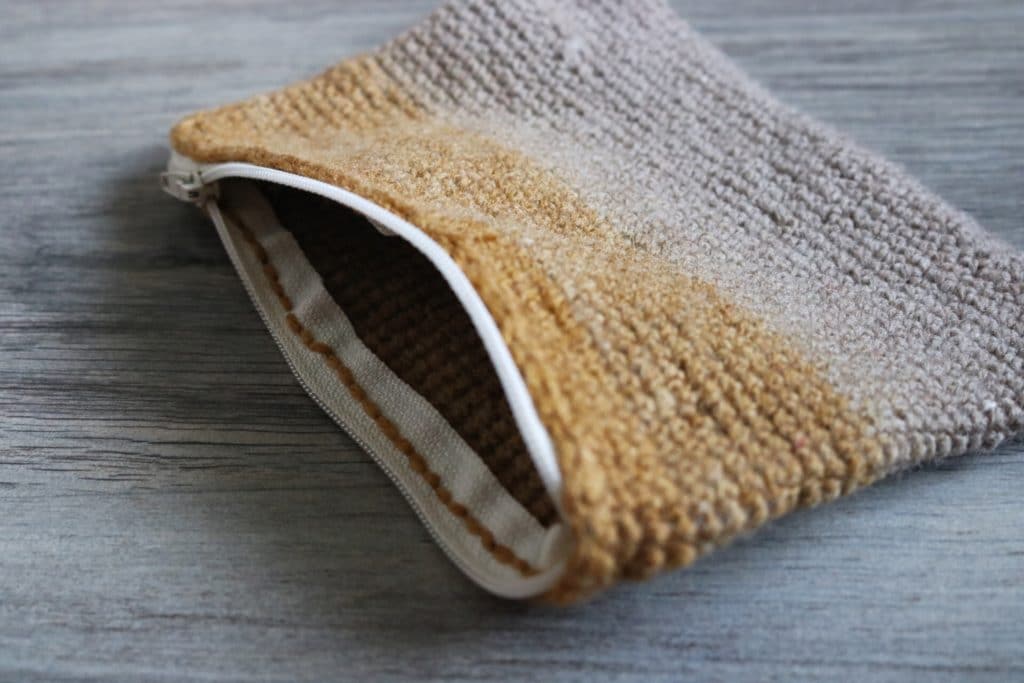 The Mandala Pouch is a simple pattern using Lion Brand's Mandala yarn creates at least 7 pouches. This pouch uses single crochet stitches for the whole project making it a great option for beginner crocheters. With the little amount of time and yarn needed for this project, you can gift this to multiple people OR even give one person a lot of pouches with different colors! These are also great for craft fairs this time of year.
A simple infinity scarf is a great gift idea for the fashionista in your life! Infinity scarves usually use bulky yarn making it a safe bet for someone who is always cold during the winter to keep them warm all day long.
Infinity scarves have simple construction. They are easy crochet project that beginners can make. Choosing a simple stitch with a larger crochet hook adds a great texture effect.
This is the perfect choice for the person who is always busy on their phone! It is a great idea and fun gift for workaholics in your life. Crochet fingerless gloves are a fashionable crochet accessory that can go with any outfit and keep hands warm during the cold winter months. These gloves are perfect for people want to keep their fingers free to avoid the hassle of constantly needing to remove their gloves.
Crochet Bookmark
Crochet bookmarks are the perfect crochet present for the book lover in your life! These crochet accessories will help them to find their page quickly and easily. It's an elegant and charming addition to a gift card to Barnes and Noble. Bookmarks take just little time and use simple crochet stitches.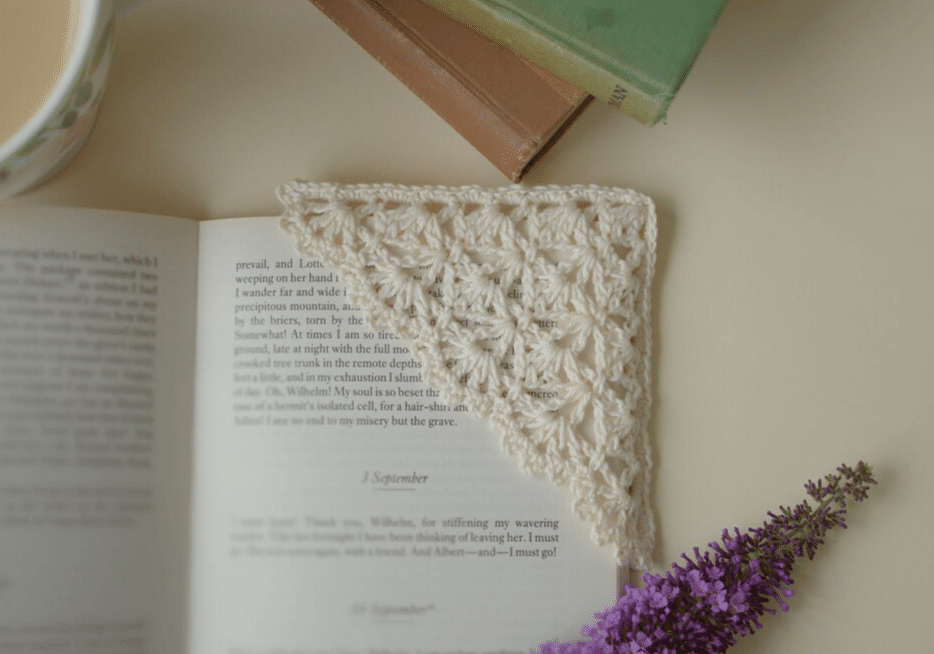 Crochet Dishcloth, Pot Holder and Hand Towel Set
A crochet dishcloth, pot holder, and hand towel set is a great gift for the new home owners on your list or those who love to host and romanticize life. Crochet dishcloths are a wonderful present because they are durable, functional, and fashionable. Dishcloths help in washing dishes and double as a countertop wipe. A crochet dishcloth will also save you time because it will help you clean up after dinner with the family! It is an instant statement piece in any kitchen, giving it charm and cozy cottage feels.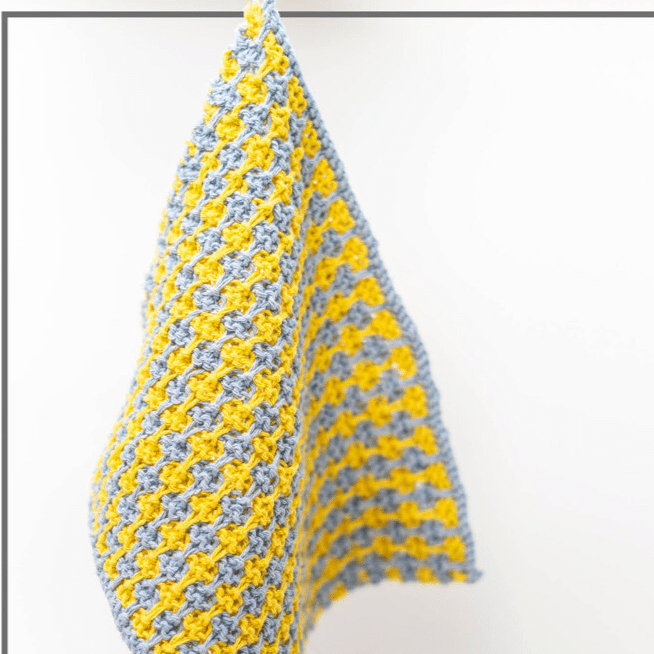 Dishcloth and towel patterns typically use basic stitches. However, more complicated stitch patterns create an elegant hierloom piece. They are quick crochet gift ideas for beginner crocheters that require very little crochet skills.
Crochet Boot Cuffs
This is a fun gift for a quirky friend or family member. Boot cuffs are worn around the ankles above boots or shoes, mostly tucked into the shoe. They tube shape and tightened with a button or crochet hook at the top to provide warmth around the feet and lower legs. For some crochet boot cuff patterns, crochet hooks can be used to tighten them where desired.
These accessories are a fun way to make it look like you have a comfy pair of socks on without the bulk. Boot cuffs take around 1-2 hours to make depending on the pattern. They do not need much yarn and most can be done using just one skein of yarn. Another check for craft fair potential!
Simple Hat…for everyone!
Here is the great gift for the family person in your life. Why? Because crochet hats can be made in all different sizes and extremely functional. It is also perfect for people who spend their winters outdoors because it will keep you warm and dry during all of your activities making it handy when the brr months are in full swing! Get a pom pom and a cozy pattern and you've got yourself winning crochet gifts!
Making one for every family member is a really special gesture. With a crochet hat ready to wear on Christmas morning for those traditional family Christmas photos!
Chunky Crochet Scarf
Here's a gift for the trendsetter. Made popular by celebrities, crochet scarves have been cropping up everywhere – especially chunky ones! Crochet scarves are made in a variety of materials, sizes, and weights. These popular scarves are quick crochet projects because of the yarn weight and larger hook sizes. It is always a good choice to make crochet presents using the person's favorite color. Different people may have sensitive skin so be certain to check the label as chunky yarn tends to rub against the skin a little more.
Crochet Soap Saver and Crochet Washcloth
This is a wonderful gift idea for the eco warrior in your life. So many people are swapping plastics and changing their lifestyles to a more sustainable way of life. This combo are great crochet gifts for people with related new year's resolutions.
Eco-friendly bathroom accessories are often made from environmentally friendly materials and designed to make the most of our natural resources. Yarn such as Re-Up and organic cotton are great choices for this particular gift set. Sustainably made gifts provide a long lifespan with low maintenance, causing fewer products are being manufactured while reducing the environmental impact. Crochet soap savers and washcloths can be reused multiple times without wearing out like regular towels.
Crochet Mug Cozy
Here is a great gift for a coffee or tea lover! Mug cozzies are a lot of fun and are extremely quick to whip up making them great last minute gifts. Place the cozy on a cute mug, place some sachets of tea and cookies inside the mug and you've got yourself a thoughtful little gift arrangement.
These quick crochet gifts are perfect for crocheters who want to gift a testament of their love and appreciation. There is something for everyone on this list – and every crochet project takes less than one day! You can't go wrong with any of these crochet projects.
Happy Making my Maker Friend!
Until next time,
Abie