45+ Best Free Basic T-Shirt and Tops Crochet Patterns
This post is a curated list of free crochet t shirt patterns. Learning how to crochet an easy crochet top is an absolute must for any crocheter! You can make a great crochet garment by using basic stitches and a good free pattern.
With all the talented designers out there, choosing the best crochet t shirt pattern for you can get a little tricky! That is why I put together this curated list of modern crochet tops that I personally love! And – because you are here and have excellent taste – I know you will love too! Let's start looking for a fun design to add to your collection.
Related post: Crochet Sweaters
Summer is in the air and it is time for all things warm weather! Make sure to check out these links below:
The best thing about this list is how easy it is it's divided into different kinds of crochet shirts to make it extra easy for you to navigate and find your next crochet project.
The crochet shirt pattern categories in this blog post include:
Original KKAME Designs
Simple crochet t-shirt
Crochet t-shirt with longer sleeves
Crochet shirts with vertical stripes
Raglan style crochet shirts
Complex patterns
This post may contain affiliate links. I get a small commission from any purchase made through these links at no expense to the buyer. This allows me to keep free awesome content coming your way. Check out my privacy policy for a full rundown of disclosures.
​What is the best yarn for crochet t shirts?
Crochet shirts are great for warmer months, especially when made with lighter-weight yarn. The best yarn for crochet t-shirts and tops is cotton or cotton blend yarn. This is because cotton absorbs sweat and is also very airy, just perfect for warm weather.
How do I choose the right size for my crochet top?
Most sizes of crochet shirts are based on bust measurements. The beautiful thing about crochet and making your own clothes is that you can alter the top to fit perfectly based on a variety of body types. Playing around with the gauge and making adjustments to make a top fitted or even a loose fit is easy to do with some math.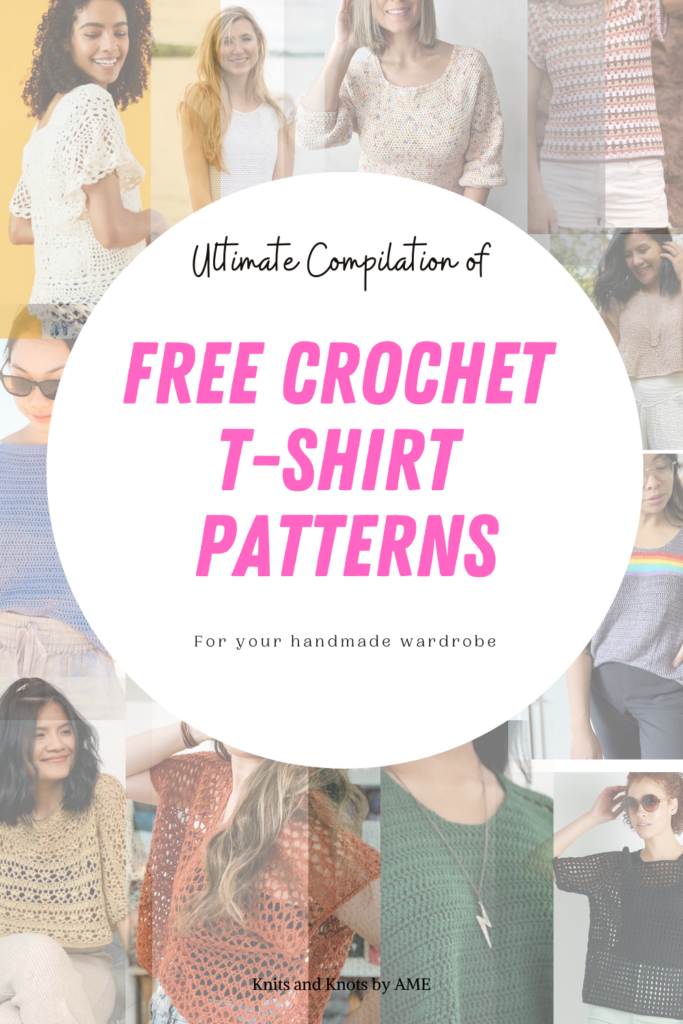 Original Crochet T Shirt Patterns by Knits and Knots by AME
My designs are always inspired by tops that I love, maybe an old t-shirt that I already have, or maybe a silhouette that I admired while window shopping. All of these designs are made with simple construction and basic stitches. These patterns are great for beginners who want to try making a crochet garment for the first time.
Siffleur Top – this is a fun top with a little peekaboo detail in the back. I absolutely love the positive ease on this top and with its boxed silhouette 
Pine Creek Box Top – another box silhouette shirt (have I mentioned that I adore box silhouettes? haha). This crochet t-shirt has 3/4 sleeves that have charming matching fillet details on the sleeves and collar portions.
Halona Everyday Top – this was my first crochet t shirt pattern that I ever designed! It is inspired by one of my favorite relaxed shirts at the time. Simple and classic with a little pocket detail on the side. I made a couple of shirts with this pattern, experimented with a different color and even added stripes. It is such a versatile pattern!
Shane Pride Shirt – One of my designs made to celebrate pride month! I made this top as a unisex crochet design with a rainbow stripe detail across the chest area. The top is made using THE softest yarn ever and is available as a kit on Lion Brand Yarn as well!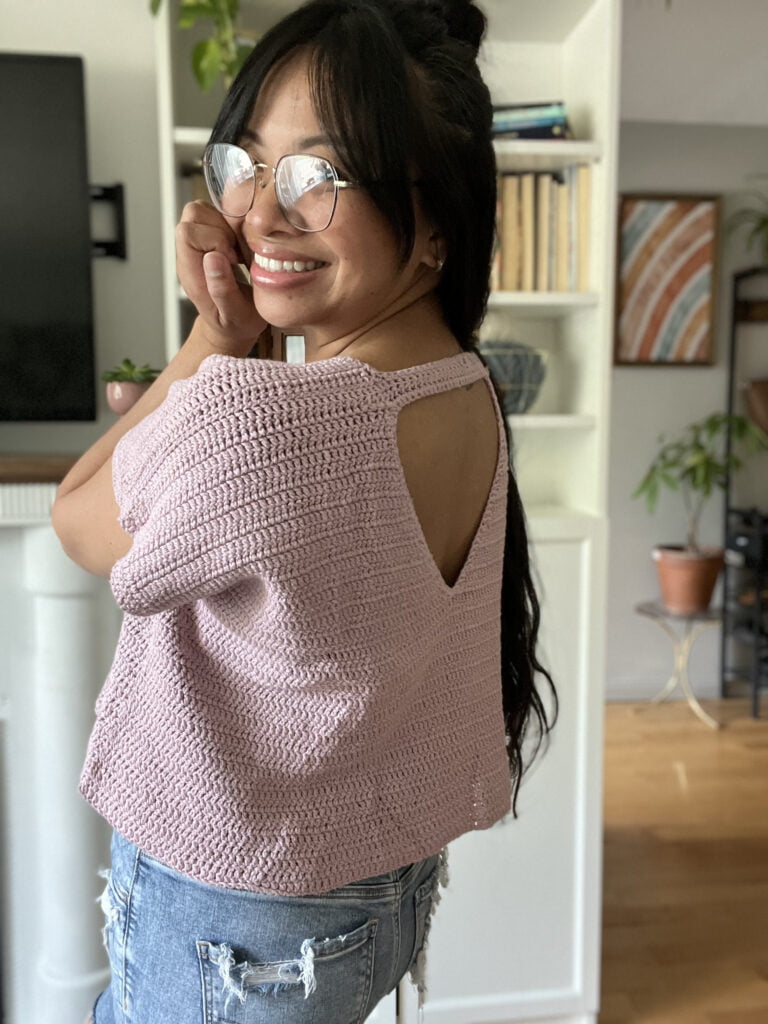 Simple Crochet T-shirt Patterns
These designs all resemble a basic tee and use a simple stitch pattern. They follow a basic shape like square/rectangle panels. Simple crochet tee patterns are a great way to start getting into crochet garment making.
A simple crochet T shirt pattern can easily be customized by playing with colors such as choosing a solid color or making them from variegated cotton yarn cakes for a fun ombre effect. Looking for something simple? Go through this list to find a free crochet t-shirt pattern.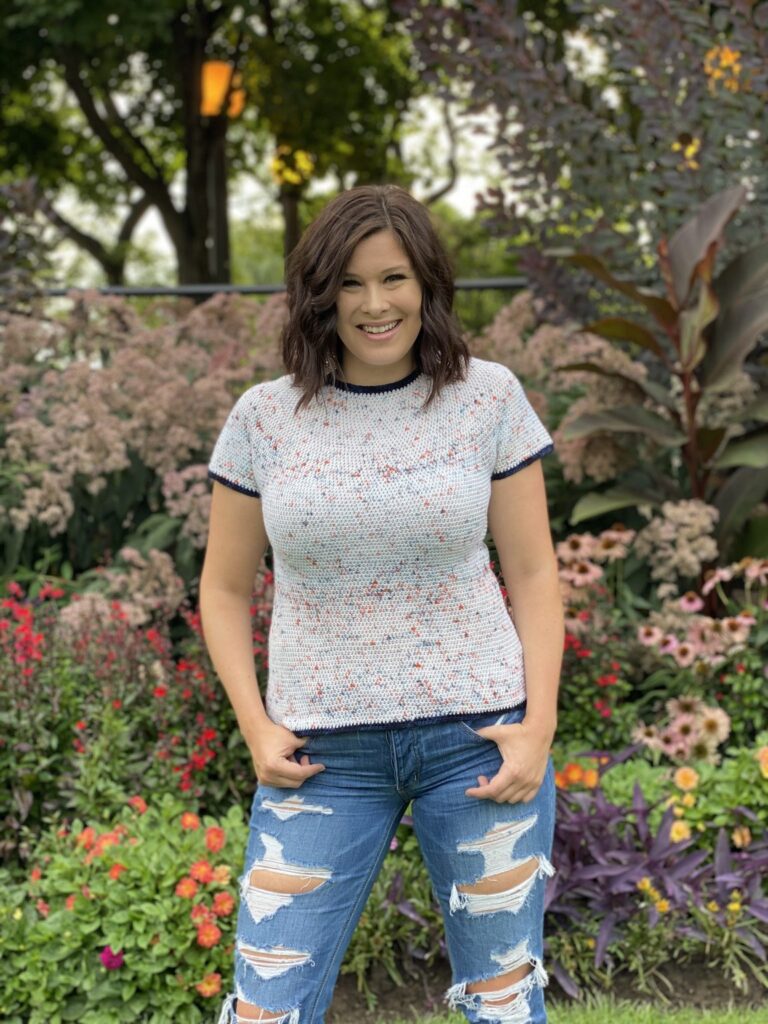 Crochet T-shirt with Longer Sleeves
Moving on! If you are ready to make your first sleeve pattern you make want to play around with these free patterns for a shirt with longer sleeves. There are several ways to add sleeves to a shirt pattern like shaping separate t-shaped pieces or adding set-in sleeves to crochet tank tops. I do not know about you guys but sleeves intimidate me a lot! Add an extra layer of comfort to your crochet garment journey by choosing one of these patterns below.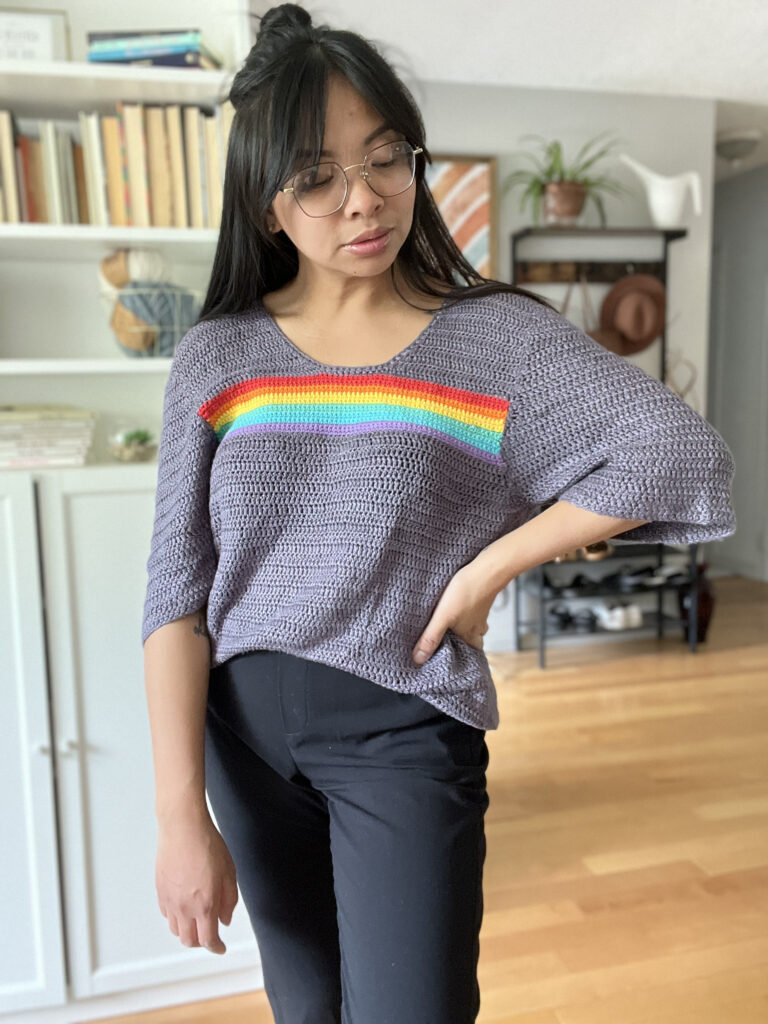 Crochet Shirts with Vertical Stripes
Adding colorwork and texture almost always makes any top fun! Changing colors can get a little tricky, make sure to go over this post to teach you how to seamlessly change yarn colors like a pro! Texture also elevates crochet tops, I personally love playing around with texture over colorwork to enhance any design. This list is a combination of crochet t shirt patterns that play around with vertical stripes, either by colors or different stitches.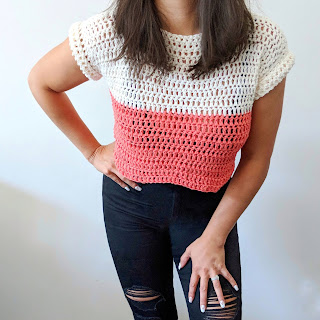 Raglan Style Crochet Shirts
Raglan style is a type of top-down construction. Top-down shirts are great because it gives you the ability to try them on as you go to ensure you get the right size. The shaping is done by making increases in four corners, slowly increasing the diameter each round. Stitch markers really come in handy for this type of construction.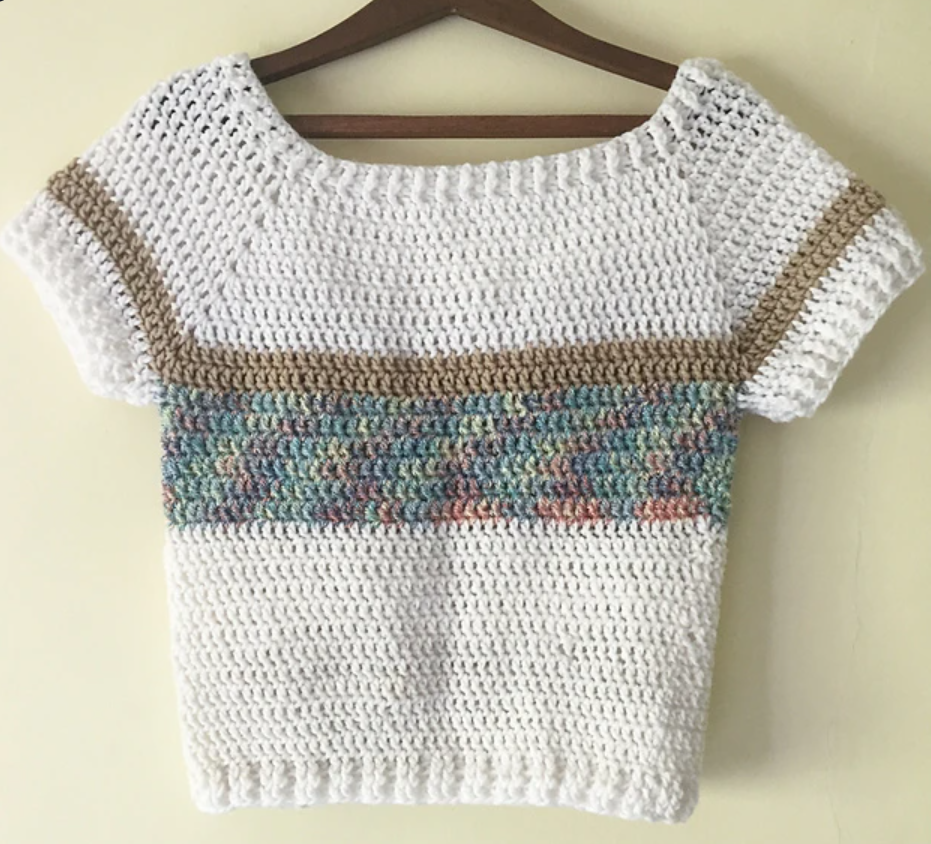 Crochet Shirts with Involved or Complex Stitches
Last but definitely not least, we have the category of "complex stitches". Now! Don't get intimidated, these tops are still great for any skill level. Involved patterns mean that you actually need to pay attention to the stitches as you make them. If you are comfortable with the basic crochet stitches (single crochet stitches, double crochet stitches, etc) and want to challenge yourself a bit more, this is the list for you!
Most of these designs take a little effort to begin and then it is smooth sailing after each repeat row. Okay, so I hope I convinced you to give these patterns a shot!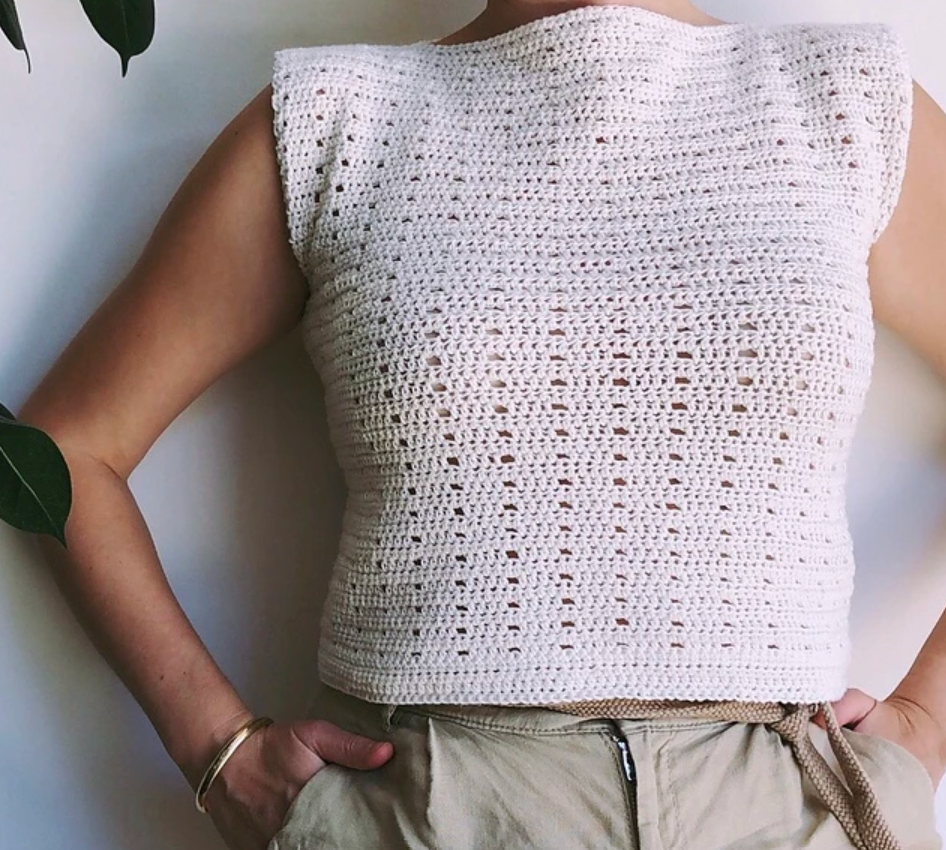 ​I hope you found your next crochet t shirt pattern!
Learning how to crochet garments changed my world and has since brought so much joy to my life! I hope this list helped you find a great free crochet pattern. There is honestly nothing better than wearing something you made.
Looking for more patterns? Make sure to check out all of my beginner friendly patterns here where you can find garments, amigurumi, and accessories.
That's all for now my maker friend! Remember, never miss a stitch by subscribing to my newsletter. See you next time!
xoxo
Abigail