How to Get Found on Etsy in 2023
Hello my maker friend! This week we are diving into the world of Etsy again. Now, if you do not have an Etsy shop – or still on the fence to open one – don't worry, I got you. Jump over to my Beginners Guide to Etsy to get started. So you started your shop, now what? Next up you need to work on optimizing your shop to drive more traffic to your shop! Remember, more traffic = more sales. I am going to show you all of the places you can optimize to get you to earn more on Etsy.
Optimization means using all the tools in your toolbox to drive drive traffic to your shop. In a nutshell, this basically entails filling up everything you can fill up. Etsy shops are all similar in terms of layouts and where you can see more information. That said, they make it pretty uniform in chances to optimize your shop.
The key to optimization are keywords. Keywords are how people are going to find you. This is so important to keep in mind when you fill out any part of your Etsy shop. Using a variety of longtail keywords helps increase the possibility of being found since we never know what exactly people are searching for. Do not over populate your shop with the same keyword over and over again. The secret to choosing keywords is to think as a buyer!
Okay friend, with those things in mind, let's get more specific. I put together this list of places in your shop that you can optimize to earn more on Etsy. Let's get to it!
Are you trying to build a crochet business? Check out the link below to learn everything you need to know to start a crochet business in 2023.
This resource is a part of a compilation: How to Make Money on Etsy.
Where to optimize your Etsy shop
To start, remember that part on making a listing? Well this place lays it all out for you! Take advantage of every section in your shop to add in keywords and target customers. Let's look at these sections a little more in depth to help you get found on Etsy.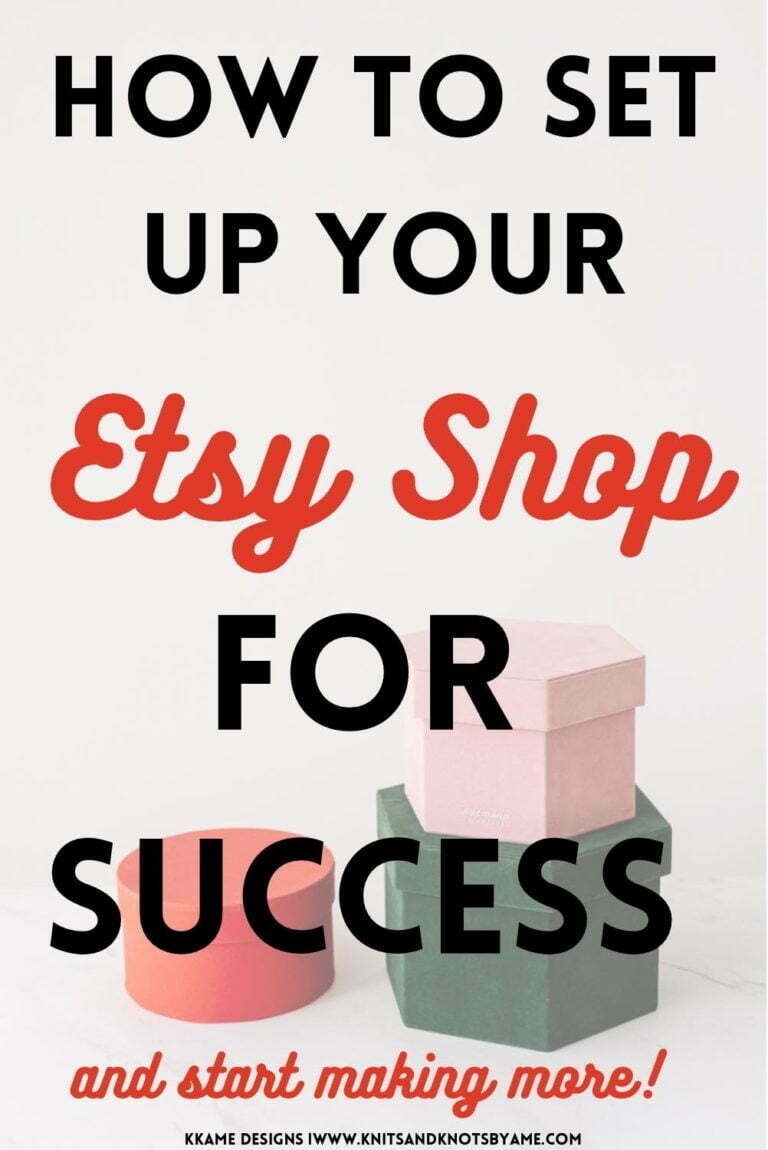 Listing Title
The first and strongest place that will help you get found on Etsy is your Listing Titles. Your title should start with the most relevant and strongest keywords. Think about what the buyer is most likely to search for. Etsy allows up to 180 characters for titles and you should be using all of these characters. The way I have been making my titles have always been just the top keywords for the listing and ending with the product/design name.
The top place where I like to find keywords for my listings is the stats page under the How Shoppers Found You section. The section looks something like this: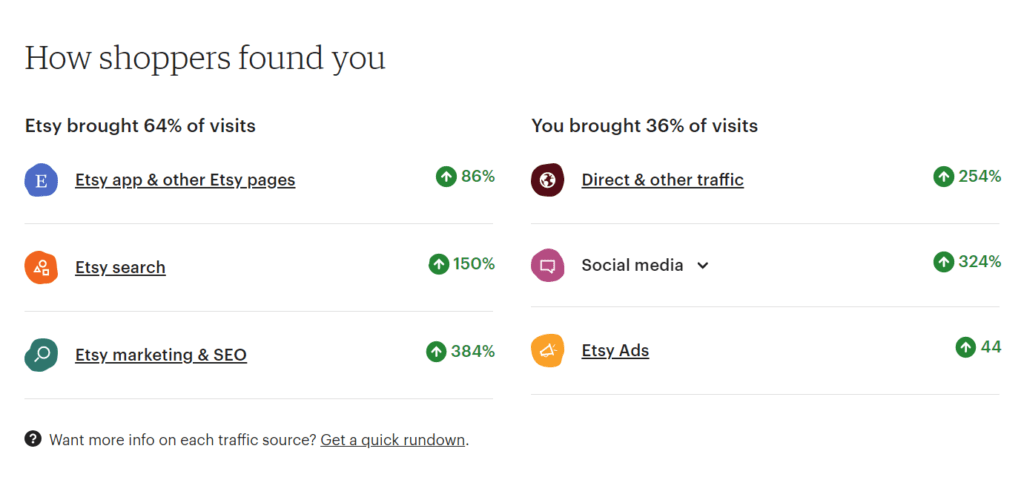 This section is truly a GOLD MINE for keywords! Once you click on an option, for example Etsy Search, you can see what shoppers typed into the Etsy search bar that led them to your shop. If ever you were wondering how people found you, this is exactly it! What this section generates is what I make sure is one of my main keywords. Remember, it is a lot easier to sell to people who are already looking for what you have rather than convincing people they need your product.
When making your listing title, try to make it sound as natural as possible. This is something I really struggle with doing in both my titles and descriptions. If you have mastered this, let me know in the comments and let's connect!
Tags
Your tags should match your title to increase your chances of appearing in search for your target keyword and get found on Etsy. By matching your tags to your title you are telling Etsy exactly who your product is for through these keywords. You are allowed up to 13 tags so most likely you will have extra tags available after you put in your title tags. Use these extra tags to niche down, add relevant attributes, and update based on the season. To make the most out of your tags try not to repeat base phrases like "crochet top" and "easy crochet top". In this example you should just keep the later. Also, use longtail keywords and avoid one word tags.
Again, the Etsy Search bar and Etsy Stats are the best place to find relevant keywords that you should use to find people already shopping in your niche. You want a variety of tags too, here are some categories you might want to reference to for your tags:
Example product will be a crochet top pattern:
Main Keywords – Crochet Pattern for Beginners, Crochet Shirt, Easy Crochet Top
Attributes – Crochet V-neck Shirt, Cropped Blue Crochet
Seasonal – Mother's Day Gift, Crochet Summer Top
Function – Crochet beachwear
Trends – Ruffle Sleeves
Remember, most of the costumers on Etsy were brought to you BY Etsy. This means they are most likely not going to be typing in your business name or product name. Not unless you have a substantial following that brings a generous amount of Etsy traffic. With this in mind, try to keep your tags general and niche specific rather than branded to your business.
Sections
Your shop sections is another place that you can use to add in more keywords and get found on Etsy. Keep your sections simple and direct to the point. Do not name your sections after a specific collection you have or product line. I will tell you later on how you can let costumers know of your collections, so don't worry, I got you there!
Here's an exercise! Think about the last time you were in Target or Walmart with a shopping list. The first thing on your list is ink for your printer. What part of the store are you going to look for? Electronics, right? Stores wouldn't have an "Ink" section dedicated to all kinds of ink. That would be way too broad!
So imagine your Etsy shop was it's own retail store. What sections would you categorize your products in? Your sections should not be too limited but also have a clear scope of products under it. By keeping it broad, you also increase the opportunity for people to find similar items that they may not even be looking for.
Descriptions
Descriptions do not play a direct role in Etsy SEO and affect your chances to get found on Etsy. However, they do play a role in customer experience and Google Search.
The description portion of listings is the part I personally hate doing – and what I am actually working on now! I always tend to never know what to say. What helps me the most is reflecting on my experience as a customer. This is the perfect place to put everything together – you title, tags, attributes – in a cohesive manner. It is important to include strong keywords here in a natural way. You can do this by talking about the details of the listing. For example, if my strong keywords for a listing was "crochet pattern", "beginner crochet" and "easy crochet top" my description would have something like this:
"The Siffleur Top is an easy crochet top that is perfect beginner crocheters. This crochet pattern calls for…."
After describing the product, you want to answer any questions the customer might have. For example: dimensions, how to request for customization, processing and shipping times, specific disclaimers.
Here is where you can put information about collections and product lines. This is the perfect place to link to similar items and get the customer to discover what else you have to offer. Linking to other products keeps your sections clean but exposing them to other sections as well.
For example a person discovers your listing for a trendy shirt. They read your description to make sure it is exactly what they thought it was. They then discover at the end of the description that you also made a matching scrunchy set for that trendy shirt and click to see that listing as well. In this example you lured a customer in to multiple sections that show different pieces of your trendy collection. Cool beans!
Media (listing pictures and videos)
Etsy allows you to upload at least 10 images and one video. I strongly suggest using all 10 images. This is something I worked on not too long ago and added. I used to choose a few favorite shots and just used those. But going back to the customer perspective, I am more inclined to buy something that has more photos. I am pretty sure you are too, right? See my post about taking photos of handmade products here for an overview of the types of photos you should be taking.
Right now, I am working on updating pictures to fill in those spots and creating videos for each listing. Videos are a great way to show the product in real life. It is a way for the customer to see how the product moves when worn (if you make patterns or sell clothes). Video, in general, amplifies that lifestyle shot perspective for buyers as they can better imagine how your product would be used in their own lives.
Etsy has shared that listings that have videos are favored by customers and play a factor in getting found on Etsy.
Shop Settings
Last, but certainly not the least, we have your shop settings. Shop settings is something I – maybe you too! – did not prioritize for a big chunk oy time on the platform. This was one of my biggest mistakes because – as a consumer, I almost always check the shop's "About" section before I make any purchase. I am always preaching "think like a customer" but for some reason, it did not occur to me to update my own shop settings!
I love hearing about small shops and tend to support those I can relate to that share the same values and experience as me. Are you a small shop owner? Drop your Etsy link in the comments so I can read about your story!
The About Me section is a great place to plug in a few keywords representing what your business is all about. For example, I put crochet design and easy crochet patterns in this section.
You also have the opportunity to add media to this section. Here, upload some behind the scenes photos and pictures of YOU. People need to know and feel there is a person behind the shop. Little things you can do to optimize this section is to rename your photos properly before uploading them and adding keywords here and there in this section. You want this to feel full!
An important part of your shop settings that you absolutely need to prepare is your Shop Title. Bear in mind, Shop Title is different from Business Name.
Here is mine!

Here, my business name is KnitsandknotsbyAME and my Shop title is Crochet patterns, Knitting Patterns, and Filipino Art.
My shop title is basically my shop settings, reflecting specifically on what I have to offer in my shop. By optimizing your shop title this way, you are telling Etsy what you – as a business – is all about. And guess what? When somebody searches for shops (rather than products) that sell what they need, Etsy is going to pull in your information!
Now make these tweaks and start making more on Etsy!
Okay friend, before we go any further, I want to pause right here and let you make some changes to your following these few places to optimize your shop. Be patient, things wont kick in immediately and you most likely wont have overnight success after you implement these tips. At the same time, you DO NOT want to keep changing things. Let your changes settle and then after maybe two weeks go back into your stats and see if these changes made any difference.
These tips are – for the most part – a part of setting up your shop and optimizing it's areas to help you increase your Etsy Sales by getting found. However, it is not all that is into it. Once customers find you, it is crucial to provide excellent service to convert those shoppers into paying customers or even REPEAT customers! Join me again next time as I tackle all about providing great customer service, dealing with sticky situations, and connecting with existing customers.
You might also be interested in these posts to work on your business efficiently:
How To Prepare and Rock a Handmade Production Line
and
Shipping Essentials for Creative Businesses
Thank for reading along, until next time friend!
Abigail
Want to Learn More About Growing your Etsy Shop?