Summit Rd Fibers Yarn Review
Happy Yarn Day!
Today I have a very very exciting review set up that is definitely going to get you drooling!
Full disclosure, this post is in collaboration with Summit Rd Fibers for my Instagram giveaway. Nevertheless, the review will is totally unbiased and a reflection of my honest experience.
Guys, oh my goodness, where has the time gone? it has been exactly two months since I started this blog and we are still growing strong. These biweekly yarn days are the fuel and passion to this blog and it just keeps so motivated to find the best yarn out there for ya'll. If you haven't got the chance to go over the blog contents – I also have got accustomed to sharing free patterns and creative business resources so go on and check these out. 🙂
Okay, so let me segue into our topic by giving you folks a little background on how I was so fortunate to collaborate and work with Summit Rd Fibers. A few weeks ago I was excitedly reaching my 1K milestone on Instagram and reached out to my wonderful Maker Strong community in search of makers who would like to collaborate. I love Maker Strong! It is such a great community for makers, if you aren't a part of it yet go and hop on to Facebook and join. Amy, the face behind Summit Rd Fibers, contacted me and we began from there.
Summit Rd. Fibers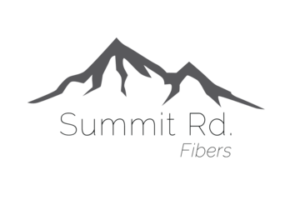 Summit Rd Fibers is a luxury yarn company based in Washington. The fiber is hand dyed by Amy and makes use of mulesing free fiber – no harm was done to any of the animals.
Amy sent me two skeins – one for the giveaway – and a mini skein for me to try out for this review. I appreciated this gesture sooooo much because it gave me the opportunity to play around with and experience the fiber for a completely honest review. I chose a 100% Superwash Merino Wool, single ply fingering weight yarn in her color way Glacial Lake.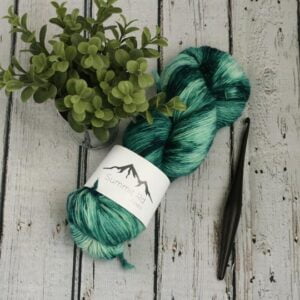 Image from Summit Rd Fibers
Amy is a dye goddess! I kid you not. Holding the yarn for the first time I was blown away by how the colors moved across the skein. It reminded me of a body of water, no area being the same or repeating itself. A consistent color varying in hue. Urgh guys I am over here trying my best to describe how amazing the color play is on this skein and it is the hardest thing to do because it is just mind blowing – you are just going to have to get your hands on one of Amy's babies to experience it yourself.
So I started working up my mini skein. And me being super impatient I idiotically attempted to cake my skein without my swift thinking oh its just a mini skein I'll be okay as long as I'm careful. Guys, do not make this mistake lol I ended up tangling my yarn big time and spent two hours fixing it. Anyways! This yarn is extremely soft and fuzzy. The texture gives the skein a velvety look to it. After spending forever untangling my yarn, I was finally able to use it.



My sister is having her first born soon and I decided to whip up Purl Soho's baby socks for her using my mini skein. Guys – back to the my amazement with the color – worked up, this yarn looks absolutely stunning! I just couldn't get enough of working up the sock just to see how the colors play out. Working with the yarn is also very comforting, it is so soft to the touch and light that it makes a very calming effect.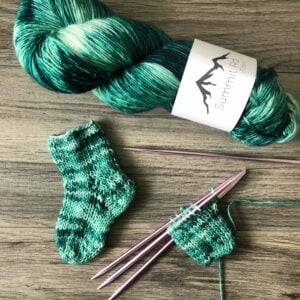 With all these elements playing out with one another Summit Rd Fibers is definitely a great hand dyed option for even beginners or simple projects – the color play alone will make even the simplest projects look stunning.
Summit Rd Fibers offers a variety of color ways to choose from so make sure to check that out. Amy is also a designer and has original patters to explore as well! Working with Amy was such a dream, she is super friendly and I am blessed to have collaborated with her and gained a new friend.
If you want a chance to win your own skein of Summit Rd Fibers make sure to follow them on instagram @summitrdfibers for a head start for the giveaway! Let's help build one another up and show love for our fellow makers.
Until next time makers!
Do you have any yarn suggestions for upcoming yarn days? Let me know on social or in the comments below 🙂