Lion Brand Yarn Comfy Cotton Blend
Hooray for another Yarn Day!
Lion Brand Yarn's Comfy Cotton Blend is on the stage this week for Yarn Day and I am here bringing you an honest review about this yarn from texture to color to price to projects!
Hurricane Lane is amidst the islands and I am so happy that the power is still intact and I can sit and talk yarn with you guys! I have been working with a spectacular yarn for the past week that has lived up to its name: Comfy Cotton Blend. Let's break it down to better showcase why I chose to talk about comfy cotton and how it lives up to it's name.
Full disclosure, this review is in no way sponsored and is a reflection of my own experience using Lion Brand Yarn Comfy Cotton Blend. This post does contain affiliate links and cookies wherein if a purchase is made through the link a small commission is directed to Knits and Knots by AME at no extra charge to you – but at the same time a huge help for us. 🙂
Lion Brand Yarn's Comfy Cotton Blend
To be totally honest, I am not a huge fan of multicolor yarns. It is extremely difficult for me to chose multicolored yarns to work with and in doing so I tend to lean towards subtle neutral colors and nothing too bold. I love neutrals! Lion Brand Yarn's Comfy Cotton Blend comes in a lot of different colorways, however, one thing that I immediately noticed is all colorways are spun with a hint of neutrals and beautifully blended colors that makes it easy to pick and add other colors to pair with this yarn.
I chose to work with their colorway Driftwood which features hints of colonial blue, taupe, chocolate, and pale blue plied with buttercream.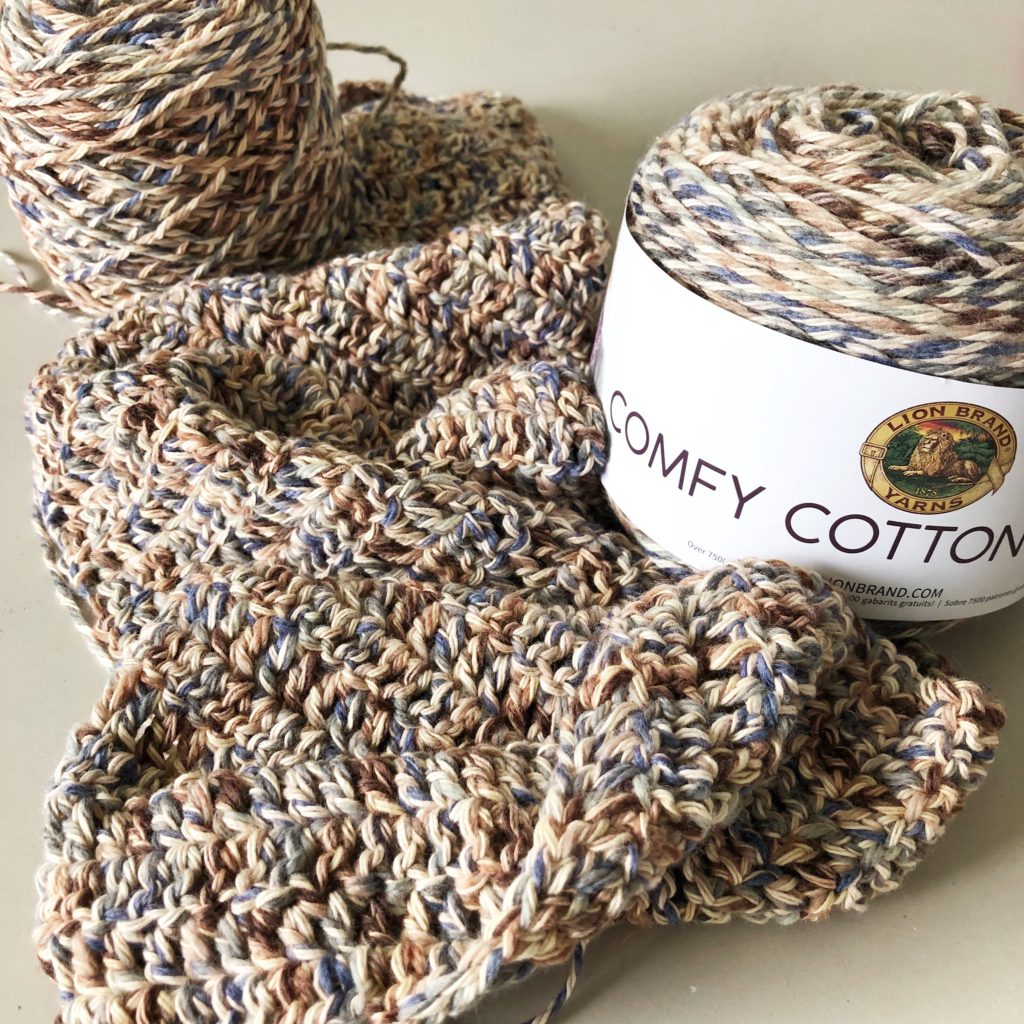 Worked up, you can see how beautiful and naturally these colors play together. This is another reason why I struggle with choosing multicolored yarn because some blends just don't work up as naturally and create a beautiful blend – Comfy Cotton just gets this and effortlessly works into something just so visually appealing.



When working with such a busy yarn, I found it best to work with simple stitches because the yarn alone is such a big statement. For this project I am making a cardigan and using plain double crochet and ribbing. See how a simple double crochet in this yarn looks? Guys, it is phenomenal!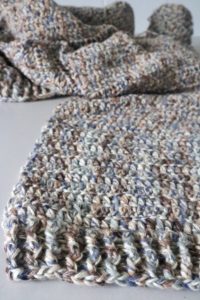 Other stunning colorways in this yarn that appeals to my color palette includes: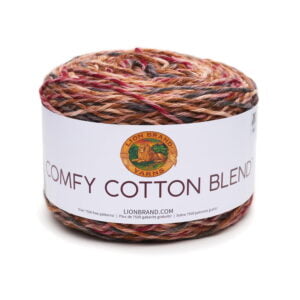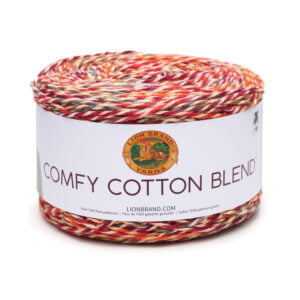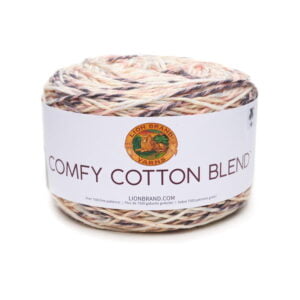 Aren't these colorways just sooooooo gorgeous?! I am literally drooling over here!
Comfy cotton is classified as a level 3 yarn, worked up I would say it feels more like a 4 which makes it the perfect fall and brrrr month fibre. It comes in a cake with a generous yardage of 392yds with a 50% cotton 50% polyester blend – making this fibre perfect to create garments and blankets. I am making a cardigan and so far used three cakes, I am short one cake at this point. Have I mentioned the price point yet? One cake is $7.99 on the LB website, that means approximately $32 for a chic transitional cardigan? Oh.My.Days. that is one heck of a deal!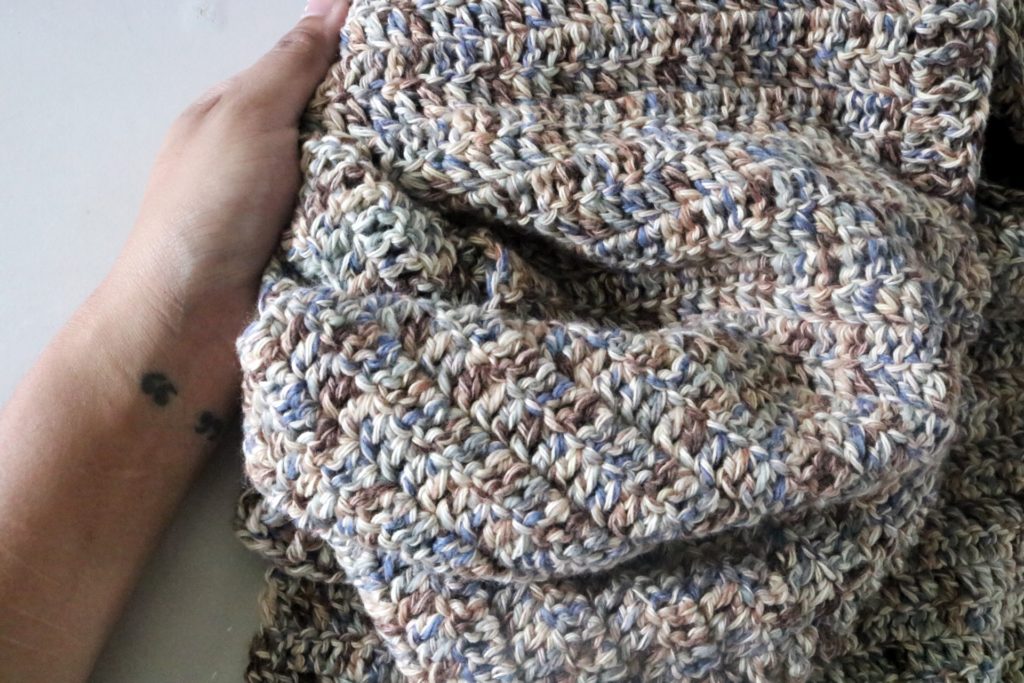 Comfy cotton feels compact, warm, and incredibly soft. Working a large garment or project with the yarn is so satisfying as it grows and drapes over you comfortably. This has been a large project I truly enjoy because I hardly feel like I am working. I crochet and read while working and the comfort I get from this yarn just brings me to pleasant retreat from the world around me.
I am using a 4mm crochet hook for this project creating a more compact fabric for my cardigan. Comfy cotton works up beautifully in lace as well for summer projects. Here is Sewrella's Joni Topper made with two cakes of Comfy Cotton which you can grab as a kit if you are already dying to get your hands on Comfy Cotton project.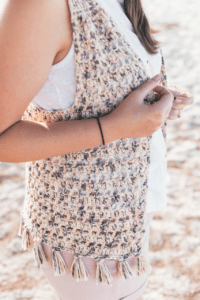 Comfy Cotton's sister is Flikka Yarn. Which is very similar in composition as it is also a 50/50 blend of cotton and polyester blend and spun in a multiple colors against a natural base. The colorways look extremely identical to Comfy Cotton with different names – for Driftwood, it's Flikka counterpart would be Sidewalk.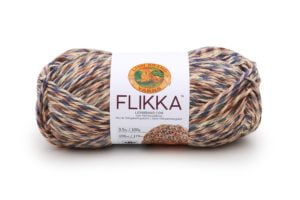 The Flikka Yarn line is a great substitute for Comfy Cotton is you are not needing as much yardage as provided in a whole cake. Flikka runs at 196yds at the same weight category of Comfy Cotton for half the price. Now that I realize this, I think I will be needing just a ball of sidewalk to complete my cardigan (light bulb or facepalm moment). haha! Scratch $32 for a gorgeous cardigan that drops down to $28 bucks! If there wasn't a hurricane right now I would go out on a crazy yarn hunt.
Have you tried Comfy Cotton? I would love to hear about your experience and what you made! Let me know in the comments below if you loved the yarn as much as I do!