Boogie Nights Yarn Review
Note: This is a personal review for Lion Brand Yarn's Boogie Nights yarn and not sponsored. This post contains affiliate links with no extra cost to the reader, however any purchase made through links gives KKAME a small commission to help upkeep the blog and continue bringing awesome content your way.
YAY for another yarn day! This round I am going to be talking about my experience with using Lion Brand Yarn's Boogie Nights. Boogie Nights is one of Lion Brand Yarn's newer yarns to come out and once I saw it I just knew I needed to get my hooks into it!
I never used a chainette yarn before and was super excited to finally give it a try. Boogie nights is a weight 5 chainette yarn with metallic gold spun into it. Talk about sparkle! The fluffy chainette effect mixed with the gold immediately tugged at my creative heart strings! Despite being a class 5 yarn, Boogie Nights is very light and airy because of it's construction. This makes it easy to pair with other yarns and ideal for garments accessories.
Stitch Work
To be honest, it took me a while to decide on a stitch that highlighted the yarns features. I knew I wanted to make a scarf but with the construction of the yarn I needed to try multiple stitches to finally settle on one that sparked joy. For days I experimented with swatches and played around with different stitches and hook sizes. I found that using a larger hook better accentuated the yarns chainette feature, giving it just the amount of natural fluff.
Working with the yarn was fairly easy. I am guessing because of its chainette construction, the yarn did not split while being worked up, it was actually very strong! I never had it break even during my "tug test". So make sure you have scissors handy because breaking it apart will not work at all. The only thing I did not like about working with this yarn is when it needed to be cut (when joining yarns, or for the fringe part of my project). When cut, the ends of the yarn frays and will shed.
Colors
Boogie nights comes in 4 different colors, all speckled with gold. For my project I chose Blitz which is has a white base. I personally love the color pallets made for Boogie Nights. They are all named something fun and funky too like Birdcage, Monte Carlo, Royal Flush, and Twenty One. Someone was thinking about a night out in the town when they made this line!
Price
A ball of Boogie nights runs for $5.99. I feel this is a reasonable price for the quality of the yarn. At 149 yards per ball you will need at least 3 balls for a 8″ wide scarf and perhaps 5 balls for a top. At this price and yardage, this wont be ideal for large projects such as blankets. Consider your budget and what you are going to make before diving into this. Nevertheless, totally worth every penny!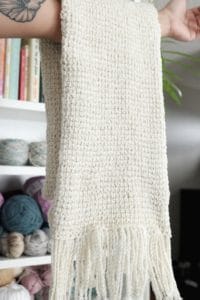 Final Thoughts
Working with Boogie Nights was a great experience I being my first time trying chainette yarn. The yarn has great quality and strength which makes it ideal for accessories and projects that will be subject to a lot of wear. The hint of gold adds a little charm and elegancy to the yarn which I love. However, with this detail I personally feel it is difficult to settle on a stitch that will not feel too overpowering. At a very reasonable price, this yarn is good for small projects but not suitable for larger projects such as blankets.
Have you ever used Boogie Nights? What did you make and how was your experience – share in the comments. 🙂
You may also be interested in reading: