Lion Brand Yarn Feels Like Butta Yarn Review



Looking for the perfect yarn to use this fall and holiday season? Lion Brand Yarn's Feels Like Butta is incredibly soft with just the perfect warmth at an affordable price point. Fall is definitely making it's entrance in the fibre community and warm cozy wips are flooding our favorite platforms. See why Feels Like Butta is a brrrr month staple and what projects are ideal for this magical fibre.
Before we jump right into it, full disclosure, this post is not sponsored by Lion Brand Yarns and is a reflection of my honest opinion as a consumer. The post contains affiliate links which do not charge you extra for making a purchase through the link however greatly helps KKAME continue to do what we love most.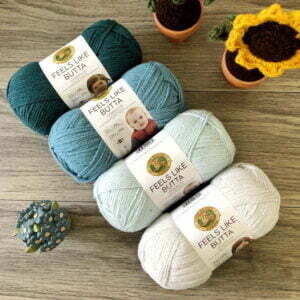 Feels Like Butta
Feels Like Butta was released in 2018 by Lion Brand and shared it's craze amongst the fibre community for quiet some time. What struct me most when it was released was how hard it was for different influencers to describe exactly how this felt, it created an experience in which you just had to try it to relate to what the big fuss was about. I ordered a bunch to play with.
Experience:
I was very surprised when I received my order and it completely made sense to me why so many people had such a hard time describing the yarn. Feels Like Butta is 100% polyester and classified as a level 4 weight yarn – I would say it is more of a light worsted weight yarn as it is a little on the thin side. I was actually surprised with the size of the yarn and my first thought was "oh! This is cute". I previously talked about how horrible I am at estimating sizes based on weight and length and I just cannot imagine it in my mind. For those of you who are like me, to make it easier, the ball is roughly the size of a hand. It seems tiny and oh so adorable.
Colors:
I am sooooo attracted to the colors available in this yarn. Lion Brand carries a good number of color choices (18 in total) and a lot of cool and pastel colors. I am a bit of a color snob however all the colors available in this yarn actually appealed to my color preferences. I am not a fan of bright and bold colors at all. It took me a few nights of playing around with my online cart until I settled on my order because of all the gorgeous colors to choose from – totally fun to mix and play around with the colors!



Texture:
The best way I can describe the yarn is velvet. It has such a soft velvety feel. The texture of the yarn makes it perfect for intimate garments that touch the skin, it hugs you with just the right amount of warmth without suffocating you. Such projects include indoor footwear, cardigans, baby garments (oh my gosh baby garments!) This yarn screams "touch me" with it's texture.
Project:
Feels Like Butta holds such a special place in my heart because I landed my first kit with Lion Brand using the pattern I made inspired with Feels Like Butta. This pattern is a knitted color block turtle neck tank top in three colors. The turtle neck design makes it perfect for fall, throw on a chic jacket on the go and relax in your tank indoors. It is a versatile garment made to be worn throughout the brrrr seasons. You can make your own Tana Turtle Tank by purchasing the kit HERE (complete with pattern and all the yarn you need) better yet, check out the FREE pattern HERE.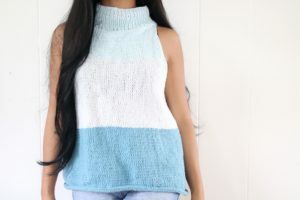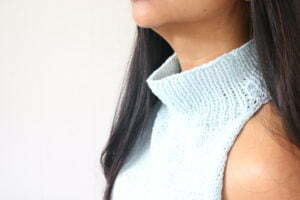 Price:
Price wise, a ball of this yarn runs at $4.99 which I believe is a great price for the quality you get out of this yarn. The yarn weight allows it to be used across so many projects for all age groups, functionally keeping warmth, and texturally soothing. If I did not live on an island I would definitely use Feels Like Butta for so many designs especially in the later months of the year.
Have you tried Feels Like Butta? Let me know what your experience was like in the comments bellow 🙂