What I Think of Lion Brand Yarn's Skein Tones
Lion Brand Yarn just came out with their new product line Skein Tones! I was lucky enough to receive an early batch and test it out before the launch and provide them with my feedback.
Disclaimer: This post contains affiliate links. This helps keep the blog going and continue bringing awesome content your way!:)
The Concept
In my opinion, the best part of this product line is the concept. Skein Tones compliments a variety of skin tones through 12 different colors. With everything happening in the world – it reminds people of humanity, inclusion, and equality. – I really feel like the launch of this line is absolutely necessary. My initial reaction – and literally the only words that came to mind during my unboxing – was "I feel like this line is so important".
The Yarn
Lion Brand Yarn created Skein Tones in collaboration with Aniqua of My Kind of Thing. It is actually a part of the Basic Stitch anti-piling family. I used Basic Stitch Anti-Piling to make my Granny Pop Afghan.
Basic Stitch is a 100% acrylic worsted weight yarn. This yarn is particularly good for projects that would undergo lots of use and exposure due to it's anti piling nature. Anti-piling basically means it would not fray easily. This makes it the perfect versatile yarn for amigurumi, afghans, or garments.
The Tones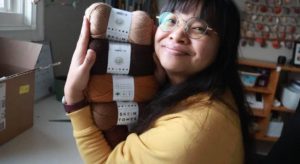 Lion Brand did such a great job in creating a palette that reflected a spectrum of skin tones. However, I would have loved to see more shades to the colors, especially around the lighter end of the spectrum.
If I were to make a doll for each member in my household (being people of color and Asian ethnicity) I am positive I would not be able to find the right tones to differentiate and reflect each of us.
I sort of envisioned a palette similar to what we see in the foundation section at Sephora. A little more accuracy to truly compliment a variety of skin tones. Nevertheless, this sort of detailed aspect can easily be added down the road.
Then again, the yarn was made to compliment skin tones as opposed to match skin tones. Taking this into consideration I really do think that the selection was spot on!
Overall Opinion
I already love Basic Stitch, so it is a no brainer that I love Skein Tones! The initiative and concept of this line is absolutely necessary and beautiful in nature. Pushing my expectations aside for a larger selection of hues, I really think Lion Brand Yarn did such a great job filtering through colors and choosing the perfect palette.
I am so excited to see what the maker community makes with this new line of yarn! What would you make once you get your hands on it?
Until next time makers,
xoxo
Abigail