Happy Yarn Day!
I have become so fond of these biweekly yarn days that we have started. I am always thinking of what to share with everyone, if you have any suggestions, I would love to hear about them in the comments below or you can even shoot me a personal message on the contact page or a dm on Instagram.
Before I jump right into it – because I am just dying to tell you guys about this weeks pick – full disclosure, in no way is this post sponsored. This is a reflection of my thoughts and experience using Paintbox Yarns.
Paintbox Yarns Cotton DK
Paintbox Yarns is a brand exclusively sold through Loveknitting and Lovecrochet. What initially caught my attention with Paintbox Yarns is their logo which is basically eight circles (four on top of four) showcasing simple colors. There is something about simplicity that just calls out to me! Digging in deeper into the brand I saw they had special palettes already put together – all in which caught my eye. I love seeing color play and palettes, however I am personally a more solids kind of gal when I design. There is just something about palettes that inspire me so much to create. From then on I was immediately hooked.
It honestly took me a while before purchasing this yarn because they offered several lines and colors that just made it so hard for me to choose from. I cannot even count how many times I browsed loveknitting and put things in my cart only to leave it. I live in Hawaii so when I shop online I always make sure that I get my shipping and wait times worth. The affordability of Paintbox Yarns also kept me hooked and stuck in this cycle of never ending browsing and stuffing my cart.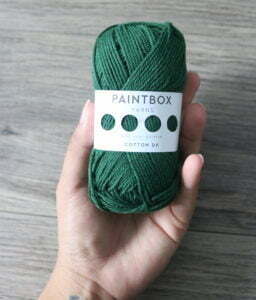 Okay. Affordability. I want to talk a little about this. I totally suck at estimating how much yarn I will be getting. Yardage and weight information do nothing for me, I just have the hardest time picturing these. So when I say affordability, I mean "man $4 for this amazing color, I'm in!!". Paintbox Yarns also offer bundles where 5 balls of cotton dk for around $20 and 10 balls for $39. Seeing this I was like "yas, yas, yas, yaaaaas". What I did not consider was how small these balls actually were. My Halona Everyday Top (picture below and dropping tomorrow) needed 6 balls, which equate to around $24 not including shipping. This made me rethink the affordability perk and if you are not a fan of joining yarn then maybe reconsider making large project with this yarn.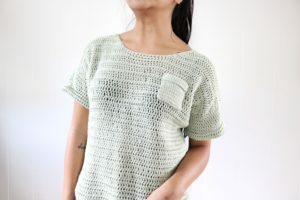 Glad to say that through experience and exposure I am now more aware and better at estimating yardage. 🙂  Nevertheless, I DO NOT REGRET BUYING THIS YARN. Going back, Paintbox Yarns offered such an amazing collection of colors to choose from and that alone won me over. In their cotton dk line, Paintbox offers 56 different colors. That is a huge selection of color to chose from! It is definitely a spring and summertime staple yarn. Here is a link to check out all the shades in cotton dk (click here).
This yarn was extremely satisfying to work with. Aside from frequently needing to join yarn, working with Paintbox was very smooth. It is honestly everything I look for in a cotton dk weight yarn. The yarn never really split or snagged on my hook. Okay – little confession – I am very lazy when it comes to yarn care. I threw the garments I used in the washing machine and dryer during laundry day (even though care specifications say not to tumble dry) and guys… this yarn survived with flying colors! It actually blossomed so to speak. I know, I'm horrible and I should not have done that. But I was so surprised to see how well this yarn held up and is still holding up. Since making my garments using this yarn I have used each on about two to three different occasions and with each use it just keeps getting better and better. I am definitely going to be making another spring-summertime series with Paintbox next year!
Speaking of series. Here are the three garments I made using Paintbox Yarns Cotton DK in a series I am calling the Paintboxed Top Series which will drop tomorrow!

The Halona Everyday Top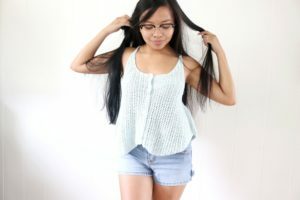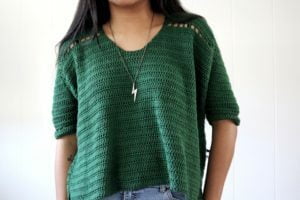 The Pine Creek Box Top
I will talk a little more about these tops in a separate behind the scenes post. But guys!! See what amazing things you can make with Paintbox Yarns Cotton DK? The possibilities are endless so make sure to grab some cotton dk while the sun is still scorching outside!